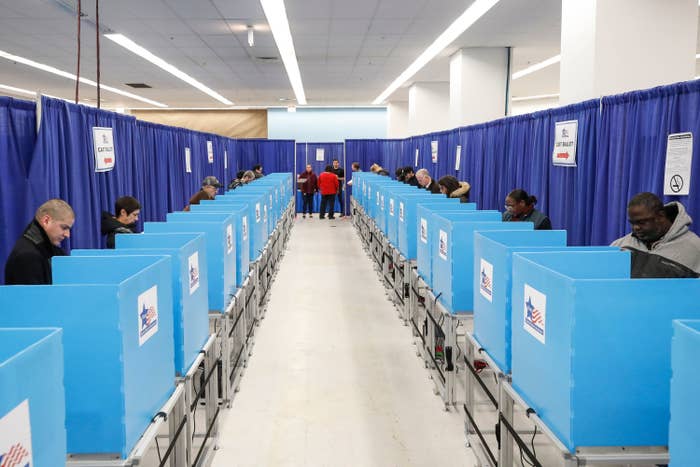 Voters and poll workers reported chaos, nonfunctional polling places, unsanitary conditions, and low turnout across the state of Illinois on Tuesday as the primary election continued despite the coronavirus outbreak.
After the state scrambled to move polling places away from nursing homes and other vulnerable populations, some voters said they were unable to vote because their new polling places lacked basic voting supplies.
With scores of election judges and volunteers dropping out at the last minute in the face of the outbreak, the city of Chicago was asking "able bodied voters" to act as last-minute poll workers as a way to deal with understaffed polling locations, according to an email viewed by BuzzFeed News. The Cook County Clerk's Office posted that it was "waving all training requirements" for applicants who wanted to serve as election judges.
"This was a very rushed process, and our local election officials are trying to handle it the best way that they can," said Matt Dietrich, a spokesperson for the Illinois State Board of Elections. He said local areas had been "doing everything they possibly could" to provide cleaning supplies to polling locations.
"Everyone needs to keep in mind that this is an unprecedented situation," he added.
Some election workers who did show up, meanwhile, said they felt unsafe because of a lack of sanitary supplies. Some precincts had zero hand sanitizer, voters said, or only a few bottles that had been brought in by poll workers themselves.
Rebecca Gross, 16, a high school student who is staffing one of two precincts being served by a polling place at the Broadway United Methodist Church in Chicago, said Tuesday morning that her precinct had still not received the "blue box" full of election materials necessary to conduct voting, as of late morning. They had turned away roughly 70 voters so far Tuesday, Gross estimated.
Gross said she and others working at the precinct had been told the materials would be on their way around 7 a.m., but they still hadn't arrived, and that staff had now been told it might not come at all. She said she and the other workers had called the Chicago Board of Elections "countless times" in an effort to get the box. They have begun redirecting voters to an early-voting location in their ward.
An election judge in central Groveland, Illinois, who did not want their name used said that after consolidating three polling places into one, their location had no hand sanitizer, and their only cleaning supplies were those brought in by other poll workers.
"Everyone else is older, and it's upsetting to think that I could spread the virus to them," the election judge said. "There are not enough cleaning supplies and we were given no instruction on what and how often we should be cleaning."
Kyle Mauerman, a voter in Washington, Illinois, near Peoria, said he was "shocked" to find that his polling place had not a single bottle of hand sanitizer and no warnings about social distancing posted where he could see them. Most of the poll workers were elderly, Mauerman said.
"Seemed like that should be the place we are reinforcing the social distancing message and proper hygiene to combat this virus," Mauerman said.
Matt Lindner, who works in marketing in Lincoln Park, in Chicago, said he had turned up to vote at 8 a.m. at a precinct whose location had been moved away from a senior citizens' home. But he was turned away because the location lacked voting equipment.
"It was absolutely the right call" to move the polling location, Lindner said. But he didn't understand why the state had not prepared better, especially when it came to providing equipment.
"A functioning democracy should not have this," he said. Lindner was finally able to vote Tuesday afternoon.
Toya H., the coordinator at Lindner's polling place in Lincoln Park, confirmed she had to turn away voters Tuesday morning because she had no equipment.
"Voters are very upset," she said. She'd started sending them to a different polling place, only for that location to run out of provisional ballots. By late morning, she was forced to redirect people to a polling place more than a mile away.
"The number I've been dialing isn't even ringing," Toya said. "I've worked the elections for over 10 years and I have never experienced anything like this."
Primaries are also underway Tuesday in Florida and Arizona. In Ohio, the governor has shuttered polling locations under a "health emergency," amid a court fight over his attempt to delay the scheduled primary.