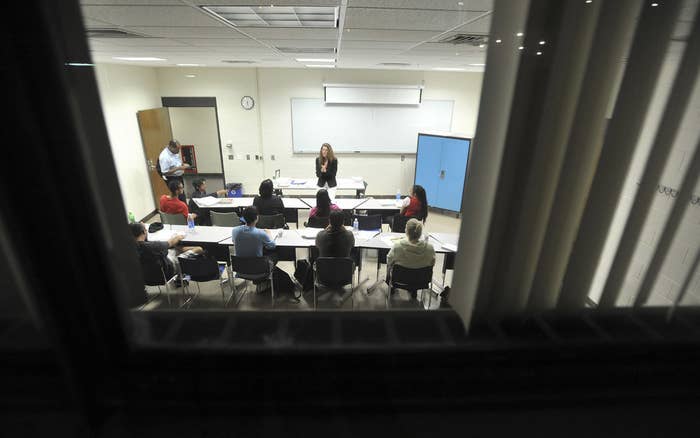 Dozens of community colleges across the country deny their students access to federal student loans, resulting in almost a million students who are unable to borrow federal money to pay for college, according to a new report from the Institute for College Access and Success.
Instead of allowing students to borrow federal loans at low rates, some community colleges steer their students toward expensive private loans, the report said.
Community colleges fear that with access to federal loans — which permit students to borrow money beyond the cost of tuition — some students will borrow unnecessarily or take on too much debt, driving up the college's loan default rates. Those rates are a closely-watched metric for regulators and others evaluating college performance, and if they go too high, schools can incur serious sanctions. As a result, many schools block access to the government's subsidized loan program, which has far lower interest rates.
Some schools that do not allow federal loans say it's in their students' best interests. For most community college students, loans are unnecessary, as costs are generally low enough that they can be covered by federal grants and out-of-pocket costs. Only 17% of all community college students take out loans.
"It's just not necessary," said Dustin McDaniel, the director of financial aid at Athens Technical College, which — like most Georgia technical schools — does not give federal loan access. The school does offer students information about private loans, McDaniel said, but only as a last resort.
With federal loans, colleges have no control over how much money students are allowed to borrow, McDaniel told BuzzFeed News. The school doesn't allow the program in part to protect itself from penalties imposed for high default rates, but mostly, he said, because they believe it is in the best interests of their students.
"We don't want our students to graduate from a two-year program with a lot of debt, especially given they have their costs mostly covered."
Research shows that having access to federal loan programs can improve students' academic results, enabling them to commit to full-time study and take more challenging classes — and ultimately, even transfer to a four-year college, the report said. For poor students, the ability to borrow to cover costs of living, pay for textbooks, and make up for lost income can be vital. For low-income students, private loan interest rates can be as high as those on credit cards.
The lack of access to federal loan options disproportionately affects minority students and those living in rural areas, the report found. While only a third of white community college students in Alabama could not borrow money to pay for community college, more than 60% of black students lacked access. In Montana, the vast majority of Native American students went went to colleges without federal loan access.
In North Carolina, community colleges have "rapidly" fled the federal loan program in recent years, the report said; now, more than half of students in the state cannot borrow subsidized loans.