This Startup Now Protects Student Data In One-Third Of Schools
As concerns about data privacy and clumsy app logins baffle school districts, tech startup Clever finds huge demand for its services.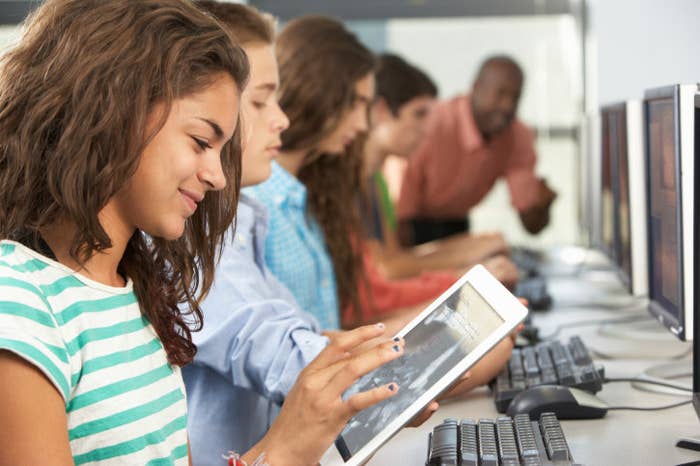 Education-tech startup Clever announced last week it had spread to one-third of America's public and private schools, some 44,000, in just three years.
The booming San Francisco company owes much of its success to the American school system's growing demand for technology in the classroom — and the system's inability to figure out what to do with the student data and privacy concerns that come along with it.
For parents and school districts, student data privacy has been an increasing concern. Parents worry about their children's information being leaked, hacked or sold; districts, charged with keeping data safe, worry about their own ability to protect and steward the information.
The concern has been heightened by the fact that teachers are increasingly using tech that requires handing over highly sensitive information to third parties. Beyond simply storing students' names and ages, there are now apps that track and manage behavior, "robot tutors" that build detailed profiles of what kids know, and programs that text parents when their child has missed an assignment.
Clever's system is built to pass information between school districts' databases, which store that sensitive student data, and third-party apps and programs, which need the data to run. District systems have long been difficult to integrate with apps, but by acting as a middleman, Clever allows school districts to monitor what types of student information are handed over to third parties, and to ensure that data is handed over safely.
Districts typically trust Clever to ensure that data is being handled safely. Clever vets the security and privacy policies of the apps it works with — it says it won't allow an app to work with it unless it is compliant with federal privacy laws.
And for teachers and students, Clever solves practical problems. It eliminates the need to create dozens of student accounts by hand. And rather than logging into a dozen apps with a dozen logins, students have one username and password that that they use to sign into Clever, which then logs into the apps.
The need for such a service grew as school districts were using a greater number of digital services, but hadn't figured out how to safely and efficiently store, distribute, or safeguard student data. Many use clunky, outdated student information systems that nonetheless cost tens of millions of dollars to build and maintain, and frequently do an inadequate job of vetting and regulating how companies use their students' data.

On the other side, less than careful ed-tech companies have sloppy privacy policies, bad or nonexistent encryption, and back-end systems that aren't built to integrate with school districts or other apps.
"It's a huge, systemic problem," said Michael C. Horn, executive director of the innovation think tank the Clayton Christianson Institute. "Increasingly, districts are having more and more software, but there's no integration in a seamless way."
Originally, Clever CEO Tyler Bosmeny set out to help teachers who wanted to use a piece of technology in their classrooms, like an app or a piece of curriculum, but found it was a time-consuming headache. Often, it required creating 30 student logins, inputting 30 students' information, and then using up long periods of class time to get students signed in and using the program. "They were spending more time troubleshooting than teaching," Bosmeny said.
It was a headache for school districts, too. Every time a teacher signed up her students for a new app, it opened up a potential for misuse of student data — districts struggled to keep track of what programs were being used, and had no way of knowing whether each program was properly transmitting and encrypting students' information, or whether there was a potential for student data to be bought and sold.
"We heard stories of student information being sent over email, saved in Dropbox, being kept years after students had graduated," Bosmeny said.
Clever makes its money by charging app developers to integrate with the system. For schools, the service is entirely free — another reason districts have been flocking to use it.
Miami-Dade, the country's fourth-largest school district, first built its own Clever-like system eight years ago, with a single sign-on interface for teachers and a team that vetted and signed contracts with outside developers to ensure proper use of student data.
But it was hugely complex and time-consuming. "Every time we got a new partner, we had to stop and write up legal documents, and our tech people had to develop a new sign-on interface," said Debbie Karcher, the district's chief information officer. "It took quite a bit of time and money."
When Miami-Dade switched to Clever three years ago, in the company's infancy, the district immediately saw a difference. "On our end, it's a one-time action, and then Clever does the rest," said Karcher. "It saves us so much time."
At first, Karcher said, the switch was about the ease of the single-sign on, saving teachers and the tech department time and money. But their relationship with Clever has become increasingly about privacy. "We started realizing how much student data we were sending out, and how important it was, and we became more reliant" on Clever to monitor and safeguard the data being sent.
That was in part because the nature of the student data being used has begun to change, said Jorge Fernandez, district executive of Miami-Dade County Public Schools. "Apps want more and more detailed information on who students are — making things unique to students instead of just delivering content."
Miami-Dade now requires new vendors to integrate Clever. If they don't, Miami-Dade charges them for the time and expense of drawing up contracts and integrating systems. "When we hear that a vendor's using Clever, our ears perk up," Karcher said. "That automatically makes it easier on our side."