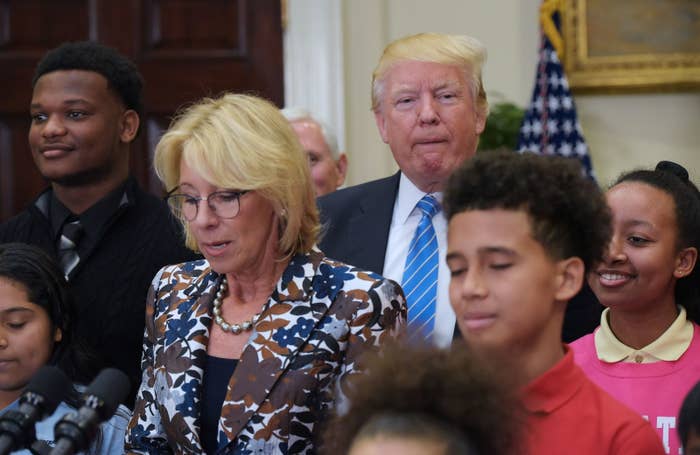 When the Trump administration announced its pick to run the $1.3 trillion federal student loan system on Tuesday, there was one notable thing about the candidate that wasn't mentioned in the press release: He's the CEO of a private student loan company.

The Education Department's statement described A. Wayne Johnson as the "Founder, Chairman and former CEO" of a payments technology company called First Performance Corporation. It noted his PhD in education leadership, and Education Secretary Betsy DeVos, citing his dissertation, said he "actually wrote the book on student loan debt."
But what wasn't noted was Johnson is currently the CEO of Reunion Student Loan Services, a detail confirmed by a company representative reached by phone on Tuesday afternoon. Reunion originates and services private student loans, and offers refinancing and consolidation for existing loans.
The Education Department did not immediately respond to a request for comment.
Reunion's website describes Johnson as its CEO, as does a copy of his CV submitted to officials at the Hamilton County school district in Tennessee, where he was in the running to become school superintendent. He withdrew his application for the position last week, according to The Chattanoogan.
The Reunion Student Loan Services representative, who declined to give their name, said that Johnson "of course plans to resign" if he is confirmed as the federal student aid chief.
Johnson founded First Performance Corporation, a payments technology business based in Atlanta, and has a long background in the payments industry. His PhD dissertation focused on how students decide to borrow money to fund their college educations.

Johnson "will bring a unique combination of CEO-level operating skills and an in-depth understanding of the needs and issues associated with student loan borrowers and their families," DeVos said in her statement.

James Runcie, the previous head of Federal Student Aid, stepped down abruptly last month after he refused to testify in front of an oversight committee. In his resignation letter, Runcie wrote that he could not "in good conscience continue to be accountable as Chief Operating Officer given the risk associated with the current environment at the [Education] Department."