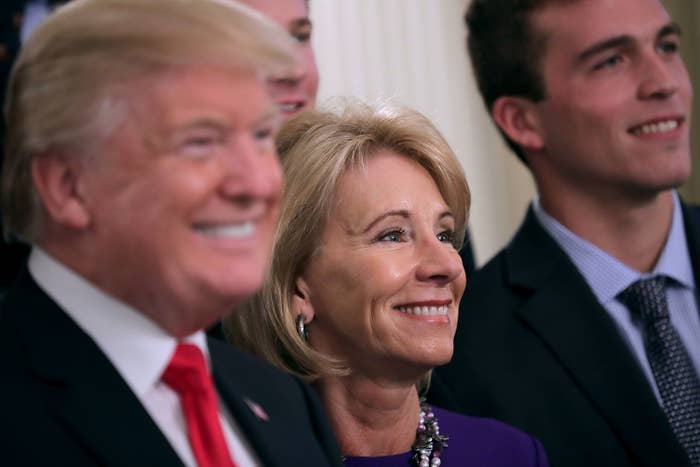 The Education Department is slashing student debt relief for students defrauded by their colleges — part of what Education Secretary Betsy DeVos said was a bid to "protect taxpayers from being forced to shoulder massive costs that may be unjustified."
In a statement Wednesday, the Education Department announced what it called an "improved" process that would offer only partial relief to some students were misled by their schools about the value of their degree or the costs of their education. The move is a significant departure from the Obama administration, which had previously given only complete loan forgiveness.
The new process, the Education Department argues, will compensate defrauded students "based on damages incurred" — taking into account whether they received any benefit from their degrees. It means that some students who were defrauded by their schools but took home higher incomes than average could now see almost no debt forgiveness.
The department also announced that it had approved almost 13,000 claims made by students at Corinthian Colleges, a collapsed for-profit chain that had been repeatedly accused of lying to students about the value of their degrees. DeVos had come under fire for letting those debt relief claims — and tens of thousands of others — languish for almost a year without judgement.
"No fraud is acceptable, and students deserve relief if the school they attended acted dishonestly," DeVos said in a statement. "This improved process will allow claims to be adjudicated quickly and harmed students to be treated fairly."

Tens of thousands of students at for-profit colleges applied for debt forgiveness under the Obama administration in 2015 and 2016, after the collapse of massive for-profit chains like Corinthian Colleges and ITT Tech. DeVos, however, has questioned the rule that the administration put in place to determine whether those students deserved forgiveness — saying the "rushed" process too easily offered students "free money."
Under the new process, how much debt relief defrauded students see will be based on their income, the Education Department said — using a formula that compares defrauded students' average or median earnings to the earnings of students who attended similar programs at other colleges. The Obama administration, DeVos's Education Department noted, had mulled a similar idea to limit the debt relief offered by the claims, before ultimately settling on offering full forgiveness.
Students who were defrauded by their schools, and who take home 70% of their peers' incomes, for example, will have 30% of their loans forgiven. Under previous Obama administration rules, the entirety of the loan would have been forgiven for every student the Education Department determined had been tricked into taking out a degree.

Average earnings for many Corinthian programs, which offered certificates in programs like medical assisting and criminal justice, often hover around $20,000. So people earning $10,000 a year would see just half of their loans forgiven.

The calculations about how much relief students earn don't take into account whether students are working at jobs in the fields they studied, or how much debt they took out in total. They also don't include students' individual incomes — data the Education Department does not have access to.
The decision prompted immediate backlash from Democrats and consumer advocacy groups, who argue that the department's use of students' earnings fails to take into account how expensive many programs at fraudulent for-profit colleges were. At Corinthian's Everest College, for example, certificate programs cost five or ten times as much as comparable programs at community colleges.

Sen. Dick Durbin, a Democrat, said in a statement that the move "punished defrauded student borrowers." Granting partial relief, he said, "will only create more hardship for these student victims of fraud."
"The only 'improvement' to this process is that they are going to start limiting relief to defrauded borrowers," said Abby Shafroth, a staff attorney at the National Consumer Law Center. "It doesn't make any sense. I don't think there's a basis in law for what they're doing."
As a result of the Education Department's decision, said Shafroth, two students who attended the same program at a Corinthian school could receive dramatically different amounts of loan relief. Those whose claims were approved under Obama would get full relief; those approved under DeVos could see much less.
"It creates obvious inequities between students who were subject to the same illegal conduct based entirely on when the Education Department decided to approve their claims," Shafroth said.