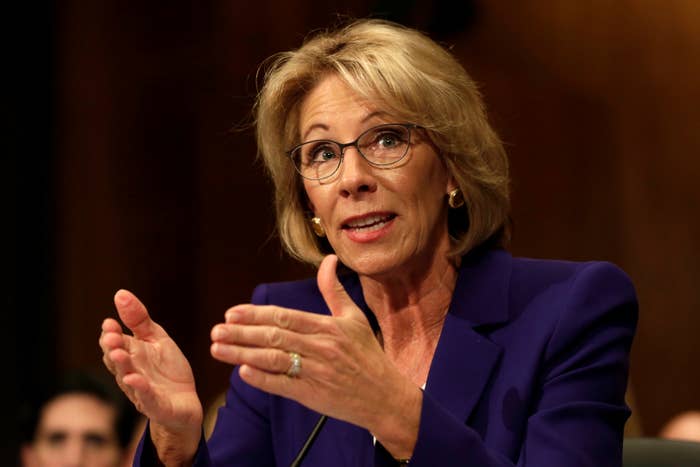 WASHINGTON — The Senate confirmed Betsy DeVos as education secretary by a razor-thin margin Tuesday, with Vice President Mike Pence casting an unprecedented vote to break a 50-50 tie on a Cabinet nomination. It is also the first time in history that an education secretary has ever been confirmed without bipartisan support.

No Democrats voted for DeVos's nomination, and two Republicans crossed party lines to oppose her, saying they believed she was too inexperienced and narrowly focused on school choice issues like charter schools and vouchers to adequately support public schools.
But a frantic effort by Democrats — including a deluge of phone calls from constituents and 24 straight hours of anti-DeVos speeches on the Senate floor — failed to convince a third Republican to jump ship and kill the nomination. That left Pence with the deciding vote, the first time in congressional history that a vice president has broken a tie on a Cabinet nominee.

"On this vote, the yeas are 50, the nays are 50. The Senate being equally divided, the vice president votes in the affirmative and the nomination is confirmed," Pence told the deadlocked chamber.
Pence had told Fox News Sunday that it would be his "high honor to cast the deciding tie-breaking vote" on DeVos's nomination.
Reacting on Twitter, DeVos said she was honored by her new role.
Early Tuesday morning, President Donald Trump, too, took to Twitter to defend DeVos, saying, "Senate Dems protest to keep the failed status quo. Betsy DeVos is a reformer, and she is going to be a great Education Sec. for our kids!"
No education secretary nominee in history has ever garnered the kind of opposition that DeVos, a billionaire education philanthropist and Republican megadonor, did. After a lackluster hearing in which she seemed to struggle with several basic concepts of federal education policy, she became a central target of Senate Democrats, who jumped on her relative inexperience in public schooling and complex financial ties.
Clips of DeVos's stumbles in the hearing played on the news and late-night talk shows, and teachers unions pushed to mobilize their members, leading constituents to inundate Senate phone lines in opposition. For several days, calls from opponents on DeVos's nomination and other Trump nominees made for the "busiest day in Capitol switchboard history" by "almost double," according to Hawaii Sen. Brian Schatz, a Democrat.
DeVos was even included in a Saturday Night Live sketch this past weekend, telling a roomful of reporters, "I don't know anything about school, but I do think there should be school. Probably Jesus school. And I think it should have walls and roof and gun for potential grizzly."

Republican Sens. Susan Collins and Lisa Murkowski both voted no on Tuesday, with Murkowski citing the high volume of calls she received from "thousands of Alaskans" who opposed DeVos. Collins' office, too, said she had been overwhelmed by calls. Collins and Murkowski said that they were concerned about DeVos's aggressive advocacy for charter schools and little experience in public education.
Before the vote Tuesday, Sen. Patty Murray, a Democrat who has led the opposition to DeVos, invoked the groundswell of opposition to the education nominee in a speech on the Senate floor, urging "just one more Republican" to come out against her.
"When we saw someone nominated to this position who knows so little about public education, who so clearly cares so little about public education, whose strongest connection to public schools is through her dedication to tearing them down, well that struck a real chord with a whole lot of people," Murray said. "And they decided to make their voices heard."
Sen. Lamar Alexander, who chairs the Senate's education committee, spoke after Murray on Tuesday, urging his colleagues to support DeVos. The Republican said that she has the support of 22 serving governors and that Democrats should not be surprised that a Republican president chose a nominee who supports school choice and charter schools, which he called "the most effective public school reform in 30 years."
Alexander added that his committee confirmed two education secretaries nominated by President Obama, even though Republicans disagreed with those choices on some major policy issues as well.
"You may disagree with the president, but the people elected him," Alexander said. "I urge you to give the Republican president the opportunity to choose his own education secretary, just as we did."
CORRECTION
Although Sen. Susan Collins' office received a high volume of calls, she did not cite them as part of her reasoning for voting no on the DeVos nomination. An earlier version of this story said that she had referenced those calls in announcing her opposition.