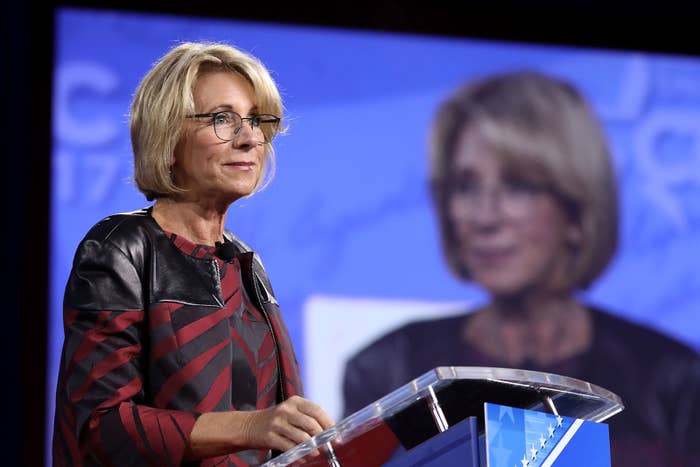 NATIONAL HARBOR, Maryland — Betsy DeVos defended her decision to rescind the Obama administration's protections for transgender students Thursday, saying the guidelines were "a very huge example of the Obama administration's overreach."
Rules requiring schools to allow transgender children to use the facilities of their gender, DeVos said, "suggested a one-size-fits-all, federal government approach" to an issue she believed was better left to states and schools. At the annual Conservative Political Action Conference where DeVos was speaking, the order to rescind the guidelines received a roar of applause.
The New York Times reported this week that DeVos had personally fought against a push from Jeff Sessions to withdraw the guidelines, telling President Donald Trump that she was uncomfortable with the move. Trump ultimately sided with Sessions, the Times reported, and DeVos agreed to sign the order, which had to be issued jointly between the Education Department and the Department of Justice.
DeVos would not answer direct questions from Democratic senators during her confirmation process about whether she would continue to enforce protections against transgender students under Title IX. She promised only to "carefully review the law."
In a statement late Wednesday, after the order had been issued, DeVos said that "as Secretary of Education, I consider protecting all students, including LGBTQ students, not only a key priority for the Department, but for every school in America."
DeVos, who faced a bruising confirmation processes that ended with a record tie-breaking vote from Vice President Mike Pence, received a standing ovation at the annual conservative conference Thursday, where she jokingly referenced the "wonderful things the mainstream media has had to say about me."

"My job isn't to win a popularity contest with the media or the education establishment here in Washington," DeVos said in prepared remarks. "My job as secretary of education is to make education work for students."
But during an interview at CPAC with the conservative CNN commentator Kayleigh McEnany, DeVos offered an olive branch to the education establishment, announcing she had arranged to tour a pair of schools with Randi Weingarten, the president of the American Federation of Teachers. She would visit a public school of Weingarten's choosing, DeVos said, and Weingarten — an outspoken critic of charter schools — would visit a "choice" school, such as a charter or voucher school.