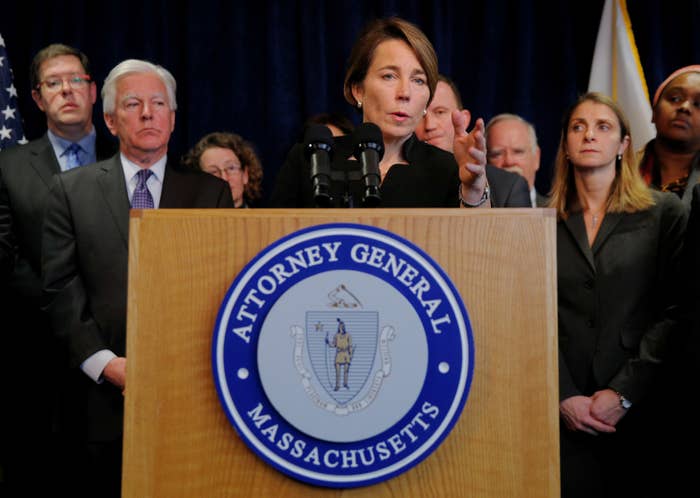 One of the country's largest student loan servicers, FedLoan Servicing, seriously mishandled federal student debt forgiveness programs, depriving teachers and other public servants of debt relief, according to a lawsuit filed today by Massachusetts Attorney General Maura Healey.

Healey sued the Pennsylvania Higher Education Assistance Agency, which does business as FedLoan, over "unfair and deceptive practices" in two loan programs that the company handles exclusively on behalf of the federal government: the public service loan forgiveness program, or PSLF, and a program called TEACH that gives grants to teachers in low-income areas.
FedLoan manages a massive portfolio of loans — a quarter of the country's $1.4 trillion portfolio.

Under PSLF, public servants who are enrolled in income-based repayment plans can have their loans forgiven after 10 years, or 120 monthly payments. But FedLoan delayed and mishandled applications for these repayment programs, the lawsuit says, causing public servants to be set back months in their timeline for forgiveness — paying significantly more money, and spending a longer time in debt.
"This company's actions have jeopardized the financial futures of teachers and public servants across the country," Healey said in a statement.

FedLoan "does not agree" with the allegations in Healy's suit. "PHEAA remains committed to appropriately resolving any outstanding borrower issues while following the U.S. Department of Education's policies, procedures, and regulations," the company said in a statement.
FedLoan also badly mishandled the Teacher Education Assistance for College and Higher Education program, or TEACH, which offers grants to teachers who spend time in low-income areas, according to the suit. Educators repeatedly saw their applications delayed and misprocessed by FedLoan, the suit alleges, mistakes that were costly for teachers. When the government believed that teachers had not completed the program, it converted their grants to loans — meaning teachers had to repay money they had never intended to borrow. That has left teachers "struggling to manage their student debt," the suit says.

The suit also alleges broader missteps by FedLoan that go beyond programs for public servants. Because of a glitch in FedLoan's system, the company overcharged thousands of borrowers and hasn't refunded their money or even notified them of the overcharge, the suit claims. A "logic error" in FedLoan's system allegedly sent "erroneous and unnecessary" bills to borrowers.
Student loan servicers like FedLoan, which act as middlemen of sorts between the government and borrowers, have faced increasing scrutiny in recent years, facing allegations of mismanagement and deception from government agencies and state attorneys general.

The country's largest and best-known student loan servicer, Navient, formerly known as Sallie Mae, was sued in January by the Consumer Financial Protection Bureau. And Healey settled a case last year with the servicer Xerox Education, or ACS, over a raft of allegations, including that it had mishandled income-based repayment plans.
The allegations against FedLoan are the latest in a series of problems for the public service loan forgiveness program, whose future has come into question as the Trump administration looks to trim costs and reform the complex student loan system.
A federal watchdog report found that the PSLF program is seriously broken, riddled with complexities that cause people to lose eligibility for small blips. And the Education Department has been sued by a small number of students who were told they would qualify for forgiveness, only to have the decision reversed — a case that caused outsized panic among thousands of public servants who were making payments on the assumption that they would receive forgiveness.