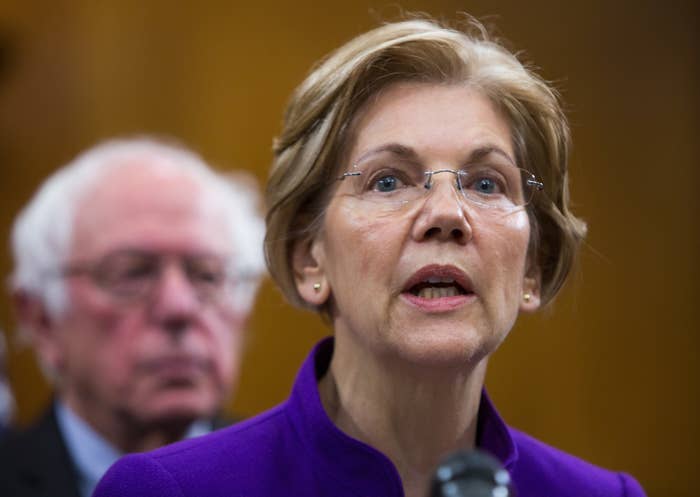 Democratic presidential hopefuls are scrambling to come out against the first big bipartisan legislation of the Trump era, positioning themselves as hardliners on Wall Street regulation and free from the influence of banks.

It's a sign that on a national political scale, many Democrats are betting there will no longer be any room with voters for nuance on the issue of Wall Street — or any appetite for bipartisanship. Ahead of a potentially bruising Democratic primary, some of the country's top Democrats are apparently hoping to shed any perception that they are cozy with Wall Street donors.
A dozen moderate Democrats from red and purple states are using the Economic Growth, Regulatory Relief, and Consumer Protection Act — which rolls back some Dodd-Frank regulations for small and medium-sized banks — as a chance to burnish their bipartisan credentials. Eleven have signed on to cosponsor what is expected, after a vote this week, to be the Senate's first major bipartisan bill in more than two years.
But virtually all of the Senate's most high-profile Democratic politicians have taken the opposite route, sharply criticizing the bill and saying they'll vote against it. That includes past recipients of large sums of financial industry money, like Sen. Kamala Harris, as well as Kirsten Gillibrand and Cory Booker, two East Coast politicians who have raked in Wall Street cash and have been seen as more friendly to the banking industry.
While Harris has been criticized by some progressive Democrats for parts of her record as California's attorney general, in the wake of the mortgage crisis, she split with other states to broker her own settlements with big banks, winning a substantial sum, and special penalties, for California — the kind of aggressive action the party is trending toward.
Booker, who is from New Jersey, has made headlines in the past for raking in money from Wall Street, and is still struggling to live down a comment he made in 2012 defending the hedge fund Bain Capital against Barack Obama. He labeled Obama's criticism of Bain "nauseating to the American public" and called for the president to "stop attacking private equity."
"The smart, ambitious, and relatively young members of the Senate Democratic caucus are very aware that the politics of Wall Street and banks in general have radically changed."
In a statement to BuzzFeed News, Booker called the new Senate banking bill "plainly unacceptable," saying Congress should be "strengthening, not weakening, the safeguards put in place of a greed and excess-fueled financial crisis that brought hundreds of billions of dollars of big bank bailouts."
"The smart, ambitious, and relatively young members of the Senate Democratic caucus are very aware that the politics of Wall Street and banks in general have radically changed," said Jeff Hauser of the Center for Economic and Policy Research, a left-leaning think tank. "If you plan to be around for a while — particularly if you plan to run for president — you want to be opposed to this bill."
With 11 Democrats behind it, the bill is likely to sail through the Senate. But the chorus of opposition from so many prominent Democrats and left-wing groups points to a shift in the Democratic Party, said Sen. Elizabeth Warren, who has long been one of the party's loudest voices for Wall Street regulation.
"More and more, elected Democrats are standing up for working people — even when it means their Wall Street friends are unhappy," she told BuzzFeed News in a phone interview. "The real energy of the Democratic Party is in the grassroots."
"We were out alone on this issue for decades," said one senior Democratic aide. "Now you have these big names signing on with us."
In the past, part of Democrats' reluctance to hit the financial industry hard has had practical roots; many have relied both on large individual checks from wealthy bankers and counting on them to act as "bundlers," rallying friends to cut checks themselves.
But high-profile Democrats like Warren and Bernie Sanders, and increasingly people like Harris and Gillibrand, can more easily take in small-dollar donations from supporters with sprawling email lists.
Banks have also stopped spreading their money as liberally among both parties.
"I don't think the math works anymore," said Hauser. "If I were banks, I would consider radically increasing money to make it tougher for Democrats to come out against things like this, because right now, the politics and the policy are totally aligned. Banks don't have enough to offer Democrats."
Perhaps even more than Booker, whose Senate voting record has often gone against financial industry interests, Gillibrand has been seen previously as friendly to Wall Street, and has spent time courting — and catering to — major financial industry donors. Last month, though, Gillibrand announced she would stop taking money from corporate PACs, joining more left-wing senators like Warren and Sanders. Booker followed suit hours later.
Whether the bill, steered by Idaho Republican Sen. Mike Crapo, is a much-needed lifeline to community banks battered by regulation or a massive giveaway to some of the country's biggest financial institutions depends on which Democrat you ask.
While the Dodd-Frank Act, passed in the wake of the 2008 financial crisis, exempted only banks with assets less than $50 billion from its rules, the new bill would raise that limit to $250 billion — an umbrella which would provide relief to community banks but would also include larger financial institutions like BB&T and American Express.
Sen. Tim Kaine, a swing state Democrat who has added his name to the bill, supports the bill because it "provides relief for small community banks and credit unions in Virginia," a spokesperson told BuzzFeed News, "while strengthening consumer protections for all Americans and maintaining critical Dodd-Frank reforms."
Crapo's bill is significantly more moderate than a House version, which would essentially rewrite the Dodd-Frank bill passed in the wake of the 2008 financial crisis.
It's "not a major, substantive correction" to Dodd-Frank, said Justin Schardin, a fellow at the Bipartisan Policy Center, a centrist think tank. "There's a lot of prominent Democrats — including Barney Frank — who support raising the limit" on the size of banks subject to regulations. The big issue, he said, is over what that limit should be.
The $250 billion cap in the new bill, Warren warned, means "that 30 or 40 of the largest banks in the country would be regulated like tiny community banks. This is nuts." Had it been in place in 2008, it would, she said, have included Countrywide, a bank widely seen as one of the architects of the financial crisis.
Warren took her opposition to the bill a step further than others in her party, surprising even some left-wing Democratic aides by explicitly taking aim at Democratic moderates.
Warren took her opposition to the bill a step further than others in her party, surprising even some left-wing Democratic aides by explicitly taking aim at Democratic moderates. She rallied her supporters against them in an email last week, warning that "Republicans AND Democrats are gutting the rules on Wall Street."
"The bank lobbyists have been hitting Capitol Hill hard, and they have a Dodd-Frank rollback bill lined up with the support of every Republican and twelve Democrats," she told supporters.
Even as the gun control debate rages across the country — and with the banking bill's passage virtually assured — progressive groups have mobilized the Democratic base against it. Daily Action texted supporters on Wednesday urging them to call senators about the bill; Indivisible, a group that formed in the wake of Trump's election, pushed out call scripts for members to urge senators to vote against the bill because it "puts us at risk of another financial crisis."
The point is to "send a message," said Chad Bolt, policy manager at Indivisible. "We just want Republicans and Democrats to know that there is a strong appetite in the country for regulating Wall Street." The Democrats supporting the bill, Bolt said, "are out of step with what the majority of Americans believe."
For many of the Democrats who have signed onto the banking bill, part of the allure is the opportunity to demonstrate bipartisanship in a gridlocked Senate, said Schardin. "It helps them electorally. They want to be practical, to get things done, and this is a way to show — we actually did something."
The bill is apparently a tricky balance for some moderate Democrats who are considered potential candidates in 2020 but have, in the past, touted their bipartisan credentials. Sens. Chris Murphy, of Connecticut, and Amy Klobuchar, from Minnesota — which barely tilted to Clinton in the 2016 election — both wouldn't say how they planned to vote on the banking bill this week, though the Senate's version has been out since December.
It's the bill's timing, more than anything else, that might become ammunition against Democrats in future races.
"The national conversation at the moment is rightly focused on gun safety, but the Senate is taking up a totally unrelated bill to deregulate big banks," said Bolt. "It's totally out of touch."