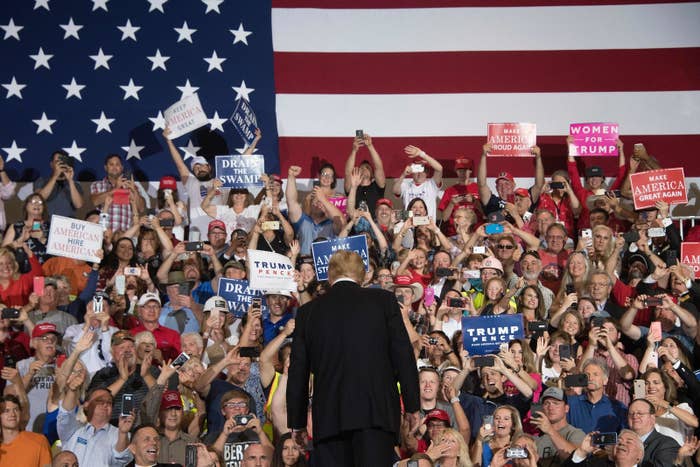 The American Civil Liberties Union is launching a new electoral program to mobilize its 1.8 million members to vote as a bloc — a sign of how the group, flush with cash from the election of Donald Trump, is increasingly turning itself into a political engine of the resistance.

The organization, which once confined itself to litigation, has envisioned "ACLU Voter," an initiative to register and turn out voters and encourage them to choose candidates based on a scorecard of civil liberties. The goal isn't just to get like-minded people to the polls — it's to encourage elected officials to vote based on the ACLU's rating.
If the new ACLU reminds you of the National Rifle Association, that's not an accident.
"We talk about the NRA often here," said Faiz Shakir, the group's national political director. "Not because we agree with them, but because they have effectively created an organizational model around the single issue they care deeply about. They make their members and volunteers feel like they have a duty to vote."
On the ACLU Voter website, entering an address pulls up a scorecard for senators and representatives, ranking them based on what percent of the time they voted along with the ACLU's guidelines. In its 2018 scorecard, Democrats almost universally get much higher ratings than Republicans, with the occasional exception of a libertarian like Sen. Rand Paul or Rep. Justin Amash.
"We want [elected officials] to be competing for a higher score on civil rights and civil liberties," said Shakir. "Next time when we say there's a vote recommendation, it's not because we're offering a friendly piece of advice. It's an implied threat."
Officially, the ACLU is nonpartisan, and an "ACLU Voter," as the group envisions the term, chooses candidates not based on party but on issues like criminal justice, net neutrality, and voting and reproductive rights.
But of course, there's another factor: Donald Trump.
The ACLU has been transformed in the wake of Trump's election: from 400,000 members to almost 2 million, from a few million in donations every year to more than $120 million post-Trump. In the legal world, it has been the face of resistance to virtually all of Trump's most unpopular policies: the travel ban, the separation of families at the border.
But Shakir wants the group to be known for what it does outside of the courtroom, too — in grassroots organizing, in ballot boxes, and on the Senate floor.
But the reputation it has built fighting the Trump administration does bring risks for the ACLU. Once mostly known for its pro–free speech litigation, its embrace of the resistance could turn off middle-of-the-road and especially libertarian members. And the group angered some in its growing body of left-wing members when it defended a white nationalist group over its right to protest in Charlottesville, Virginia — a protest that eventually erupted into violence. That uproar caused the ACLU to change its stance, saying it would no longer represent white supremacists who demonstrated with guns.