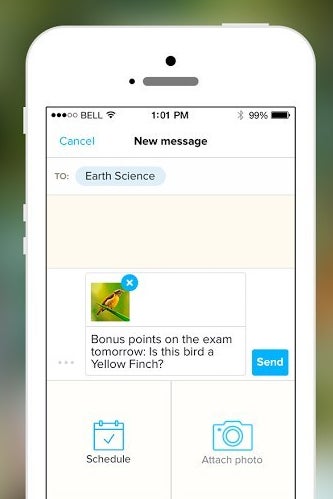 Remind, an education app that allows teachers to communicate securely with their students via text, surged yesterday to number three on the charts among free apps in the Apple App Store, making it the only education app to crack the top 25 this week. With schools nationwide starting in the coming weeks, it's prime season for education apps: Remind added almost 400,000 users yesterday, and is expecting at least 300,000 more today. Two other education apps, Edmodo and ClassDojo, are also in the free app store chart's top 50.
As the school year hasn't yet begun in many districts, the company says its user growth is almost entirely centered among teachers. When students come to class in the coming weeks and begin downloading Remind, the company hopes to see the app edge out Facebook Messenger and top the app store charts.
Remind has previously only allowed teachers — more than a million of them, at last count — to broadcast messages to parents and students via SMS. Today, the app plans to introduce a set of new features will allow students to engage with their teachers' messages, though only by choosing among a set of reply "stamps." The feature is an extension of the controlled, monitored communication that has led school districts to embrace the app's use in classrooms.
The "stamp" feature will expand Remind's capabilities beyond texted reminders, said Remind's CEO, Brett Kopf, allowing teachers to create take-home quizzes, track attendance or poll students and parents. He says the possibility to engage safely with students is a feature that Remind's teacher advisory board has been asking for for months.
"Every feature we've ever built has come from teachers," Kopf said.
Remind is among a score of education apps that is trying to subvert the traditional education software model, in which districts and schools purchase technology in bulk, by appealing directly to teachers with free apps, and spreading rapidly by word-of-mouth. But Kopf said the app is unique in its simplicity and focus.
"You'll see a lot of apps out there that are trying to make it easier to teach or plan lessons, but we're in the business of building relationships between teachers and students and parents," Kopf said. He founded the app with his brother, he said, because a key relationship with a teacher in grade school allowed him to overcome struggles with learning disabilities that had been holding him back.
Kopf also credits Remind's accessibility with the app's popularity. Remind's reliance on SMS, rather than in-app communication, isn't going away with the app's new features, Kopf said, because it allows the app to be used by parents without smartphones. He also said that Remind's features have proved especially popular in low-income districts, where parent engagement is a key issue for teachers, and parents' sometimes erratic work schedules can make it difficult to get in touch by phone.
The company has not yet monetized the app, and says it "will always be free" for teachers, but is weighing options for monetizing extra features for parents. Remind has 30 employees and raised $15 million in a Series B funding round last February that was led by Kleiner Perkins Caulfield & Byers.