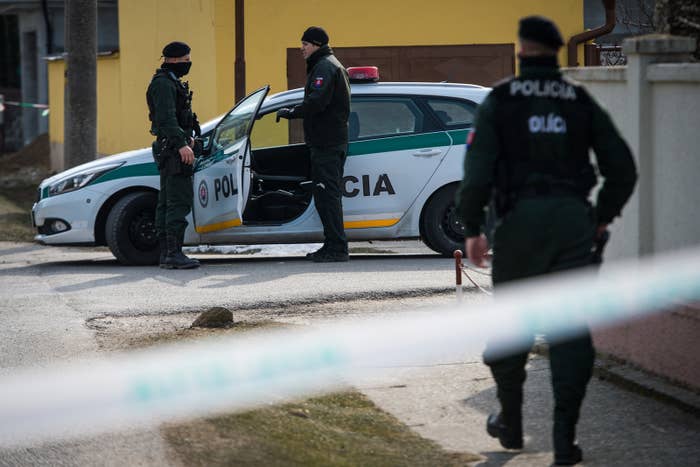 A Slovak reporter specializing in tax fraud and corruption investigations and his girlfriend were found murdered over the weekend, according to police Monday.
Kuciak's murder is the second in the last five months of an investigative journalist specializing in high-level corruption in the European Union. On Oct. 17, Daphne Caruana Galizia was killed by a car bomb in Malta.
Jan Kuciak, a 27-year-old reporter for online news portal aktuality.sk, was found dead Sunday alongside Martina Kusnirova at their home in the town of Velka Maca, about 40 miles from the Slovak capital, Bratislava. Police believe they were murdered sometime between Thursday and Sunday, when their bodies were discovered after family members became concerned that the couple could not be reached.
Police official Tibor Gaspar told reporters that Kuciak died of a gunshot wound to the chest while Kusnirova was shot in the head, according to the AFP news agency.
In a statement, Slovak Prime Minister Robert Fico denounced the killings and said that if there was any link to Kuciak's reporting work, "it would be an unprecedented attack on freedom of the press and democracy in Slovakia."
Zselyke Csaky, a senior researcher for Freedom House, a US-based rights monitor, called the murder "completely unprecedented for Slovakia and the region as a whole.
"Slovak politicians and businessmen are not always friendly to the media and have occasionally issued verbal threats against journalists. But a murder has been wholly unimaginable and stirs up memories of the 1990s, when the underworld played a bigger role," she said.
A journalism advocacy group, Reporters Without Borders, said that since Fico came to power in 2012, Slovakia has seen a huge jump in intimidation and harassment of journalists.
At a November 2016 news conference on corruption accusations made in another publication, Fico referred to journalists as "filthy anti-Slovak prostitutes," rhetoric Reporters Without Borders says has become typical and prompted the group to drop Slovakia five spots on its press freedom index.
Pauline Adès-Mével, the head of Reporters Without Border EU-Balkans desk, called for an investigation. "We demand that the authorities shed all possible light on this case, especially as he and those close to him had been threatened in recent months."
Kuciak's last major project, according to his publisher, concerned corruption allegations made against Marián Kočner, a Slovak businessman with controversial links to several politicians. Germany-based publishing group Axel Springer, which owns the website Kuciak worked for, said there was "justified suspicion" that his death was linked to his "current research" but that it would not deter the group from "fulfilling our journalistic mission."
In a Facebook post Sept. 5, Kuciak accused Kočner of harassing him, saying Kočner had threatened him by phone to collect "dirt on me and my family, and that he would never again be written about." He filed a complaint with the public prosecutor's office the next day. He complained in another Facebook posting Oct. 20 that his complaint had been ignored.
Reached for comment by Slovak reporters, Kočner denied threatening Kuciak, denied knowing of any formal criminal complaint, and said that he learned of the murder only Monday morning from news reports.
He denied having negative interactions with the reporter, though he also admitted that he had suggested that any negative information he learned about Kuciak could also be reported.
"I have never met with Mr. Kuciak but he has sent me several times e-mail about the things that he was interested in in connection with my name, and I have always responded to him correctly by e-mail, and Mr. Kuciak has also published my replies," Kočner said.
Parallels were immediately drawn between Kuciak's murder and the car-bombing death of Galizia in Malta. Like Kuciak, Galizia covered high-level corruption and fraud and had frequently been criticized and threatened for her work. Thousands of protesters lined the streets of the tiny island during her funeral. Ten people initially were arrested in her murder, but so far only three Maltese citizens have been charged with the crime.