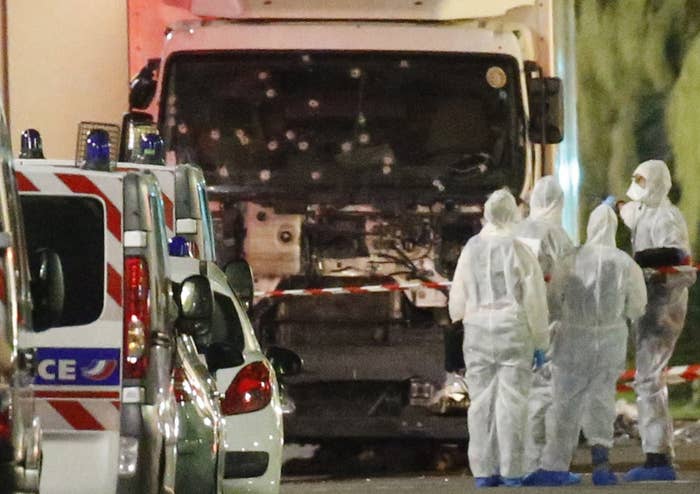 NICE, France — French investigators are still trying to piece together the motives behind the gruesome truck attack on the Nice seafront that killed 84 people last week, even as ISIS passively took credit for the attack with a tepid statement that experts suspect reflects a new strategy by the group to win publicity from attacks committed by people with no known ties to it.

On Saturday, an ISIS source told Amaq, a news service closely associated with the group's leadership, that the attacker, Mohamed Lahouaiej Bouhlel, was a "soldier" who acted with inspiration by the group.
But two French officials, speaking on background because they lacked permission to discuss an ongoing case, separately told BuzzFeed News that investigators have yet to find any specific connection between Bouhlel and ISIS ideology, let alone any sort of direct communication or support. In response to the ISIS statement and a lack of direct evidence of a connection, the French Interior Minister responded that Bouhlel appears to have been "rapidly radicalized."
"[The statement] reflects how little we have found [about an ISIS link], although the investigation continues," said one of the officials, supporting reports that Bouhlel had never displayed religious devotion and led a life of drinking, drug use and petty crime that had led to run-ins with police and a conviction for assault.
In most cases after past attacks, ISIS has taken pains to release statements that detail the organization's relationship with the attackers, as was the case with Paris and Brussels. The attacks in Orlando and now Nice, however, have seen statements that appear to show a willingness to claim attacks that ISIS had literally no direct involvement in beyond the possible interest of the attackers in the group, as was the case with Orlando, where Omar Mateen only declared his allegiance to the group as the attack was underway and investigators were unable to find a direct link beyond the statement.
French investigators, at least so far, have even less on Bouhlel, leaving some analysts to note that ISIS appears to be developing a mechanism for claiming attacks based on a virtual connection such as inspiration.
"I don't know if this is unprecedented but it is unusual for ISIS to claim to have inspired an attack before the media has reported the attacker's affinity for the Islamic State," noted Will McCants, author of The ISIS Apocalypse, and a scholar of radical Islamist movements.
The group appears to favor the use of the Amaq news outlet, as opposed to official communiques from its leadership — which announced Paris and Brussels — said Aymenn al Tamimi, a blogger and expert on ISIS.
"Amaq News is the clearest way they do this." he said. "Which is basically a clever way to say: 'We have been following the news reports and it seems clear he was IS inspired.' All this very much fits in with Amaq's function as an auxiliary outlet."
Tamimi, who has collected one of the largest public caches of internal ISIS documents, suspects that the group is focusing less on its geographic model — which has seen huge setbacks in both Iraq and Syria as opponents retake territory from the group — and more emphasis as a global entity.
"What I see on a more global trend is less emphasis on the statehood and governance model," he said. "Thus in many areas where IS has been claiming attacks, it has done so without declaring provinces: Bangladesh, Tunisia, Somalia, Philippines."