Iran Plotted To Bomb A Meeting Near Paris That Former US Officials Attended, Germany Says
Thirty-three former US officials, including Rudy Giuliani and Newt Gingrich, reportedly attended the meeting of the National Council of Resistance of Iran.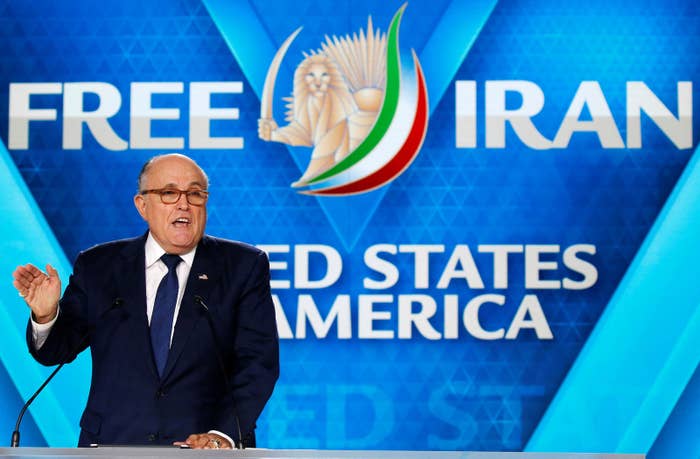 BRUSSELS — German prosecutors on Wednesday formally charged an Iranian diplomat in a plot to blow up the annual meeting near Paris of an Iranian dissident group that has long waged a campaign to topple the government in Tehran.
At least 33 former US officials, including President Trump's current lawyer, former New York City Mayor Rudy Giuliani, attended the June 30 meeting of the National Council of Resistance of Iran (NCRI), but it was unknown whether any were targeted specifically in the plot.
The NCRI is controlled by the Mujahedin-e-Khalq (MeK), a group Europe and the US once designated as a terrorist organization. The US removed the group from its list in 2012 after a long campaign that Giuliani and other former top Republican officials spearheaded.
The complex investigation into the bombing plot, which spans at least five countries, began in late June after a Belgian couple of Iranian descent was stopped by Belgian police on the border with Luxembourg and arrested for possessing 500 grams of TATP explosives, a powerful homemade explosive favored by terrorist groups.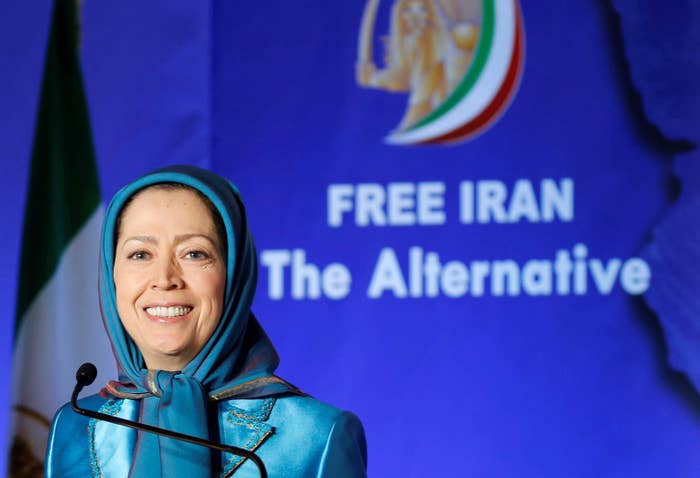 The couple, who prosecutors have only described as being from Antwerp, are believed to have been returning from a meeting in Luxembourg with Assadollah Assadi, an Iranian diplomat who German prosecutors claim is an intelligence operative who'd lived undercover in Vienna since 2004 and whose assignments "primarily include the intensive observation and combating of opposition groups inside and outside of Iran." German prosecutors say he provided the couple with the explosives and commissioned the attack on the dissident group. He was arrested in Germany, apparently on his way back to Austria.
A Belgian police official confirmed the investigation's scope to BuzzFeed News.
"It's a complicated investigation with many agencies having to work close together," said the official who lacks permission to speak on the record about active criminal cases. "There was a meeting in Luxembourg that was under surveillance and everyone worked together quickly to discover the bomb and arrest Assadi. It seems like the [Iranian] regime hoped a bombing would be seen as an internal MeK matter, which would be a plausible theory except we caught their guy in the act."
The official said that police and intelligence services from Belgium, Germany, France, Luxembourg and Albania, where the MeK has a large presence, were involved in the investigation but refused to comment if investigators were receiving help from non-EU intelligence agencies such as the United States or Israel, both of whom closely monitor Iranian intelligence assets.
After a series of public revelations that the Iranian government targeted dissident movements in Europe with a series of bombings and assassinations throughout the 1980s and 1990s, Western European intelligence services cracked down. Iran has generally avoided violent confrontation with anti-regime activists in Western Europe since, according to three intelligence and police officials in European Union countries.
"The Iranians really couldn't have timed this operation worse," said a member of a NATO country's intelligence service based in the Middle East. "Europeans are trying to hold the nuclear deal together, and they pull a silly operation like this that pisses off a bunch of major EU countries. You almost have to wonder if he was freelancing [or] maybe this is the sign of an internal problem for the Iranians, because responsible people would not have authorized this operation at this time."
The meeting and rally of MeK supporters is held annually on the outskirts of Paris. In addition to Giuliani, the US attendees at this year's gathering included former House Speaker Newt Gingrich and former New Mexico governor Bill Richardson, according to the Guardian newspaper, which covered the event. Giuliani has acknowledged previously that he's served as a paid consultant to the group, which spent millions of dollars on its lobbying campaign to persuade the US to remove it from the list of terrorist organizations.
Mitch Prothero is a world reporter for BuzzFeed News and is based in Brussels. Contact this reporter at mitch.prothero@buzzfeed.com PGP DEA2 3058 0AA4 AA24 A16D 1303 420F 3ED9 DE5D 85A9

Contact Mitch Prothero at mitch.prothero@buzzfeed.com.

Got a confidential tip? Submit it here.