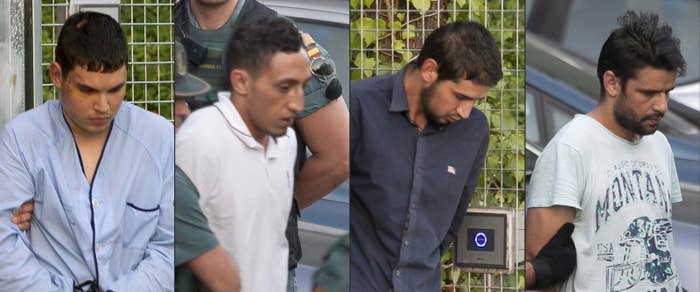 BRUSSELS — European terrorism investigators are frantically trying to determine how a slew of young men with no apparent history of radicalization managed to plan last week's Barcelona terrorist attack without drawing the attention of Spanish or European police and intelligence services.
The group, mostly composed of young men of Moroccan descent, spent months gathering bomb-making materials, including dozens of gas canisters used to intensify the explosion of a car bomb. The cell appears to have included three sets of brothers from the small village of Ripoll, near Spain's border with France, and may have been forced into the open only by what is believed to have been an accidental explosion that killed three plotters on Wednesday night.
That forced the operation to improvise with the vehicular attacks around Barcelona that eventually killed 15 people, the worst terror attack to strike Spain since 2004.
The existence of such a broad plot is both unusual and terrifying, according to a Belgian terrorism investigator currently working on the case. He compared it to the 2015 Paris attacks that killed 130 people and the 2016 Brussels bombings that killed 32. Both the Paris and Brussels attacks were carried out by the same terrorist cell.
"This is the most organized and disciplined cell Europe has seen since the Paris–Brussels attacks in that it wasn't just one or two people operating with minimal exposure," said the investigator, who cannot be named for security reasons. "Once a conspiracy gets beyond a couple of people, it's common that someone makes some mistakes that draw the attention of police or intelligence services. But like the Paris-Brussels group, these guys didn't, and it concerns us."
Shiraz Maher, a lecturer in the department of War Studies at King's College London and the author of the critically acclaimed book Salafi-Jihadism: The History of an Idea, said that while no evidence has surfaced yet, it's likely the plotters received help from outside Spain.
"The sophistication and scale of the intended plot, involving multiple actors and explosive devices, suggests this was part of a wider network," he said. "It's too early to know whether it involves Syria returnees but clearly some of the individuals will have had connections to foreign terrorist groups and some are likely to have received training abroad."
Investigators across Europe are tracking the recent movements of Abdelbaki Es Satty, an imam who began preaching in Ripoll after his 2014 release from a Spanish prison for smuggling hashish from Morocco. The Belgian investigator said that Es Satty lived in the Belgian city of Vilvoorde for three months in early 2016, but police have yet to find a direct link to Belgian militants. At least 20 of the estimated 500 Belgians who joined ISIS in Iraq and Syria from 2012 to 2015 once lived in Vilvoorde, according to officials. Police say Es Satty died in Wednesday's explosion, apparently while he was building a bomb.
"We have determined he was here and it would be logical to think he had contact with elements of ISIS considering the number of Belgians involved in the group," the intelligence officer said. "But as it stands, how this group of 12 young men managed to organize a plot like this without being caught until the very end remains a mystery, and I believe there will be a direct link established to ISIS, whether it's here in Belgium, Spain, Morocco or somewhere else."
This belief was echoed by another European police official.
"It's a surprisingly large and complex plot considering that at least so far we haven't seen any names of known militants with experience in Syria or Iraq on the alerts," said the official, who works for a nearby NATO country and coordinates with Spanish authorities on terrorism regularly.
"Once a plot expands beyond a few people, it's very difficult to maintain op-sec," he said, using shorthand for operational security. "And the Spanish have been pretty effective in rolling up other cells since the 2004 attack [in Madrid]. So for these guys to get this far with this many people involved in the plot, I strongly suspect we will find an operational link to professionals."
One of the men suspected of being part of the plot reportedly told a Spanish court on Tuesday that the group had been planning a much bigger attack using explosives. Reuters reported that Mohamed Houli Chemal, who was arrested after he was injured in the explosion at the house in Alcanar, a town southwest of Barcelona, made the confession before Spain's High Court. It was the first court appearance for the four accused surviving perpetrators.
Hours after that explosion, police say, a 22-year-old Moroccan, Younes Abouyaaqoub, drove a van onto Barcelona's popular La Rambla promenade, killing 13 and injuring scores more. Early on Friday morning, a motorized attack by other members of the group killed one woman as police killed all five of the attackers.
Abouyaaqoub was shot by police on Monday afternoon in a vineyard outside Barcelona after a nearly five-day manhunt. On Monday, police also blamed him for the death of a motorist who was stabbed in a carjacking on Thursday afternoon as Abouyaaqoub was trying to escape Barcelona.
The use of vehicles as deadly weapons, said the investigator, appeared to follow the trend in Europe of attackers turning to the tactic when no other effective weapons are available. In this case, said Spanish police, it is believed that after Es Satty and two other plotters died in the explosion, the rest of the group shifted to the vehicular attacks.
The Spanish incidents mark the sixth and seventh time a vehicle has been used as a weapon in a European terror attack in the past three years. But most of those have been thought to be the work of a single person.
That, said the Belgian investigator, is what is perplexing investigators now — who taught the Spanish group how to operate and communicate without being detected.
"Because of the size of the communities they were using as cover across France and Belgium, it wasn't easy to find them," the investigator said, referring to the Paris and Brussels attackers who secreted themselves in those cities' huge ethnic populations. "But these kids appear to all be close friends or relatives in a small community of Moroccans in a small village. It should have been noticed."
CORRECTION
The title of the book Salafi-Jihadism: The History of an Idea was misstated in a previous version of this post.