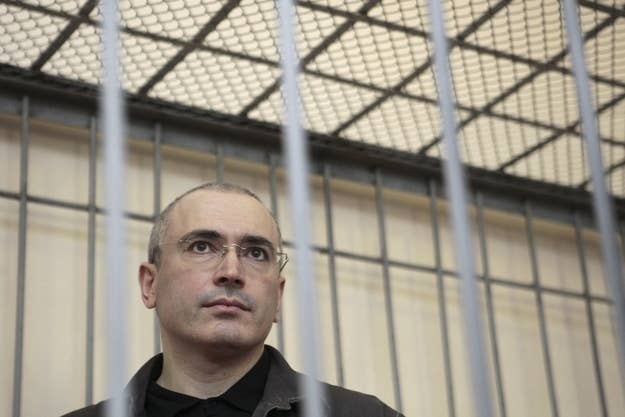 Vladimir Putin saved the biggest news for once his annual marathon press conference was done: Jailed oligarch Mikhail Khodorkovsky had requested a pardon, he said, and Putin had decided to grant it.
The way Putin announced the shock move was important: After four hours of holding forth in front of hundreds of journalists on everything from Ukraine to the NSA to Siberian metro systems, Putin walked into a smaller journalist huddle. A reporter from LifeNews, a tabloid notorious for its close relationship with Russia's security services, asked Putin about Khodorkovsky, once Russia's richest tycoon and the man seen as Putin's biggest foe.
Putin replied: "I've already talked about this. Mikhail Borisovich, in accordance with the law, must sign the necessary paper asking for a pardon. He did not do this, but recently he did write this paper and appealed to me with a request for a pardon. He's already been in jail for more than 10 years, this is a serious punishment." Putin said Khodorkovsky was motivated by "humanitarian concerns" — his mother was ill, something the jailed tycoon focused on in a recent letter to The New York Times.
With that, the confident belief of hundreds of Russia watchers — that Khodorkovsky, a man Putin was known to personally despise, would never leave prison until Putin left the Kremlin — collapsed.
LifeNews is kind of like Russia's New York Post, full of political and social scandal and intrigue, but with the unique twist that comes from functioning in an authoritarian state with low press freedom (part of which includes slavishly worshipping Putin).
Khodorkovsky is never high on the tabloid's agenda — according to its online archive, LifeNews has run fewer than 50 stories about the man who is considered Russia's best-known political prisoner. It is highly unlikely the LifeNews journalist would have asked about Khodorkovsky unless it were ordered from on high.
"It looked like staged theater, because it is," Sergei Guriev, a prominent liberal economist who fled Russia this year, said from self-imposed exile in Paris. He welcomed the news of Khodorkovsky's probable released. "It's completely unexpected."
Tacking on the stunning announcement of Khodorkovsky's pardon at the end of a marathon press conference was designed to let Putin to show it was no big deal. Oh, that guy? Yeah, he'll go free. It is to trivialize and downplay the role of a man whose fate has cast a cloud over Russia both politically and economically since he was first jailed 10 years ago on trumped-up economic charges designed to punish him for becoming too rich and too powerful.
In jail, he remained a thorn in Putin's side, or maybe more of a nuisance — the subject that pesky Western officials would always deign to mention in bilaterals, his last name a catchword for why Russia's foreign investment was so dismally low.
Now he will remain simply a nuisance. It's hard to believe Putin will allow Khodorkovsky to roam free in Russia — many of his supporters believe he will be pushed into exile abroad. From there, he can join the chorus of Putin exiles warning into a void about the dangers of his regime. There was Boris Berezovsky, the onetime media mogul who committed suicide in England this summer. And chess grandmaster Garry Kasparov, who says he will not return to Russia until Putin is gone. There are less famous ones too — countless Russian businessmen, dozens of people who used to work for Khodorkovsky's oil firm, Yukos. All of them have been either ignored or maligned by state-run media, which has an increasing hold over the country. They are, inside Russia, nobodies.
Putin's decision to pardon Khodorkovsky is an attempt to boost his country's image ahead of the Winter Olympics in Sochi in February. It came at the end of a heady week — after Russia passed a broad amnesty this week, relatives of the two jailed Pussy Riot members boarded planes and trains for far-flung prisons, anticipating the release of Maria Alyokhina and Nadya Tolokonnikova. In the middle of Putin's press conference, it was announced that four people involved in a mass trial for protesting against Putin last year would walk free.
Khodorkovsky's supporters welcomed the news of his pardon, but many were left scratching their heads. His lawyers were flummoxed — they had no advance notice of Putin's decision, nor of Khodorkovsky's supposed decision to appeal to the Russian president. Khodorkovsky himself has always maintained he would never apply for a pardon — the procedure involves admitting guilt, which he has never done. His spokespeople and lawyers declined to comment — saying nothing was certain until Khodorkovsky himself spoke.
Maybe one day we will learn whether something deeper motivated Putin. Some have argued that he no longer sees Khodorkovsky as a threat, but that belies the visceral hatred he is said to harbor for the jailed tycoon. Others see it as a show of Putin's confidence and strength. But Putin has always just done what he wanted to do — the question now is whether the pre-Olympic wash will work.
"It's a little bit two steps forward, one step backward," said Guriev. "There is no change of mind on Ukraine, on gays, on a number of things. But some things are good."