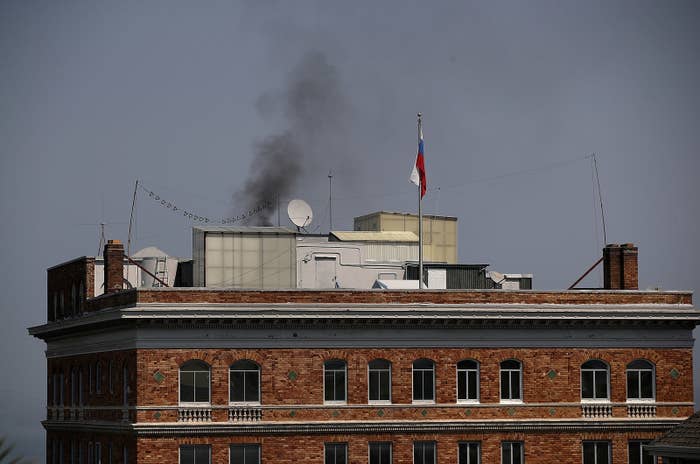 Smoke was seen coming out of the chimney of the Russian consulate in San Francisco on Friday, one day after the US ordered the building shut down in the latest round of a spiraling diplomatic crisis.
Firefighters who were sent to the building were turned away by consular officials, the Associated Press reported.
"It was not unintentional. They were burning something in their fireplace," Mindy Talmadge, a spokesperson for the San Francisco Fire Department, told the AP.
The State Department on Thursday ordered Russia to shutter the consulate in San Francisco, as well as annex buildings in New York and Washington, DC, by Saturday, after Russia ordered the US Embassy in Moscow to cut hundreds of staff. That move came in response to a US expulsion of dozens of diplomats by the Obama administration as punishment for Russian meddling in the US election.

Russia has promised further retaliation.
The Russian Foreign Ministry spokesperson, Maria Zakharova, told BuzzFeed News that "measures are being taken in it to preserve the building." Zakharova had said in a statement earlier Friday condemning the US order that the US planned to carry out a search of the building on Saturday.
"We were given two days," Zakharova told BuzzFeed News. "There's a whole complex of procedures being carried out to preserve the premises."
Zakharova put a statement on Facebook later Friday saying "another circus has started in San Francisco." She repeated the measures were being taken and chastised US journalists for their interest. "It's unbearably embarrassing to watch the actions of the US government and this whole information campaign," she wrote.
A State Department official declined to comment about the billowing plumes of smoke, saying, "I'd just refer you to the Russians." Oftentimes the State Department uses paper shredders to destroy documents, but it also uses burn bags.

John Hudson contributed reporting.
CORRECTION
Mindy Talmadge's name was misspelled in an earlier version of this post.