Russia Condemns France For Basically Not Creating Its Own Pussy Riot
The foreign ministry condemns a French court's decision to release nine activists from the protest group Femen for a topless protest inside Notre Dame.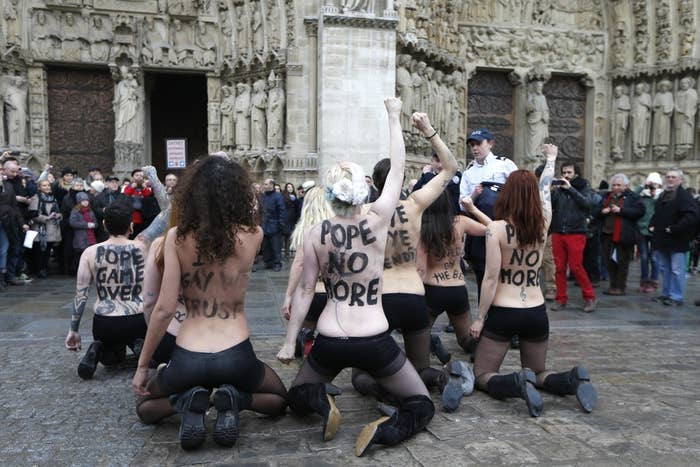 The Russian foreign ministry has condemned France for a Parisian court's decision to acquit nine members of the protest group Femen over a topless protest inside Notre Dame cathedral last year.
In a sternly and colorfully worded statement, the ministry called the decision a "mockery of common sense" and "undoubtedly politically motivated." It accused the court of "ignoring the feelings of the faithful."
"The irony of fate. Those in the French and Western establishment who don't see obvious facts — the invasion and violation of religious shrines — at the same time more than anyone else shout about the mythical Russian invasion of Ukraine with no proof. Those are double standards."
Unspoken in the statement is the fate of Pussy Riot, the Russian protest group sentenced to two years in prison for performing a 30-second protest anthem inside Moscow's Cathedral of Christ the Savior in 2012. The French government loudly protested the trial. Pussy Riot were convicted of "hooliganism motivated by religious hatred." The Russian government passed a law that criminalized offending the "feelings of religious believers" in the wake of their protest.
Earlier this month, France indefinitely postponed the delivery of two Mistral warships to Russia, because of Russia's invasion of Ukraine.
The activists from Femen, a protest group that started in Ukraine, carried out their topless protest in February 2013, the day after the resignation of Pope Benedict. They were acquitted last week on charges that they had degraded a place of worship. Three members of Notre Dame's security staff were fined by the court.
Russian officials have often criticized Western countries for commenting on Russian internal affairs, including the Pussy Riot trial, which globally highlighted Russia's crackdown on dissent and its growing desire to present itself as the guardian of traditional faith and conservatism. The ministry's rare statement criticizing a trial in another country was, unusually, not translated into English on its website.