Georgia: No Promise On NATO Membership Over Russia's Invasion Of Ukraine
Speculation grows that western countries could seek to punish Russia over its invasion of Ukraine by expanding NATO.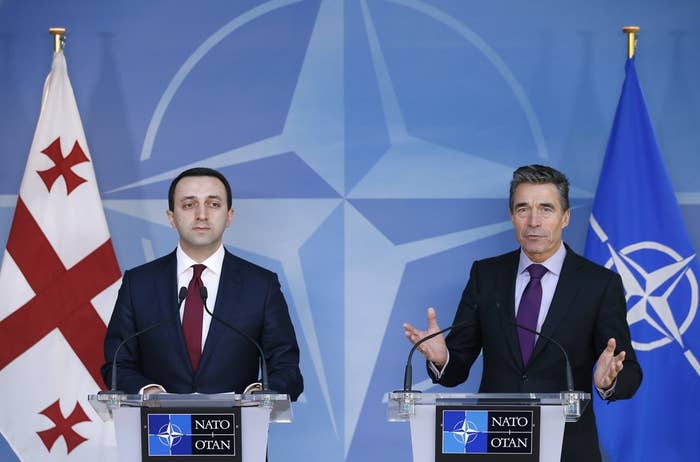 The ex-Soviet country of Georgia has received no "decisive promise" that it will be put on the path to joining NATO if Russia annexes Crimea, a Georgian foreign ministry official told BuzzFeed on Wednesday.
There has been renewed speculation that the ex-Soviet country will be presented with a Membership Action Plan, a concrete step toward full membership in the alliance, as its members seek ways to punish Russia over its invasion of Ukraine.
"[The] very unfortunate situation in Ukraine may have some impact on Georgia's aspirations but no such promise was made," David Magradze, a foreign policy aide said in an email.
An article published Wednesday by Yelena Chernenko, a respected journalist at Kommersant, a Russian newspaper, cited unnamed sources inside NATO and the State Department as saying that if a referendum being held in Crimea on Sunday ends with the Ukrainian peninsula being swallowed by Russia, Georgia could be handed an official membership plan to join the alliance during its September summit.
"If Russia declares the connection of Crimea, the question of presenting Georgia with a Membership Action Plan can practically be considered decided," the State Department source said, according to Kommersant.
"Russia's actions in Ukraine have revived discussion about the need for the alliance to have a more decisive politics in western Europe," Kommersant cited an unnamed NATO source as saying. "The fact is that even representatives of countries who not so long ago called on not forcing the issue are saying Tbilisi's application for candidate status must be approved."
In his email to BuzzFeed, Magradze said: "I cannot confirm that such a decisive promise was made."
"We continue to work with partners and as always ask for the support with MAP and any related NATO integration activity," he added.
"[W]e hope that our sceptic friends in European capitals will change their minds regarding MAP," he said.
Georgia announced its aspirations for NATO membership soon after the Soviet Union collapsed in 1991. The alliance denied its request for a Membership Action Plan in April 2008, with opposition led by Germany, which has long feared angering Russia, which considers NATO expansion an existential threat. Four month later, Russia and Georgia fought a war over the separatist region of South Ossetia.
Max Seddon contributed reporting from Kiev, Ukraine.