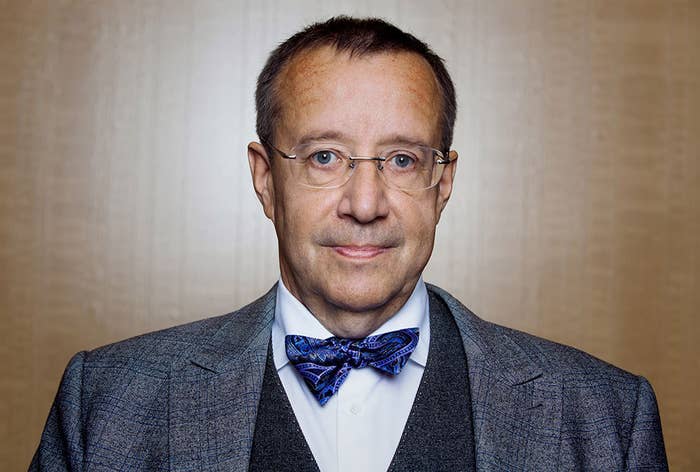 NEW YORK — The outgoing president of Estonia warned against the "naïveté" of other European leaders when dealing with an increasingly aggressive Russia, in an interview with BuzzFeed News.
President Toomas Hendrik Ilves, who leaves office next month after holding the presidency for 10 years, stressed that Russia poses a threat to Europe by funding anti-establishment parties and undermining long-held security agreements.
"We cannot count on Russia to stick to fundamental agreements regarding Western security," said Ilves, who is in New York for the United Nations General Assembly. "Sometimes I'm bewildered by the naïveté of some leaders who, having seen repeatedly that all of this is violated, still persist in sort of acting as if we have not ... seen the intentional undermining of the foundations of Western security." He pointed to those countries, like France, who supported ending sanctions on Russia, put in place after the Kremlin's annexation of Crimea and bloody meddling in eastern Ukraine.
Ilves, along with other Baltic leaders, has long warned of increasing Russian interference. He said he believed, however, that the Baltic countries were not at the top of Moscow's priority list, as it becomes ever more interventionist abroad, from Ukraine to Syria. "I think [the threats] are relatively low because no one really wants to test Article 5," he said, referring to the section of NATO's founding treaty that compels members to come to one another's defense.
The larger threat, Ilves said, lies with countries that are, unlike Estonia, neither members of the European Union nor NATO.
Europe is facing an intense set of challenges, from Russian support for populist parties, to the continuing refugee crisis and the aftershocks of Brexit. Ilves said one of the greatest concerns around Brexit was the key role the United Kingdom played in bolstering the transatlantic relationship.
"As long as the UK is in the EU, it can temper some of the anti-American positions that we see some countries taking," Ilves said. "But let's be honest, the sole treaty-based link, the big link to Europe that the United States has is through NATO." The Baltic countries are among the loudest critics of the idea of an "EU army," as Latvian President Raimonds Vējonis told BuzzFeed News on Monday, in part because of their belief in the primacy of NATO.
When asked if he was concerned that the series of threats facing the EU could undermine its existence, Ilves turned the question around: "When I sit there in Europe and read what one of your presidential candidates says, I think, is the United States going to exist?"
"Perhaps not that dire but, nonetheless, the degree of polarization on all kinds of issues in the US is something," he said. "And where, in fact, the fundamentals of the past 70 years are being called into question then I could equally say the same thing."
Donald Trump, aside from his general bombastic and unpredictable policy statements and approaches, raised concerns across Europe when he said he would set conditions — that is, fully meeting defense spending commitments — in order to invoke NATO's full protection of its members. (Ilves said at the time that he was unconcerned, since Estonia is one of the few countries to pay its full dues.)
Ilves said he enjoyed a "good relationship" with President Barack Obama, who gave a major foreign policy speech in the Estonian capital, Tallinn, in September 2014. "We've gotten what we wanted," Ilves said. "Initially, we wanted something as basic as even contingency plans for the defense of the Baltic countries, which was not on the table or didn't exist, when we'd been members in NATO for six years."
"NATO was still in its sort of peace-love-dove-Woodstock mode — 'You don't need contingency plans, nothing is gonna happen'; the US was strongly behind doing those," he said. He also recalled how, in the wake of Russia's annexation of Crimea in March 2014, the US poured its support behind the expansion of the Ämari Air Base, where some NATO planes are stationed, including US Air Force jets, as part of a Baltic air-policing mission. "We had been asking for years," said Ilves, and received replies like 'You don't need it, you don't need it.'"
"We requested it early the first Monday morning after the Crimea annexation — our defense minister went into the US embassy and said, 'We really would like to have you here,' and within three days they were."
"No sort of, 'Oh, we have to go do this, and discuss that' — I mean, it came," he said. "We're not complaining."
With just three weeks left in his term, the president — who grew up in New Jersey and served as foreign minister before taking the helm of the country — has begun to look ahead. He says he will take his first vacation in 11 years and then "continue to work," though he won't detail how.
Though his first response, when asked what he planned to do after he leaves office, was this:
"I found a great term" on this internet this morning, he said. "This is what life will be after three weeks. The word is 'unfuckwithable' and the definition is: 'When you're truly at peace and in touch with yourself, nothing anyone says or does bothers you and no negativity can touch you.'"
Asked if he had any parting words for the US presidential candidates he said, "It's for someone else, but: We're not a suburb of St. Petersburg."