U.N. To Send Peacekeeping Troops To A Central African Republic In Crisis
But they won't arrive until September.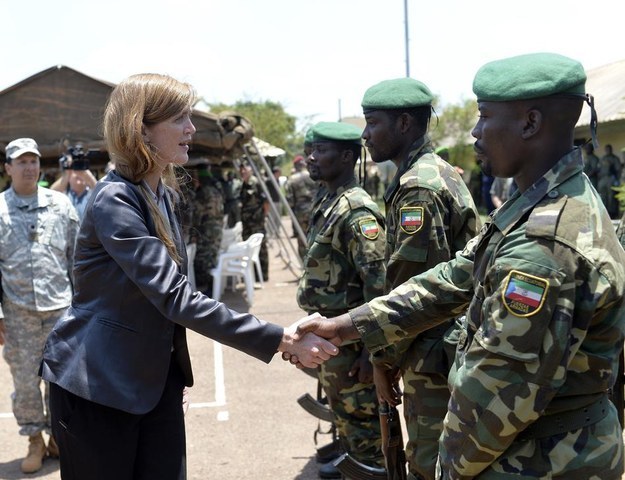 NEW YORK — The United Nations Security Council (UNSC) approved a 12,000-strong peacekeeping force for the Central African Republic (CAR) Thursday, though concerns remain that CAR's ethno-religious fighting will continue to worsen before the U.N. troops arrive in September.
The vote is "an acknowledgement of the severity of the situation in CAR and will hopefully put us in the right direction in improving the security situation," Natalie Eisenbarth of the International Rescue Committee (IRC) told BuzzFeed. "But humanitarian funding is lagging behind. There were really some strong [funding] commitments made in January and we haven't seen these commitments turn into action."
The U.N. resolution mandates peacekeeping troops to maintain order, protect civilian and aid convoys, and support CAR's political transition. The forces will take over for the around 6,000 African Union (AU) peacekeeping troops, which, along with about 2,000 French troops, have been deployed in CAR with U.N. support since December. Despite the presence of AU and French forces, widespread fighting has killed at least 2,000, and left nearly half the population in need of humanitarian aid.
In January, mainly Western countries and international aid organizations gathered in Brussels and pledged a combined $500 million in humanitarian assistance; as of April, less than 29% of funding had been received, with the UK, European Commission, and World Bank among the donors with the biggest fulfillment gaps, according to the Financial Tracking Services.
CAR's latest conflict broke out last spring when the Seleka — Muslim rebels from CAR, as well as neighboring Chad and Sudan — began fighting the government, which they accuse of corruption and discriminative politics. In March 2013, Seleka rebels seized power from former President François Bozizé, and appointed Seleka rebel commander Michel Djotodia president. In the months that followed, sectarian fighting between Christian militias, or the anti-Balaka, and Seleka rebels spread, with both sides raiding and killing with impunity. In January, as international attention to the conflict grew, Djotodia was forced to resign, and Catherine Samba-Panza, a Christian, became interim president.
Since then, Christian militias have stepped up their attacks and tens of thousands of Muslims have been displaced within CAR or fled to neighboring Cameroon and Chad. The breakdown in security has disrupted the school year and much of the country's economy and health care networks, with mass shortages in communities worsened by attacks on humanitarian convoys and disruptions in aid distribution. Women and girls have in particular been subject to horrific sexual violence.
"The international community failed the people of Rwanda 20 years ago," U.N. Secretary-General Ban Ki-moon said on April 7, the anniversary of the Rwanda genocide. "And we are at risk of not doing enough for the people of CAR today."
After the vote Thursday, U.S. Ambassador to the U.N. Samantha Power announced that the U.S. would be providing $22 million more to CAR, in addition to the $45 million already pledged for 2014. Power, who just returned from CAR, has been a vocal advocate for a more robust international response to the country's crisis. In statements to the press after the UNSC vote, Power praised the AU troops' efforts thus far, but emphasized that they alone could not mitigate the violence in a CAR "on the edge of disaster."
"AU troops have done heroic work and their sacrifices have saved lives, but untold horrors continue in small villages throughout the country side and more than 19,000 Muslims are trapped in the capital, too afraid of anti-Balaka [Christian] forces to leave their hiding places," Power said.
Last week, Chad announced that it would be withdrawing its 850 troops, after a controversial incident in which Chad peacekeeping troops killed 30 civilians during clashes on March 29. A smaller contingent of about 800 European Union troops began arriving this week to replace Chad's forces.
CAR Foreign Minister Toussaint Kongo-Doudou praised the U.N. resolution, but deferred a question from a reporter to discuss potential war crimes cases in international courts. Instead, Kongo-Doudou emphasized the need for CAR to focus inwards on national reconciliation, adding. "Impunity is what led to the situation that we have now."