Uganda Arrests Leading LGBT Activist
Prominent Ugandan LGBT activist Samuel K Ganafa has been arrested and reportedly charged with "carnal knowledge against the order of nature," a crime that is often code-word for sodomy and carries a sentence of life in prison in Uganda.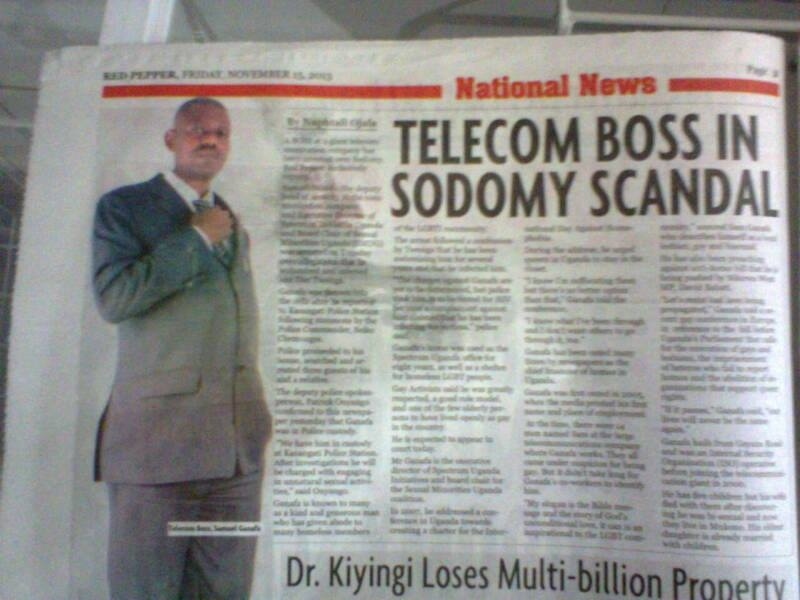 Ugandan LGBT activist Sam Ganafa was reportedly charged with sodomy on Friday, three days after being arrested. Following an initial arraignment, a judge denied his lawyers' request for bail and instead ordered Ganafe to remain in prison until the trial resumes Monday, Moses Kimbugwe of Spectrum Uganda Initiatives, a local NGO, told BuzzFeed. The exact list of charges has yet to be made public to the media.
Four other men arrested with Ganafa on Tuesday remain in police custody. They have yet to be formally charged. On Friday, LGBT activists expressed concern that police pressured the judge to deny Ganafa's request for bail, and that the four men yet to be charged are being forced to make statements against Ganafa. Under Ugandan law, police have 48 hours to issue a formal charge after an arrest.
The arrest of Ganafa, the executive director of Spectrum Uganda, is the latest in a series of moves against the LGBT community in Uganda.
"We remain very concerned about space for LGBT activism in Uganda," said Maria Burnett of Human Rights Watch. In 2012, HRW released a report on the targeted intimidation and obstruction of civil society, including LGBT activists, in Uganda. Most recently, a British man and his partner are facing lengthy jail terms after images of them engaging in sexual acts were published in a newspaper, according to HRW. The images were reportedly attained from a stolen computer.
Ganafa was arrested on Tuesday, after Kampala District Police Commander Chemonges Seiko summoned him to a police station on the outskirts of town, according to a press release by the Civil Society Coalition on Human Rights and Constitutional Law. Upon Ganafa's arrival, police immediately handcuffed him. Police then forced Ganafa into a police pick up truck, drove to his house, and searched his home twice. While at Ganafa's residence, police also arrested three house guests, Joseph Kayizi, Kasali Brian and Michael Katongole, and took them to the police station for questioning. Police later detained Ganafe's newphew, Brian Kasirye, who rushed to the police station after hearing of the incident.
Throughout the ordeal, the police never procured a warrant for Ganafa's arrest, or a warrant to search his residence. According to reports, police also subjected Ganafa to an HIV test at the police station. Police reportedly did not have a court order or Ganafa's consent to perform the test.
Police arrested Ganafa after a Ugandan man, Disan Twesiga told police that Ganafa had infected him with HIV. On Thursday, Twesiga held a press conference to reiterate his claim. Police reportedly paraded the imprisoned Ganafa through the press conference.
Several Ugandan LGBT and human rights groups, including Sexual Minorities Uganda (SMUG) and Spectrum Uganda, have filed complaints with police and demanded the immediate release of Ganafa and four others detained. Reports have speculated that Ganafa was arrested for his outspoken support of Uganda's embattled LGBT community. His home was reportedly a haven for persecuted LGBT Ugandans. Ganafa's accuser has also given inconsistent reports of Ganafa's alleged abuse to local media reports.