Scenes Of Angry Anti-U.S. Protests In Iran On Anniversary Of Embassy Siege
As American-Iranian relations are starting to thaw, Iranians turned out for the biggest anti-U.S. rally in decades to celebrate the 1979 storming of the U.S. embassy.
Tens of thousands of Iranians rallied outside the former U.S. embassy in Tehran today to mark the 34th anniversary of the U.S. embassy siege in 1979.
Protesters packed the street, chanting "death to America" and "death to Israel," burning U.S. and Israeli flags, and carrying effigies of Barack Obama, John Kerry, and Israeli Prime Minister Benjamin Netanyahu.


It was the largest anti-U.S. rally in years.
The rally commemorated the storming of the U.S. embassy by Iranians, which led to 52 Americans being held hostage for 444 days, and ignited decades of hostility between Washington and Tehran.

Protestors started to rally at 8:45 in the morning at Amir Kabir University, and then marched to the former U.S. embassy, where Iranian politicians spoke.
Hardline Iranian politician Saeed Jalili gave the day's final speech, shouting "death to America."


Reports attributed the high turnout to anger among Iranian hardliners at President Hassan Rouhani for his engagement with the U.S. and the president's negotiations over Iran's nuclear program.

While anti-American sentiments were high at the protests, Iranian President Hassan Rouhani said in a tweet that the target was U.S. policy, and not the American people.

A majority of Iranians (56%) approve of their government developing nuclear capabilities for non-military use, while a third (34%) approve it for military use, according to a June 2013 Gallup poll.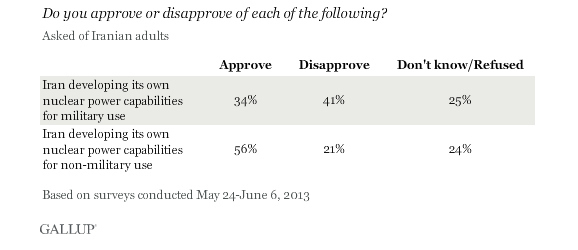 Still, American journalists on the ground described a highly charged situation.
The few granted access to Iran were given press cards with "Down with U.S.A." written in English, like this one shared on Twitter by an NBC correspondent.

Along with America and Israel, German Chancellor Angela Merkel was also the target of xenophobic slogans.

In honor of the occasion, the former U.S. Embassy, nicknamed "the den of spies" by Iranians, has been turned into a museum of U.S. operations, pictured here by an ABC correspondent.
As international attention turned to the rally, Iran reportedly executed a Kurdish political activist today. The event seemed to pass in silence in the streets, but garnered online outrage.
With the rally's conclusion, commentators are waiting to see how the next round of Iranian-American engagement will fare.