Kenyans Seek Justice For Raped Teen Whose Attackers Were Punished By Being Forced To Mow A Lawn
Activists gather protests and petitions to force justice in the case of "Liz," a 16-year-old girl whose attackers were set free following a brutal gang rape.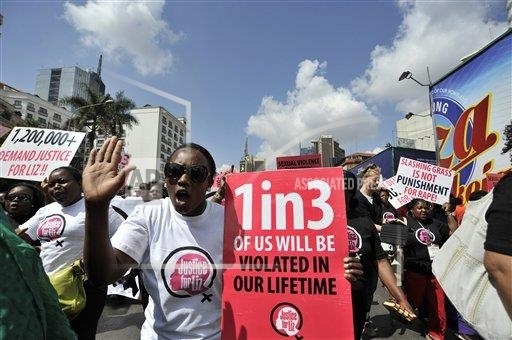 NEW YORK — Around 300 men and women carrying posters and symbolic panties marched in Nairobi on Thursday to present an unprecedented petition backed by millions demanding an end to rape and police impunity in Kenya. The crowd's demands were simple: Prosecute six men who allegedly gang raped a Kenyan schoolgirl in June — and punish the police officers who decided that forcing her alleged attackers to cut grass was punishment enough for the brazen crime.
They were marching in support of "Liz," a 16-year-old girl who has galvanized women's rights activists in Kenya. A league of online supporters has rallied around #JusticeForLiz and bombarded police Twitter accounts with demands for justice.
After weeks of campaigning, organizers are now cautiously optimistic about getting an official response — after the rally, Kenyan police promised to arrest the six alleged rapists and agreed to meet with protest organizers to discuss Liz's case, activists said.
"We will see how far they will go," said Njeri Rugene, the Kenyan journalist whose reporting on Liz's story launched the campaign for justice. "I was happy to see that so many people in Kenya and the world are demanding justice for Liz and other victims of crimes of rape and sexual assault," she told BuzzFeed by telephone from Nairobi.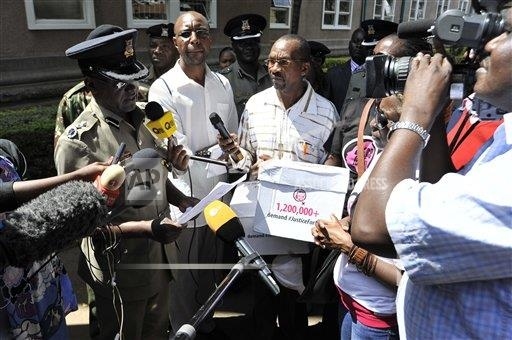 Activists have seized upon the weak informal punishment meted down to Liz's alleged attackers as a means of highlighting the culture of impunity surrounding rape cases in Kenya. According to a 2006 report by Kenya's human rights commission, a girl or woman is raped every 30 minutes in the country. Few cases are reported, and far from all are investigated. Most notoriously, Kenya's president, Uhuru Kenyatta, is set to stand trial at the International Criminal Court next month for orchestrating rape, among other accusations of organizing violence that killed at 1,300 Kenyans after a 2007 disputed election.
Speaking about Liz's case, Saida Ali, Executive Director of Kenya's Coalition on Violence against Women (COVAW), said it was "a symptom of how bad the situation is in terms of sexual violence in the country. What continues to surprise me, and specifically about Liz's story, is actually the audacity of the police to do what they did and think that a rapist can get away with rape and for them to institute justice."
Rugene, the journalist, first heard about Liz from Jared Momanyi, an administrator at Gynocare Fistula Centre, a hospital in the western town of Eldoret. "He told me that there was a girl injured and they were desperate," she said. Rugene works for the Daily Nation, Kenya's biggest and most respected newspaper.
She traveled to the hospital in Eldoret to meet Liz, a 16-year-old from the village of Tungolo, whose real name has not been released in order to protect her identity.
"I left there with a very sad feeling," Rugene said. "And I was very angry. Something like that can happen to a teenager, or anyone for that matter. And it took weeks for anyone to get interested in the story."
Liz was reportedly walking home alone from her grandfather's funeral in June when she was viciously attacked by six men believed to be aged 16 to 20, beaten and gang raped and thrown into a 20-foot-deep latrine.
Liz was only able to get medical attention days after the attack, according to Ali, whose organization is working on Liz's case, and even then it was insufficient — she was left wheelchair-bound and developed obstetric fistula, a condition that affects her bowels, as a result of the rape. Eventually Liz was referred to a gynocare clinic in Eldoret, run by Momanyi, that specializes in caring for victims of sexual assault.
When Rugene visited in October, she asked Liz' mother what was on her mind. "She said she sees the men around in the village. She just keeps thinking that if I were a policeman I would arrest them."
Then she asked Liz what she wanted: "She said, 'I just want justice.'"
Liz was reportedly able to identify some of her attackers on the same day of the attack. Neighbors brought them to a local police station. But rather than face justice, they were ordered by police to simply cut the station's grass — and then walk free.
Rugene published her first article about Liz on Oct. 7 and over the next month her coverage coupled with an online petition launched by the African Women's Communication Network (Femnet), galvanized calls for justice. One day, campaign organizers at the online campaigning community Avaaz saw a tweet about Liz's story, and realized it fit in with the group's latest campaign to highlight impunity around rape worldwide, Avaaz's Campaign Director Alice Jay told BuzzFeed. They joined forces with Nebila to bring her local petition more international attention. In three weeks the petition went from 1,600 to approaching 1.6 million.
Meanwhile, Rugene's publisher, The Nation Media Group (NGM), launched a public campaign to raise funds for Liz's surgeries. They have so far received 700,000 Kenyan Shillings (about $8,200) in donations toward her medical care, much of it via a mobile phone banking.
"[I have received] so many phone calls," Rugene said. "Many people from all over the rural areas are talking to me about sexual violence and assault. Some people calling are very angry and ask why the police have not yet taken action."
Last weekend, Keriako Tobiko, Kenya's director of public prosecutions, told the Daily Nation he had ordered the arrest of the suspects and called for an inquiry into the police's alleged mishandling of the case. Authorities have yet to arrest the suspects, however.
The issue, activists say, is not the strength of Kenyan rape laws, but their weak application. There are some signs things may be changing. In May, a young girl won a landmark case after the country's Supreme Court ordered police in Meru, a town northeast of Nairobi, to reopen 240 rape cases that had been insufficiently prosecuted. The ruling highlighted the prevalence of corruption and intimidation among police officers dealing with these cases.
The attention around Liz's case has shone a spotlight on the issue in Kenya overall. On Wednesday, police in Busia arrested a police officer for raping a 12-year old girl, the Daily Nation reported. Another family in the area is also seeking justice for the gang rape of their 12-year-old daughter by youths on Saturday, it added.