Israel's Prime Minister Deletes Controversial Tweet That Twitter Appeared To Censor
The tweet included an image from a very graphic video of an alleged ISIS fighter beheading an American. Soon after, the account deleted the tweet.
The office account of Israeli Prime Minister Benjamin Netanyahu released this tweet on Thursday equating Hamas and ISIS. The tweet included an image from a video released Tuesday of an alleged ISIS fighter beheading American journalist James Foley.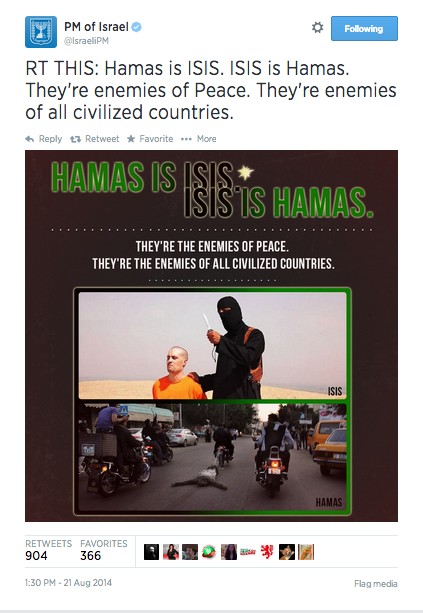 After graphic images from the video circulated Tuesday, Foley's family requested that the images not be shared. Twitter also announced that it would suspend or applying warnings to any accounts that shared graphic images, per an existing policy.
ISIS has been circulating very violent images through Twitter and other social media accounts for months. In the wake of Foley's horrific murder, many have criticized Twitter — and other Twitter users — for letting these graphic images spread.
A few hours after publishing the tweet, the Prime Minister's account was still up — but it seemed a graphic warning had been assigned. The warning is similar to those that the social network puts up for those who frequently tweet NSFW and adult content.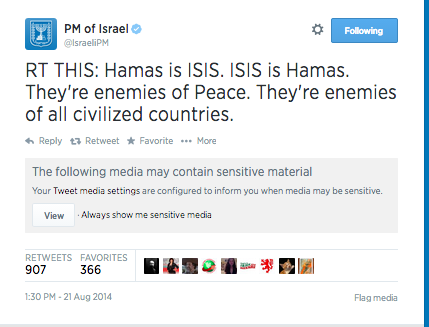 After an outcry from Twitter users, the tweet was deleted Thursday night. A second, censored tweet was put up shortly after, replacing Foley's image with the ISIS logo.