Israel Arrests African Refugees After March To Demand More Rights
Israel arrests around 150 African migrants who were protesting a new law cracking down on migration.
Police arrested around 150 Sudanese and Eritreans in Jerusalem on Tuesday, concluding a two-day ordeal in which African asylum seekers walked out of their detention centers in southern Israel and marched to the city to demand their rights as refugees.
Activists alleged that police used violence in disrupting the protest. One protester reportedly fainted during the arrests.
Two days earlier, the group of asylum seekers and migrants had marched out of a new "open detention" facility in southern Israel, declaring their intent to go to Jerusalem and protest their detainment before lawmakers.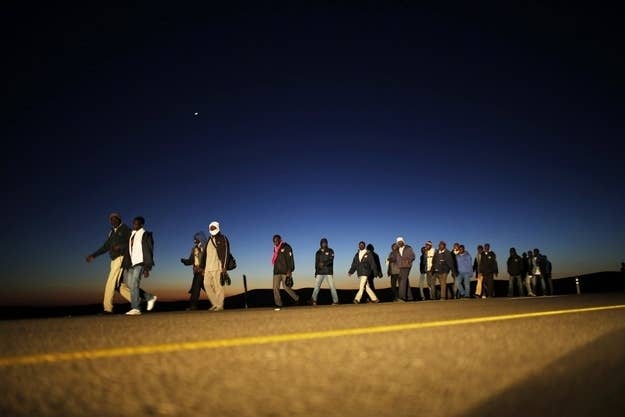 "Yesterday in the evening we sat together and we started talking," Nasser Ahmed, a 29-year-old Sudanese refugee who came to Israel via Egypt 12 years ago, told BuzzFeed by phone from Israel on Monday. "And we said this situation is unfair, we don't feel in control of what is happening to us. We want to be able to have lives, to have dialogue on what is happening to us."
An estimated 50,000 Sudanese and Eritreans have crossed into Israel from Egypt's Sinai since 2006, according to Reuters. Israel is seen as a haven for Africans fleeing political persecution, oppressive military conscription, and grinding poverty, as well as a gateway to further freedoms in Europe. The Israeli government, however, has encouraged many to leave; opponents to migration largely dismiss them as illegal job-seekers, and a threat to the country's economy and Jewish majority.
Last week, the Israeli parliament passed new legislation that allows African migrants who enter the country illegally to be held without charge for up to one year, pending resolution of asylum, deportation requests, or voluntary repatriation. The asylum seekers were marching to protest the new law.
The group left the Holot detention facility in the Israeli desert for the Be're Sheva bus station, where many spent the night in near freezing temperatures.
Immigration officials reportedly attempted to convince them to return to Holot, but they refused. The next day they took to the main highway to continue their travel north by foot, walking for hours.
Many of the asylum seekers and migrants have been on hunger strike, and one person has already been hospitalized, according to the Israeli NGO Hotline for Refugees and Migrants.

The group finally reached snowy Jerusalem on Tuesday, where they were joined by other African migrants, NGOs, and Israeli activists for the rally that ultimately ended in their arrests.

The new law countered a Supreme Court ruling in September that struck down legislation allowing up to three years of detention for African migrants caught illegally in Israel.
The new law creates what the government calls "open facilities" to house the detained for an open-ended period; critics counter that the complexes are effectively prisons.
Holot, which the men marched out of, is the first of these new "open facilities." The men detained in these facilities are not allowed to seek employment and, while they can leave the premises during the day, they must check in three times a day and return permanently each night. Most of those detained in Holot have already been imprisoned for 18 to 24 months without trial, according to 972.Mag. The facility is in Israel's southern desert, with few resources around.
An unknown number of those detained in Holot are reportedly now roaming the Negev after having also walked out on Sunday, according to Haaretz.
The Israeli government has taken controversial positions in the past, like threatening to deport children of African migrants. The government claims that many entering Israel are not refugees but economic migrants, and thus are not covered by refugee law.
The question of refugee status and responsibility is further complicated by regional dynamics. Media and human rights reports have documented a brutal human trafficking network in Egypt's Sinai that entraps — and kills — thousands of Africans.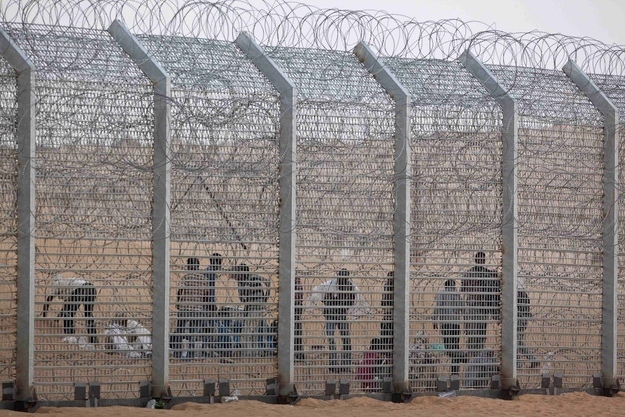 Activists are expected to contest the new law before the Israeli Supreme Court, as the controversy and uncertainty continues for the detained.