Freed Al Jazeera Journalist Is Not Staying Silent About Abuses In Egypt
Abdullah al-Shamy spent 10 months in jail with no charge — and 147 days on a hunger strike that nearly killed him.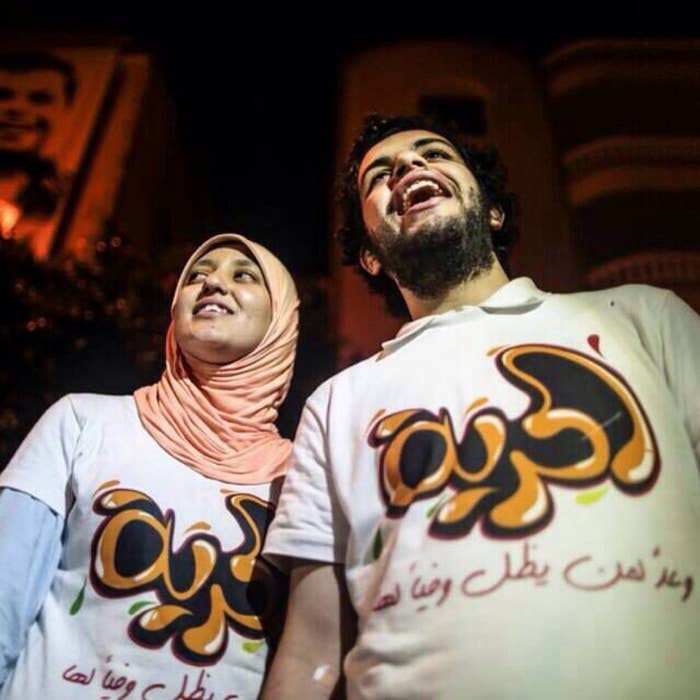 Having spent 10 months in an Egyptian jail until his sudden release earlier this year, Al Jazeera journalist Abdullah al-Shamy, 26, just wants to travel the world and get back to reporting.
But when he went to see the United Nations headquarters in New York on Wednesday, protesters in support of Egyptian general-turned-president Abdul Fattah el-Sisi cursed his name, and threw boiling coffee at him.
They recognized his young face from all the news reports; he was that hunger-striking Al Jazeera journalist who caused Egypt all that trouble.
A coffee stain was never likely to silence al-Shamy, given that he has endured over 10 months in jail without charge, including 147 days on a hunger strike.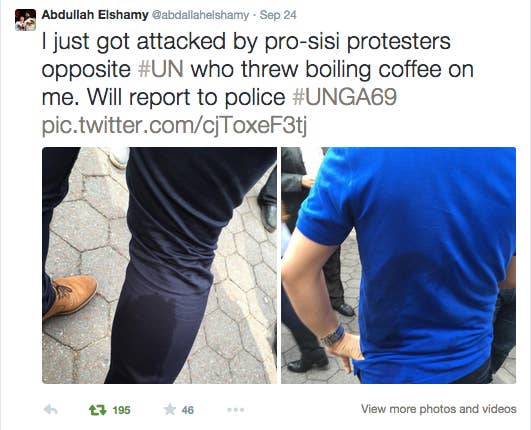 Both Sisi and al-Shamy were in New York this week: Sisi to meet with President Obama and world leaders at the UN General Assembly, and al-Shamy on a speaking tour to lobby for the release of his three Al Jazeera colleagues.
"They [the military] don't really understand any kind of language except pressure," al-Shamy told BuzzFeed in an interview. "Calling on Sisi to do something or asking him to do something, I don't think that would work. But I am very sure that the U.S. government has the power to do it [pressure]. But it's mainly interest. They don't want to lose Egypt as an ally, as they call it."
Egyptian police arrested the Al Jazeera crew at the start of a crackdown on journalists and opposition voices in August 2013, just six weeks after mass protests and the military, then led by Sisi, ousted President Mohammed Morsi. This June, an Egyptian court sentenced Baher Mohamed, Peter Greste, and Mohammed Fahmy to seven years in prison on charges of spreading false news and supporting terrorism.
The week before, Egyptian authorities released al-Shamy, citing his "health condition." By then, he had spent 147 days on a hunger strike and lost one-third of his body weight. For months authorities had taunted him: No hunger striker gets out alive.
If the upcoming appeal by the Al Jazeera crew is not successful, al-Shamy said he would urge his colleagues to also go on a hunger strike — an act which he said led to his own release. It is a method of protest that has been picked up by more and more imprisoned Egyptians.
In an interview with BuzzFeed News, Al-Shamy did not show any immediate signs of the physical and psychological pain he has endured. But the intensity of his message never broke.
"We have no kind of justice in the country [Egypt]," al-Shamy said. "There is no kind of system that really works. This was really the reason that I started the hunger strike because I lost hope in the judicial system."
"In a country like Egypt, they don't need a reason as a government to put anyone behind bars or kill anyone," he added.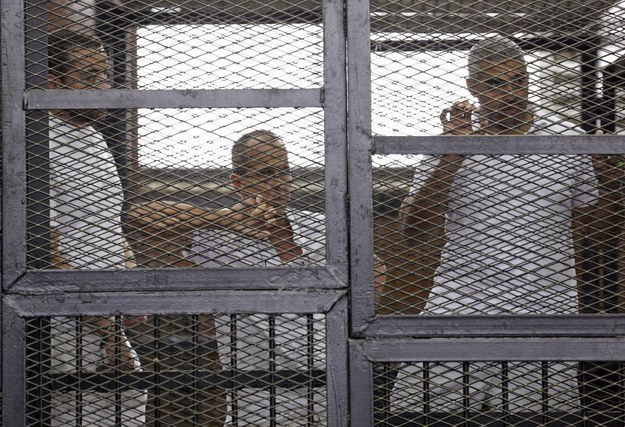 Al-Shamy was arrested on August 14 as he covered the security forces' violent disruption of the pro-Morsi Rab'a al-Adawiya protest camp in Cairo. It was just six weeks after the military had returned to power, and the country was filled with hysteria over fears that Morsi and Muslim Brotherhood supporters would wreak havoc if they weren't stopped. Police killed more than 800 people that day, according to Human Rights Watch report, and arrested thousands, al-Shamy among them. Unlike his Al Jazeera colleagues, Al-Shamy was never formally charged; two days after his arrest, police accused him of acts of sabotage and being a member of the now banned Muslim Brotherhood — all without evidence.
Al-Shamy feared arrest more than death. "For me, getting killed was really easier than getting into the hands of the Egyptian police," al-Shamy said. Not only was he a journalist — that year Egypt was the third most dangerous country to work, according to the Committee to Protect Journalists — but he also worked for the Qatari-based Al Jazeera, which the Egyptian military had long detested and many accused of having a pro-Brotherhood, and in this period, anti-Egypt, bias.
Police tortured al-Shamy his first day in detention after they found out his profession. But in other ways, he was among the lucky ones. His family could afford to pay off guards and informants to bring in food, books, and clothes; al-Shamy estimated that his family spent $100-150 a week on smuggled goods before his hunger strike.
Al-Shamy also had the benefit of international media attention. One time a fellow prisoner told al-Shamy that he hoped he would be the last person in their case to be released. Al-Shamy repeated the prisoner's explanation: "Because as long as you are with us in this case, we are having coverage. There is some sort of attention." About 300 people from his case are still detained without charge, al-Shamy estimated.
In September, al-Shamy started to talk with other detainees about a hunger strike. He had his wife, Gehad Khaled, smuggle in books and papers on hunger strikes. He read about the health consequences, and about the experiences of Irish and Palestinian detainees who took on the struggle.
Then on his birthday, Jan. 21, Kahled came to visit. He told her that day was the start of his hunger strike. A few weeks later she joined.
Another detainee, Mohammed Soltan, also soon after joined al-Shamy's hunger strike. Soltan, a dual American-Egyptian citizen, was arrested on Aug. 14 at Raba'a. Now, after 240 days without food and proper medical attention, Soltan is close to death, The New York Times reported Wednesday.
In the spring, Al-Shamy had his family smuggle him in a camera phone. (A phone can cost between $200 and $400 in prison, depending on the kind and its use, el-Shamy estimated.) The photos that emerged — a shrunken al-Shamy in all white looking dazed — circulated widely in the media. Soon after an unofficial Egyptian military Facebook page released photos of al-Shamy allegedly eating. Al-Shamy has no recollection of the military photos being taken — he thinks authorities drugged his water – and denies having prematurely broken his hunger strike.
"They [Egyptian government] don't want to look like they bow to the pressure from the outside," al-Shamy said. "Because in my own case it was the pressure from the campaign for my hunger strike that really made them bow down and for me to get released."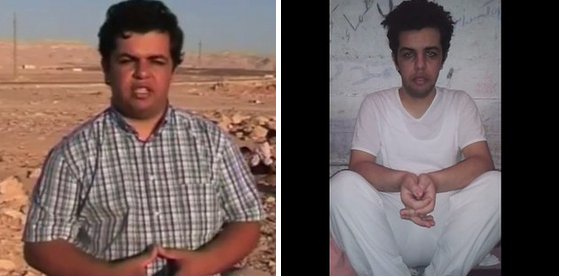 Following his release, Al-Shamy and his wife of two years now live in Doha, Qatar, where al-Shamy is continuing to work for the news channel. After the September speaking tour, they plans to go on holiday together. So far, he's been in jail half of their marriage.
The months since he was let out have not been easy. Al-Shamy first spent weeks in the hospital recovering, then yet more reapplying for official documents, like his passport. He and Khaled left Cairo for Doha in July — and up to the day he left he was still worried that authorities would prevent them from traveling.
That they didn't, al-Shamy said, could be a sign that the Egyptian government is trying to put the Al Jazeera scandal behind them.
Still, he had no illusions about any "new" Egypt quite yet.
"I wouldn't want our kids and grandsons to tell us, mother, father, grandfathers, why did you allow this to happen?" al-Shamy said. "They [the next generation] might kind of actually laugh at us: you guys made a revolution and left it like that?"