Ethiopia Arrests Journalists And Bloggers Days Before Kerry Arrives To Promote Human Rights
Six bloggers and three freelance journalists could face more than a decade in prison.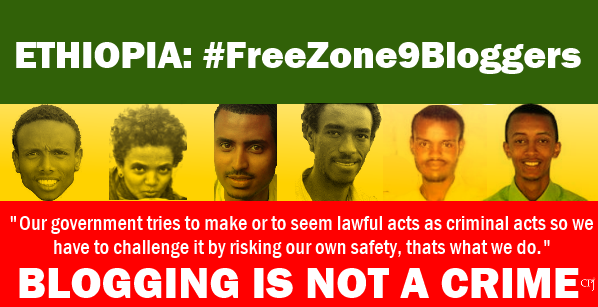 International outrage is growing after Ethiopian authorities arrested six bloggers and three freelance journalists over the weekend and charged them with inciting public violence through social media during a hearing with no lawyers present.
The arrests come just days before Secretary of State John Kerry is due to arrive in the sub-Saharan country on Wednesday as part of a tour to "promote democracy and human rights" in Ethiopia, Angola, and the Democratic Republic of Congo.
The six bloggers — Atnaf Berahane, Mahlet Fantahun, Natnael Feleke, Befeqadu Hailu, Zelalem Kiberet, and Abel Wabela — wrote for an independent collective of bloggers called Zone 9, while the three others — Edom Kassaye, Tesfalem Waldyes and Asmamaw Hailegorgis — were freelance journalists, according to Article 19, a U.K.-based human rights group. They can face more than a decade in prison.
Ethiopia's government keeps a highly restricted media and political environment; Freedom House has consistently rated their media as "Not Free." On March 16, journalist and government critic Reeyot Alemu, who now suffers from breast cancer, passed her 1,000th day in prison. Ethiopia also maintains a tight surveillance apparatus (largely enabled by foreign technologies) and holds a near monopoly on internet and mobile phone systems. Internet penetration is estimated at only 1%, according to 2012 figures. Many websites are blocked, and it is an open secret that the government keeps a tight watch on internet and social media use. The Zone 9 blog, for example, is blocked in Ethiopia.
In January, Article 19 published this video on Ethiopia's restrictive media climate. The documentary included interviews with leading journalists and human rights activists, including Befekadu Hailu, one of the nine arrested on Saturday.
Police rounded up the bloggers and journalists from their homes and offices on April 25 and 26, according to media reports and activists. News of the arrests soon spread to Ethiopians in exile through private social media and text messages to friends and activists. The Zone 9 bloggers and journalists were arraigned in an Addis Ababa court, without lawyers, on Sunday, after which the judged adjourned the hearing until May 7 and 8. They remain in police custody. Under Ethiopia's anti-terrorism law, passed in 2009, anyone found guilty of publishing information that "incites readers to commit acts of terrorism" can be jailed for 10–20 years, according to Reuters.
The Ethiopian government has remained defiant of criticism.
"These are not journalists," Getachew Reda, an adviser to the prime minister, told Reuters. "Their arrest has nothing to do with journalism but with serious criminal activities." He added, "We don't crack down on journalism or freedom of speech. But if someone tries to use his or her profession to engage in criminal activities, then there is a distinction there."
In statements following the arrests, the government also accused the journalists of working with an unnamed illegal NGO to destabilize the country. Some activists speculated that Article 19, which focuses on freedom of the press, may have been the government's target because of the recent documentary. A recent editorial in the state newspaper criticized Article 19, according to Mohamed Keita of Committee to Protect Journalists.
"It is just an alibi that the government is coming up with," Henry Maina of Article 19 told BuzzFeed. Maina dismissed the notion that Article 19 could have been involved in such activities, noting that the group is not an NGO in Ethiopia and has worked with the government before. "The real fear is that Ethiopians are organizing against the government."
The arrests — one of Ethiopia's worst media crackdowns in years — preceded Kerry's visit to Ethiopia on April 30, as part of a regional human rights tour. State Department spokesperson Jen Psaki told reporters on Tuesday that the U.S. government is "aware" of the arrests. "We urge the government of Ethiopia to expeditiously review the cases of these detainees and promptly release them. We have raised these concerns on the ground directly with the government of Ethiopia."
Kerry also had this Twitter exchange with New York Times opinion writer Nicholas Kristof, albeit with a two-day delay.
The arrest of the Zone 9 bloggers in particular rattled the Ethiopian diaspora, many of whom were friends with the writers and relied on the site for independent views on developments back home. Zone 9 was started in May 2012 in response to shrinking free media spaces. The name was a reference to Ethiopia's infamous Kality prison for political prisoners, which has 8 zones — and prisoners refer to Ethiopia outside of the jail as the ninth. Using the motto "We Blog Because We Care," bloggers started several campaigns, such as one calling on governments to respect the constitution. The group also faced government harassment, threats, and surveillance, causing them to stop the blog seven months ago.
Then on April 23, Zone 9 announced on its Facebook page that it would be resuming its media activities. The arrests followed soon after.
"The problem is that whether you wrote something or you just shut your mouth, the surveillance won't stop," Endalk Haile Mikael, a founding member of Zone 9, told BuzzFeed. "So we thought, why don't we come out."
While social media penetration in Ethiopia is limited, the diaspora community was quick to react to news of the arrests, using #FreeZone9Bloggers to raise awareness.