Anti-Semitic Attacks On The Rise In France Since Israel Launched Gaza Offensive Last Week
Dozens of pro-Palestinian protesters stormed two synagogues in Paris this weekend.
Attacks against Jews in France escalated over the weekend, as some pro-Palestinian protestors stormed synagogues and yelled racist slurs after peaceful protests against Israel's operation in Gaza spread across France.
More than a 100 people tried to storm the Synagogue de la Roquette in Paris on Sunday, according to witnesses. Close to 200 worshipers barricaded themselves inside the building while outside, protestors rushed forward with bats and chairs from a nearby cafe and yelled racial slurs. Police intervened with tear gas to disperse the demonstrators. Guards from a local Jewish Security Unit were on the scene and clashed with protestors, according to the JTA news agency. Eight police and two Jewish people at the synagogue were injured in the confrontation, and police arrested six protesters, according to The Guardian.
Police also arrested several people after a smaller group targeted the Synagogue de la rue des Tournelles in Paris and injured two Jews, according to the Independent.
.
The violence began before this weekend. On Friday, an unidentified individual hurled a firebomb at a synagogue in Belleville, a suburb north of Paris. The attack caused no injuries and left the Aulnay-sous-Bois Synagogue with minor damages. On July 8, a man allegedly pepper-sprayed a 17-year-old girl in Paris and yelled anti-semitic slurs.
Sunday's incidents occurred after thousands of pro-Palestinian protestors marched peacefully through Paris' iconic Bastille Square, with similar protests against Israel and France's support being held in other cities. At the end of the Paris march, some demonstrators threw objects at stationed police, who responded with tear gas.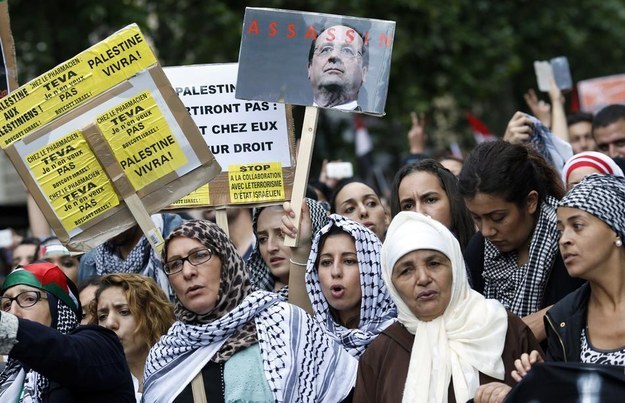 French politicians condemned the weekend attacks and vowed to arrest the offenders. On Monday, French President Francois Hollande called on Israel to show restraint and pressed for a ceasefire. So far, neither Israel or Hamas have expressed interest.
"Israel has a right to its security, and at the same time must have restraint. A cease-fire is necessary very quickly."
Mainly peaceful protests in solidarity with Palestinians have been held around the world since Israel launched its latest Gaza campaign, Operation Protective Edge, on July 8. Israel airstrikes have so far killed more than 170 people in Gaza, over 75% of whom are civilians, according to the United Nations. More than 17,000 Palestinians have abandoned their homes to seek safety in United Nations facilities. In the same period, Hamas militants have sent more than a thousand rockets into Israel, most of which Israel has intercepted as Israelis escape to largely available bomb shelters. A few Hamas rockets have hit inside Israel, injuring several Israelis and homes but causing no fatalities.
The current escalation in the Israeli-Palestinian conflict has raised tensions in France, home to both the largest Muslim and Jewish communities in Western Europe. In another incident, some far-right French Jews boasted on Facebook earlier in the week that they had attacked demonstrators at an anti-Israel rally, according to Haaretz English.
Jewish leaders have warned that anti-Semitic incidents and rhetoric in France are on the rise after years of decline.