9 Videos That Show How ISIS Violence Has Spread Around Syria And Iraq
The Islamic State of Iraq and Syria (ISIS) is an Al Qaeda offshoot whose stated aim is to establish a hardline form of Sunni Islam rule throughout the region.
The Islamic State of Iraq and Syria (ISIS) was, for the first time last week, fully engaged on both its stated fronts, fighting critical battles against government forces in western Iraq and rival rebels in northern Syria.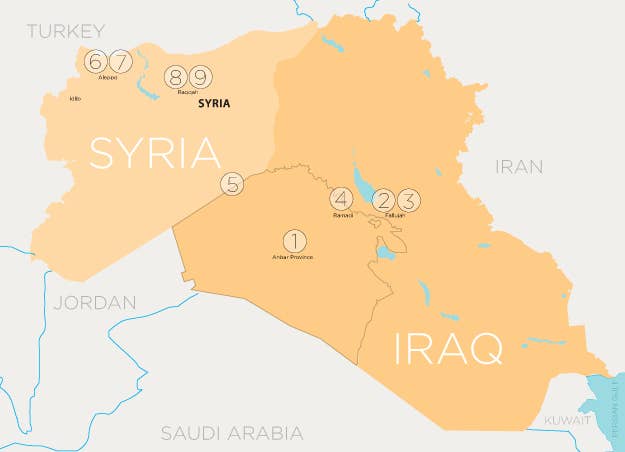 1.
The Iraqi defense ministry has been aerially bombing militants in Anbar province, where ISIS has the strongest presence, as this footage it released on Jan 5th shows.
2.
This video uploaded on YouTube shows militants in Fallujah allegedly preparing an explosive to the tune of a song extolling, "Here are the soldiers of righteousness."
4.
In this footage, released by Iraq's defense ministry on Jan 5, Iraqi forces are shown reportedly patrolling Ramadi amid the fighting.
5.
In a rare joint broadcast between Iraqi and Syrian TV on Jan. 4, Al Maliki reiterated that the Iraqi army would not retreat until they had completely stopped the ISIS "terrorists."
6.
In the last week many videos have been uploaded of residents in western Syria protesting against ISIS' presence. This video purports to show residents of Manag in the Aleppo province fighting with ISIS forces during a protest on Jan. 4.
8.
As rebel groups gain and lose ground, reports of atrocities have surfaced. In this video, recently released prisoners from an ISIS jail in Raqqah condemn ISIS abuses in a video reportedly from Jan. 5.
9.
Here protestors march against ISIS in the city of Raqaah on Jan. 5. Raqaah has been an ISIS stronghold, and participation in demonstrations like these can be a matter of life or death.