Tsarnaev Trial Could Start In Two Weeks, Court Says
Court spokesperson says that jury selection is "progressing satisfactorily" despite winter storm-related delays. UPDATE: Tsarnaev's team files a motion with the Court of Appeals to stop jury selection and move the trial out of Boston.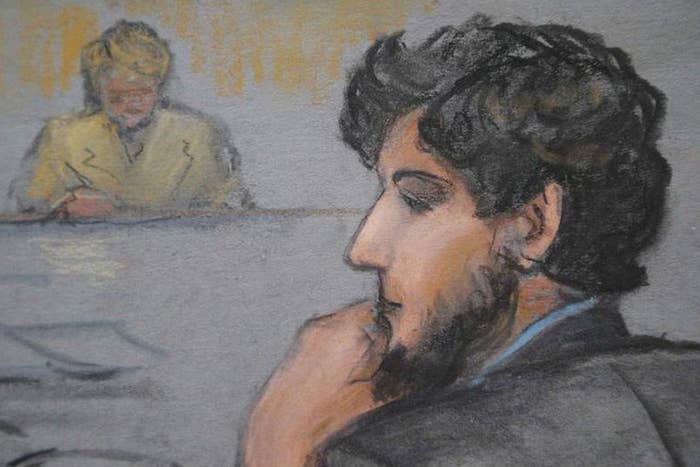 Opening statements in the highly anticipated capital murder trial of Boston Marathon bombing suspect Dzhokhar Tsarnaev could happen in two weeks, a court official said Tuesday.
A spokesperson for the US District Court for the District of Massachusetts said in a statement that despite delays due to record-setting winter storms in the region, jury selection is "progressing satisfactorily."
The court anticipates that if there are no more delays questioning of individual jurors could conclude by the end of the next week. According to that timeline, opening statements in the case could be heard as early as Tuesday, Feb. 17. (Note: The court is closed on Monday, Feb. 16 in observance of Presidents Day.)
Jury questioning resumes Wednesday morning at the federal courthouse in downtown Boston. So far, 114 individual jurors have been questioned over nine days from a pool of more than 1,300 who filled out questionnaires. Court officials are hoping to question 20 potential jurors per day — initially, Judge George O'Toole had hoped to question 40 each day.
Following juror questioning, the prosecution and the defense will have the opportunity to eliminate up to 20 jurors who make it through this phase of jury selection. Ultimately, the court will need to select 18 people — 12 jurors, 6 alternates — that they have determined can be fair and impartial in hearing the case.
Tuesday's optimistic statement is further indication that the judge is not looking to rule anytime soon on a third Change of Venue motion filed by the defense to move the trial out of Boston.
On Tuesday afternoon, Tsarnaev's attorneys filed a motion with the Court of Appeals to stop jury selection and grant a change of venue. Or, as an alternative, the motion requests that the appeals court stay jury selection until the judge rules on the Change of Venue motion that Tsarnaev's team filed on Jan. 22.
In the past two weeks, jury selection has been cancelled due to weather four times. And there is more snow in the forecast for the Northeast this week and next, which could further delay the already slow jury process.