Five Takeaways From The First Day Of Jury Questioning In The Boston Bombing Trial
It's the latest phase of jury selection in the trial of cccused marathon bomber Dzhokhar Tsarnaev.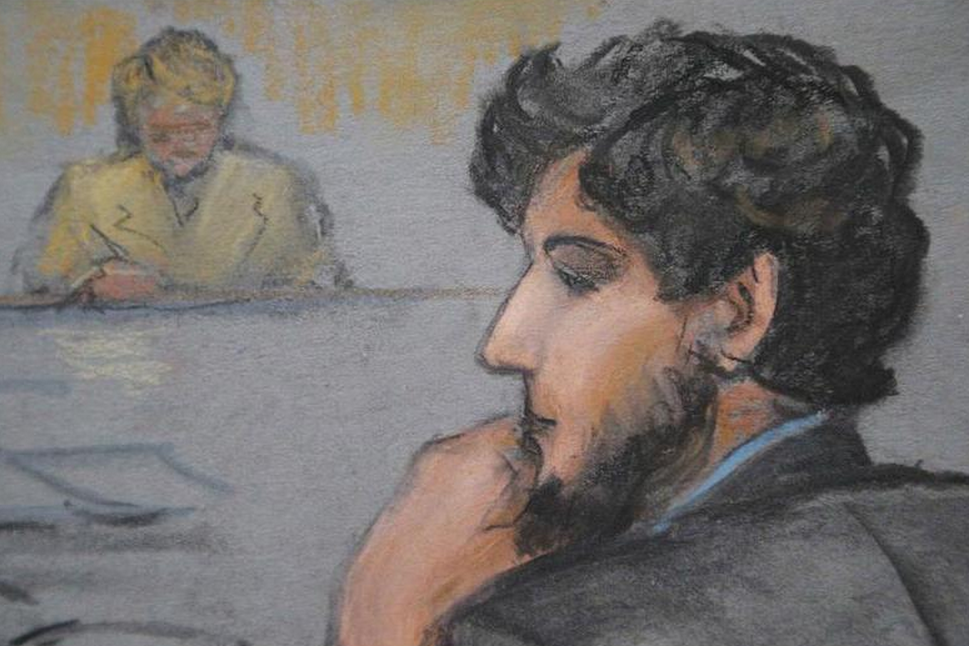 Here are the five biggest takeaways from the first day of individual jury question in Boston Marathon bombing trial...
Updates
Jury selection is going to take a long time.
The court questioned 20 prospective jurors Thursday. The judge had hoped to question double that number on Day 1.
The process seemed to pick up a bit in the afternoon. Eleven people were questioned during the two-hour second session of the day compared with nine during the morning session that was nearly twice as long.
One thing that contributed to the tedious pace were the arguments between the defense and prosecution about the questions that the judge was asking. As both sides get more comfortable with O'Toole's questioning process, it should speed up a little.
However, with the government and Tsarnaev each having the ability to dismiss 20 jurors with peremptory charges — plus the court's allowance to dismiss anyone for cause — it's going to take a while to find 12 jurors and six alternates that everyone agrees on.
There are concerns about potential jurors' use of social media.
Most of the jurors were asked to describe their social media use — and most of the people who made it through to the second phase of jury selection described themselves as passive social media users.
One possible juror said he contributed to the popular Reddit thread after the Boston Marathon bombing, mostly commenting on being locked down during the manhunt.
The only prospective juror who described herself as a heavy social media user said she uses various platforms (Facebook, Instagram, Pinterest) for her make-up business.
One woman says she only looks at her kids social media to see what they're up to. When the judge asked if that included Facebook, she remarked, "Facebook isn't cool anymore."
Not a single person questioned said they posted or commented on any social media posting related to the case since they were called to possibly serve on the jury.
Jurors' opinions on the death penalty are important.
Obviously, because every juror has to be "death-qualified" — or willing to impose the death penalty if Tsarnaev is found guilty and the charges suggest it.
Many of the jurors called on the first day of questioning indicated that they had checked 'unsure' about their views on the death penalty when they filled out their jury questionnaire last week.
During questioning, the judge tried to get them to clarify this position and described possible scenarios where, even if they say they're generally opposed to the death penalty, they could impose it.
Ultimately, Judge O'Toole got them to admit that there were extreme scenarios that they would be in favor of the death penalty. For example, a few jurors who said they were anti-death penalty said they could see somebody being put to death justifiably if their own kids had been killed.
While it was unclear if they were being dismissed for good, the questioning usually ended when it was clear a juror could not be swayed from their opinion that they would never impose the death penalty.
More men than women have been called so far.
The first eight jurors called Monday were men, appearing to range in age from twenty-somethings to middle aged.
Of the 20 jurors called on the first day, 13 were men and 6 were women.
They're not going to ask about Charlie Hebdo.
Paris was only mentioned one time on Monday. The first juror of the day said he saw a news report on the Charlie Hebdo attack. But after he said he didn't read it, the judge didn't press him for his views on it.
Judge O'Toole made it clear a few times that he is sticking to follow up questions related to the questionnaire that the jurors filled out last week. And, as the attacks in Paris happened well after that survey was created, there was no question about
Even when the judge asked several jurors about their views on Muslim treatment around the world and the "war on terror," Paris never came up.
If prospective jurors are carrying any prejudice related to the Charlie Hebdo attacks, as the defense argued when they motioned to delay jury selection for a month, we'll probably never know.
BOSTON — The first juror up at individual questioning — a twenty-something white guy who works in advertising — was asked by the judge to talk about his living situation. He told the court that his roommates told him how cool it was that he might get the chance to sentence Tsarnaev to death.
"I would sentence him to death, but not because of them," the prospective juror said.
The man went on to discuss how he just got a promotion and if he were picked for the jury his company told him he wouldn't lose his job, but he would not retain his role as account manager on their prominent MasterCard and Mercedes-Benz accounts.
When asked about his social media use, he said he used Reddit and commented on the Boston Marathon bombing thread during the lockdown.
Eight of the first nine jurors questioned Monday were men, ranging from millennials to middle-aged. They included a deli owner, a project manager at John Hancock, a software contractor, a limo driver, a make-up artist, and a college professor.
Each was questioned about their employment status, social media use, if they thought the war on terror was overblown, and, most consistently, their opinion toward the death penalty.
No jurors have been asked yet about the alleged terrorists attack in Paris last week. Charlie Hebdo only came up one time during questioning when one juror said he saw a report on the shooting, but did not read it.
One possible juror, a professor of theology working at a small Catholic college said, "There is no way in modern America today that I'm going to vote for the death penalty. I will not."
He said he feared that sentencing Tsarnaev to death could impact his bid for tenure.
Another prospective juror said that he could only impose the death penalty if the evidence was "100%" and "rock solid" against the defendant.
Another prospective juror was asked if he would have a problem with the death penalty, and said, "only if they execute the wrong guy."
While the judge has not yet asked jurors directly about the Charlie Hebdo attacks in Paris, one of them commented on Muslims and extremism.
One of the potential jurors said recent stories of police brutality had affected his views towards law enforcement.
The potential juror also had a negative opinion on America's war on terror.
The second phase of jury selection in Dzhokhar Tsarnaev's trial is scheduled to begin Thursday.
Judge George O'Toole Jr. will start individually questioning more than three dozen jurors to determine if they should go to the final phase of selection.
The judge will do most of the questioning, the AP reported, and defense lawyers and prosecutors may also follow up.
In the morning, 20 people who made it through the first round will be questioned by the judge and 20 more in the afternoon. The goal is to select 18 people (12 jurors, 6 alternates) and seat a fair and impartial jury by Jan. 26.
---