President Donald Trump issued an executive order Thursday calling for new laws and harsher penalties aimed at cracking down on violence against law enforcement.

In the order, Trump calls for the Attorney General to "make recommendations to the President for legislation to address the protection and safety of Federal, State, tribal, and local law enforcement officers, including, if warranted, legislation defining new crimes of violence and establishing new mandatory minimum sentences for existing crimes of violence against Federal, State, tribal, and local law enforcement officers, as well as for related crimes."
The order was one of three executive actions that Trump took related to crime on Thursday, the signing of which coincided with the swearing in of his new Attorney General, Jeff Sessions.
While campaigning, Trump, who regularly referred to himself as the "law and order" candidate, vowed that, if elected, he would be a champion for all law enforcement. After he was elected, on the same day as Trump's inauguration, the new administration published a post on the White House website titled: Standing Up For Our Law Enforcement Community, which said, "the dangerous anti-police atmosphere in America is wrong. The Trump Administration will end it."
Maria McFarland, the co-director of Human Rights Watch's US Program, said, "The tenor of these orders seems to portend a disastrous return to failed 'tough on crime' policies of the past, such as increased mandatory minimum sentences, and a ramping up of the global 'war on drugs,' which has in fact increased the profits of organized crime, and carried enormous human and financial costs."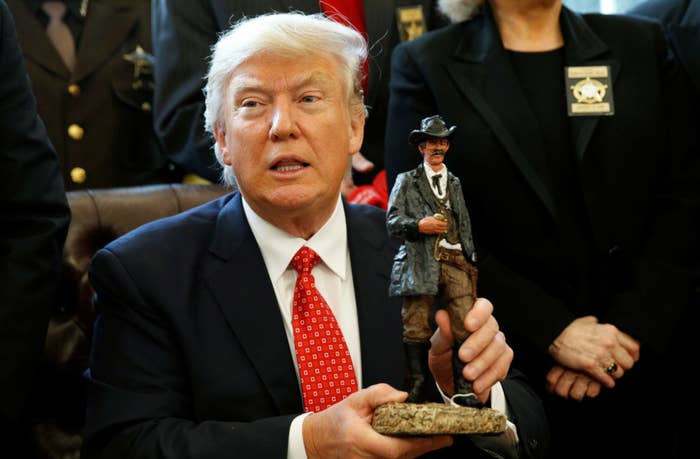 In the first weeks of his administration, Trump has been vocal about what he sees as rising crime across the nation. However, his rhetoric on the issue has included a number of misleading and false statements.

Earlier this week, at a listening session with county sheriffs, Trump said that the national murder rate was the highest it's been in "45-47 years." However, federal law enforcement statistics show that is wrong.
According to the most recent complete data from the FBI's Uniform Crime Reporting, the US murder rate was 5.0 homicides per 100,000 in 2015. These are not peak numbers.
According to a 2008 report from the Bureau of Justice Statistics, which uses the FBI's UCR data, in 1980 the murder rate peaked at 10.2 per 100,000. This high rate declined then rose again in the late 1980s and early 1990s to another peak in 1991 of 9.8 per 100,000. The total number of homicides reached an all-time high of 24,703 homicides in 1991, according to the FBI data.
A week earlier, speaking at a GOP retreat in Philadelphia last week, Trump told a group of Republican lawmakers that the murder rate in Philly is "steady, I mean just terribly increasing." That's also not true.
According to most recent statistics from the Philadelphia Police Department, there were 277 murders in 2016 compared with 280 murders in 2015. Over a five-year period, murders were down in the city 19%. And over a 10-year period, murders were down 41%.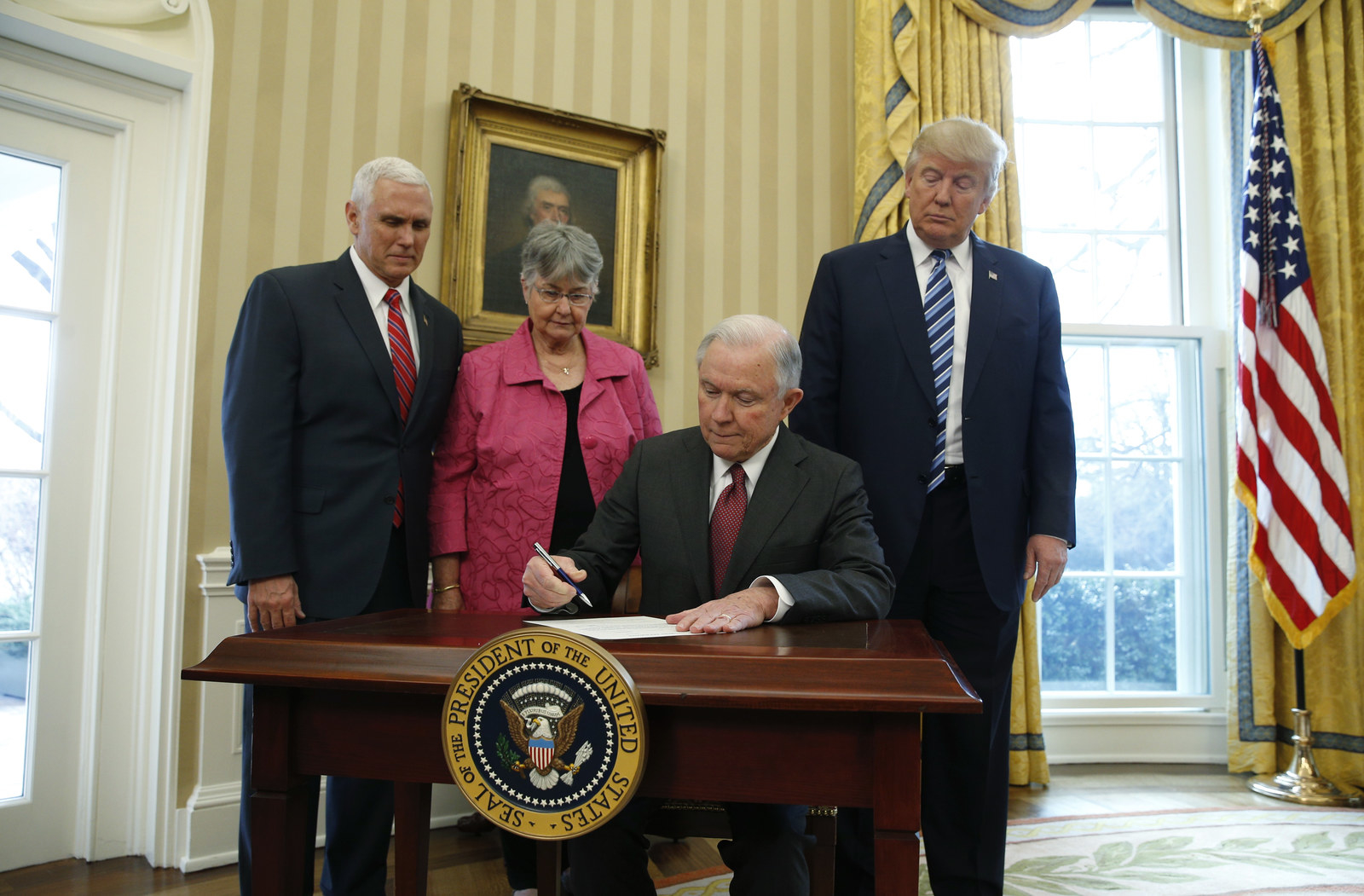 At his swearing-in as AG on Thursday, Jeff Sessions, who will have the task of carrying out these executive orders, echoed Trump's sentiment that the country is in the midst of a nationwide crime epidemic.
"We have a crime problem," Sessions said. "This is a dangerous, permanent trend"
Concerning violence against police officers — the numbers, according to the FBI's most complete stats — the number of officers "feloniously" killed in the line of duty dropped between 2014 and 2015. Statistics show 41 law enforcement officer killings in 2015, almost 20% less than in 2014, when 51 law enforcement officers were killed in action.

In terms of long term trends, these numbers are significantly lower than the 1970s, when the number of police murdered peaked at more than 130 killings per year, according to the FBI.
It is unclear what Trump means when he calls in the executive order for the creation of "new crimes" to punish those who commit acts of violence against police. Killing a cop can already be charged as a federal offense and is punishable by death. For example, Boston Marathon bomber Dzhokhar Tsarnaev was convicted for the murder of MIT police officer Sean Collier — one of several charges against Tsarnaev that the jury sentenced him to death for in May 2016.
"We have seen historic lows in the country's crime rate and a downward trend in killings against police officers since the 1980s," the American Civil Liberties Union said in a statement following the announcement of Trump's executive actions on crime. "The president not only doesn't acknowledge these facts about our nation's safety, he persists in ignoring the all-too-real deaths of Black and brown people at the hands of law enforcement."