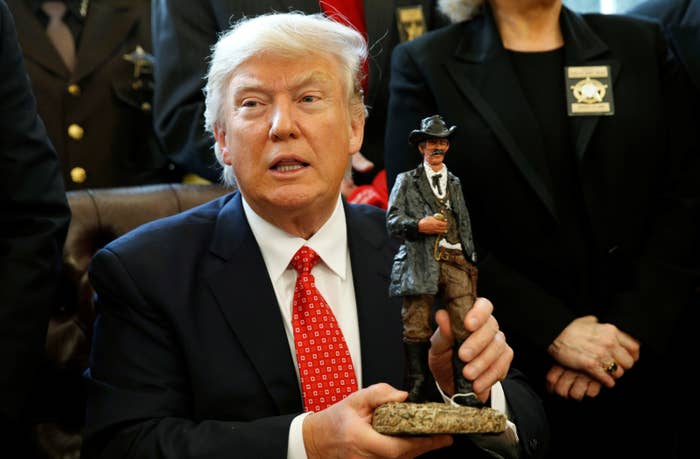 President Donald Trump keeps saying that murder is on the rise in America — but law enforcement statistics collected by the government say otherwise.

At a listening session with county sheriffs on Tuesday morning, Trump said that the murder rate in the US is at its highest in "45 to 47 years."
But according to the most recent complete data from the FBI's Uniform Crime Reporting, the US murder rate was 5.0 homicides per 100,000 in 2015. These are not peak numbers.
According to a 2008 report from the Bureau of Justice Statistics, which uses the FBI's UCR data, in 1980 the murder rate peaked at 10.2 per 100,000. This high rate declined then rose again in the late 1980s and early 1990s to another peak in 1991 of 9.8 per 100,000. The total number of homicides reached an all-time high of 24,703 homicides in 1991, according to the FBI data.
BuzzFeed News reached out to the White House to ask where Trump is getting his homicide numbers from, but didn't immediately hear back.
During a interview with CNN on Tuesday afternoon, White House senior adviser Kellyanne Conway told host Jake Tapper that she believes Trump "is relying on data, perhaps, from a particular area. I'm not sure who gave him that data."
One possibility is that Trump is citing numbers from a 2015 report that showed a one-year spike in murders of 11% from 2014 to 2015 — the highest one-year spike since 1971.
However, the same 2015 report also illustrates that this spike is not an accurate depiction of the country at large.
According to the FBI report, the 11% spike was largely driven by seven cities that saw sharp increases in murders from 2014 to 2015: Chicago, Baltimore, Houston, Milwaukee, Philadelphia, Kansas City, and Washington, DC.
Northeastern University criminologist James Alan Fox says that Trump is "dead wrong" and "misunderstanding the situation."

Fox notes that one reason for the one-year spike in the homicide rate in 2015 is that the number had reached such a low in 2014. According to the FBI's UCR, in 2014 there were 4.5 murders per 100,000 people nationwide. "It wouldn't be such a huge jump if the base number wasn't so low," Fox says.
"Basically, we're a victim of our own success," Fox said. "If we had not brought our homicide rate down by half in 25 years we wouldn't be saying this jump was so remarkable. For example, say you're 300 pounds, you go on a diet and you lose 200 pounds, then you put on 10. It doesn't mean you're back where you were."
"The claim that we are at a peak homicide rate is ludicrous."
And Carnegie Mellon University's Alfred Blumstein, who researches crime statistics, said, "The claim the we are at a peak homicide rate is ludicrous. In recent decades,the peak has been about 10 per 100,000, and the current rate is about half that previous peak."
This is not the first time Trump has spoken out about an increase in homicides in America or pushed a false narrative that murders are on the rise across the country — despite the fact that there are more recent, complete, accurate, and true numbers available.
Speaking at a GOP retreat in Philadelphia last week, Trump told a group of Republican lawmakers that the murder rate in Philly is "steady, I mean just terribly increasing." However, that is not true.

According to most recent statistics from the Philadelphia Police Department, there were 277 murders in 2016 compared with 280 murders in 2015. Over a five-year period, murders were down in the city 19%. And over a 10-year period, murders were down 41%.
Trump's comment prompted Philadelphia Mayor Jim Kenney to put out a statement calling the president's "false statements" about the murder rate in Philly "an insult to the men and women of the Philadelphia police force — the very same men and women who are working long hours today to ensure his safety."
Trump also claimed at the Philly retreat that the murder rate in the country's largest 30 cities increased by an estimated 14% in 2016. This statistic, while accurate, is misleading. According to the Brennan Center for Justice, which looked at the increase in murders last year, the record number of killings in Chicago in 2016 account for 43% of this overall increase in cities nationwide. In 2016, Chicago police said the city suffered 762 murders, more than New York and Los Angeles combined.
Trump has been vocal about the violence plaguing Chicago. On Jan. 31, he tweeted that if the city didn't fix the "carnage" he would "send in the Feds!" In an interview with ABC News, Trump said "Afghanistan is not like what's happening in Chicago."
Chicago Mayor Rahm Emanuel, a Democrat, addressed Trump's "send in the Feds!" remark after he posted the tweet. In a local television interview, Emanuel said, "There's a lot the federal government can do," giving examples such as federal help tracking illegal guns, more federal gun prosecutions, passing new federal gun control laws, and help paying for his plan to hire more police officers.
Trump's team also used sketchy crime stats to tout his "law and order" agenda on the White House's website. In a post titled Standing Up for Our Law Enforcement Community, the administration published this claim about Washington, DC's murder rate: "In our nation's capital, killings have risen 50 percent."
In fact, in 2016 the number of murders in the capital declined 17%. After BuzzFeed News tweeted that the post was misleading, the Trump team updated the post to say, "In our nation's capital, killings rose by 50 percent over the past four years."
On Trump's repeated use of these misleading statistics, Fox said, the president is "cherry-picking numbers and casting it in a light that makes it look bad."
"It's basically a campaign to make America afraid again," he said.