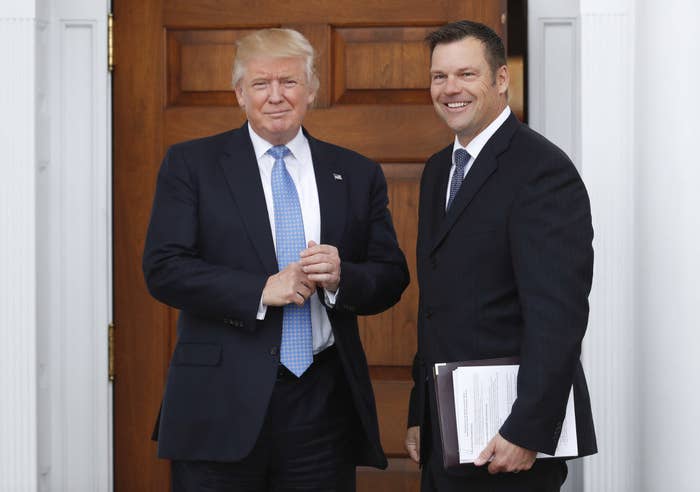 President Trump issued an executive order on Thursday to investigate alleged voter fraud and suppression in US elections — months after he claimed, with zero evidence, that millions of people voted illegally in the 2016 election.

"The Commission will review policies and practices that enhance or undermine the American people's confidence in the integrity of Federal elections — including improper registrations, improper voting, fraudulent registrations, fraudulent voting, and voting suppression," a White House official said.
Vice President Mike Pence and Kansas Secretary of State Kris Kobach will be named chair and vice chair of the commission.
A spokesman for Pence said in an email that besides Pence and Kobach, five additional members will be announced on Thursday. The list includes two Democrats: New Hampshire Secretary of State Bill Gardner and Maine Secretary of State Matthew Dunlap. Gardner and Dunlap did not immediately return requests for comment on Thursday.
The three Republicans to be named to the commission are Indiana Secretary of State Connie Lawson; Christy McCormick, a member of the federal Election Assistance Commission; and Ken Blackwell, a former Ohio secretary of state who is now a senior fellow at the Family Research Council. Lawson and Blackwell did not immediately return a request for comment; a representative of the Election Assistance Commission referred questions to the vice president's office.
According to the Pence spokesman, the full commission will be announced later.
Kobach's press secretary did not respond to an email asking for comment.
"The president is committed to the thorough review of voting issues in federal elections and that's exactly what this commission is tasked with doing," Deputy White House Press Secretary Sarah Huckabee Sanders said at Thursday's press briefing.
Sanders said that the commission will provide the president with a report on their findings. "We expect the report will be complete by 2018," she said.
In the aftermath of the 2016 presidential election, Trump claimed — without evidence — that widespread voter fraud lead to Hillary Clinton receiving 3 million more popular votes than he did. Trump won the presidency via the Electoral College.

Days after his inauguration, Trump said in a series of tweets that he planned to launch a "major investigation" into voter fraud.
Kobach, one of Trump's most strident defenders of the claim that rampant voter fraud exists, has been prosecuting cases in his home state of Kansas and has obtained nine convictions of voting fraud for this past election cycle. There are 1.8 million registered voters in Kansas.
Still, after achieving his ninth conviction last week, Kobach said, "This conviction demonstrates once again how prevalent the crime of double voting is. In Kansas, we are making it clear that people who willfully vote twice will be prosecuted."
The Kansas City Star has criticized Kobach for wasting the state's taxpayer money on the issue, and mocked him in an editorial: "Keep this up, sir, and you may yet prove that of the 1.8 million registered voters in the state, the number of those who have perpetrated this crime is in the double digits."

The New York Attorney General Eric Schneiderman, who wrote a letter to Congress earlier this year to report that his office did not find "one single substantiated claim of voter fraud in New York last year," pushed back on the need for the commission.
"No matter how many times President Trump claims otherwise, voter fraud is an imaginary problem," Schneiderman said in a statement.

Fearing that such a commission could lead to greater voter suppression, the American Civil Liberties Union responded to the announcement by urging professional election officials, elected officials, and other stakeholders to refuse to participate "in what will be a pretext for disenfranchising Americans."
"As President Trump's own lawyers have said, 'All available evidence suggests that the 2016 general election was not tainted by fraud or mistake,'" Dale Ho, director of the ACLU's Voting Rights Project, said in a statement. "Signing a piece of paper will not make Trump's false statements about voter fraud true."
"This commission, to be co-led by King of Voter Suppression Kris Kobach, is a sham," Ho added.