Chapel Hill Shooting Victims: A Tale Of Love, Marriage, And Tragedy
A childhood friend of Chapel Hill shooting victim Deah Barakat spoke to BuzzFeed News on Wednesday about how his best friend fell in love — and proposed to his wife — on their first date. The couple were gunned down after just six weeks of marriage.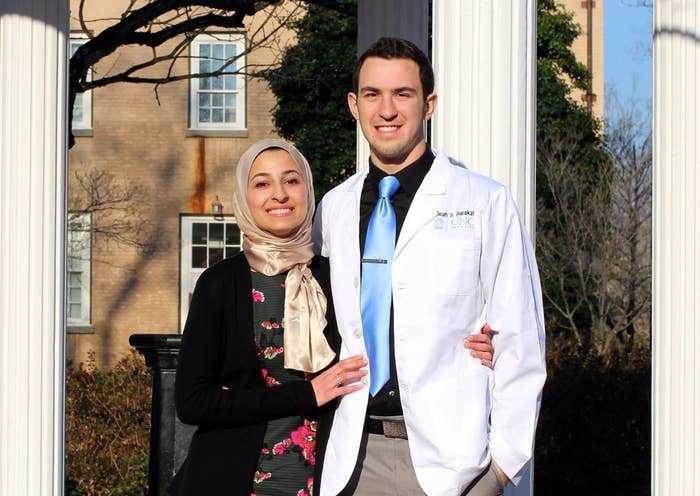 CHAPEL HILL, North Carolina — Walid Nazari's best memory of Deah Barakat is the time he said he had been talking to a girl — something Barakat never did.
"He was giddy. He was like, 'You can't tell anybody about this,'" Nazari told BuzzFeed News. "Because Deah is the most innocent guy you'll ever meet. Talking about girls, things like that, were off limits with him."
Nazari, who knew Barakat since childhood and described him as his best friend, spoke to BuzzFeed News following a candlelight vigil held Wednesday at the courtyard — known as "The Pit" — outside the student center of the University of North Carolina's Chapel Hill campus.
An estimated 5,000 to 10,000 mourners showed up at "The Pit" to pray and shed tears for Barakat — the slain 23-year-old, second-year UNC dentistry student — his 21-year-old wife, Yusor Abu-Salha, and her 19-year-old sister, Razan.
A day earlier, the three Muslim Americans were shot to death at an off-campus apartment complex in Chapel Hill where Barakat and Abu-Salha lived.
Nearby resident Craig Stephen Hicks, 46, was charged with three counts of first-degree murder in connection with the shooting.
The vigil on Wednesday included speeches from university chancellors, Chapel Hill's mayor, and Muslim student-leaders, and a heartbreaking address by Barakat's older brother.
But as the crowd began to disperse, a handful of Barakat's close friends stuck around in the candle-wax-laden courtyard, including Nazari, sharing memories of his close friend — and his love story.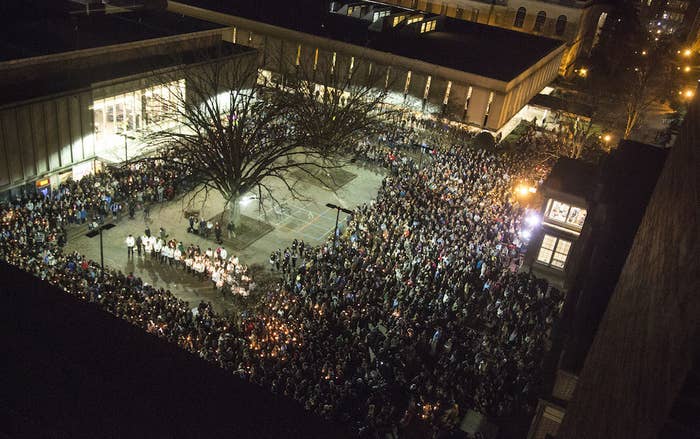 "[Barakat] was like, 'No I'm talking to a girl and I'm thinking about getting engaged,'" Nazari said. "And I was like, 'You never talk to girls. And now you're about to get engaged?'"
Barakat and Abu-Salha had a very traditional Islamic courtship. Early on, they talked, but never went out on dates. A few months later, Barakat asked Abu-Salha's father for his daughter's hand in marriage. When he was given approval, Barakat revealed his plans for a first date — and proposal.
"That's how our culture works," Nazari said. "It was like a first date turned marriage proposal. It was definitely cool."
The last time Nazari and Barakat hung out was over Martin Luther King Jr. Day weekend at UNC. They played in the annual campus basketball tournament for Muslim teams in the community. Their team won the tournament for the second straight year, Barakat's 6-foot-3-inch frame cutting an impressive performance on the court.
"[Barakat] was an amazing athlete," Nazari said. "He was probably one of the better athletes in our Muslim community. Basketball was his main love, besides his wife of course."
His wife was described as down to earth, understanding, and always out to impress her new husband. (The pair were married on Dec. 27, just six weeks before the shooting.)
Abu-Salha was so keen on impressing Barakat that when it came time to write her personal statement for her dentistry school application, she brought the draft to Nazari for an opinion, not her husband.
"She was like, 'I don't want to give it to Deah yet because if it's really bad he's going to be like, "It's really bad,"' but Deah would never do anything like that," Nazari said. "That's just her intuition being like, 'I don't want to give him something that isn't good.'"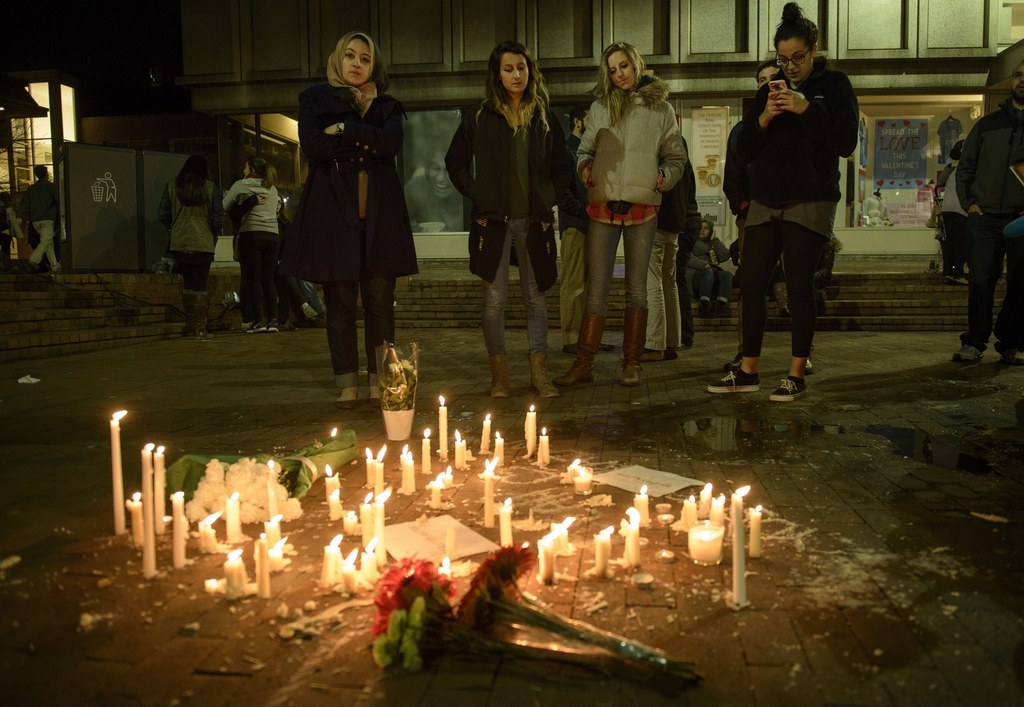 Nazari was four hours away in Virginia at the Appalachian College of Pharmacy when he heard about the shooting. After word got out that it happened at Barakat and Abu-Salha's apartment complex, he didn't think too much of it because he remembered the complex being huge.
He texted his best friend: "Hey man, what's going on?"
"And I didn't get a response," Nazari said. "And that's kind of when I knew something was up because he always has his phone in his hand. He's pretty quick with the responses."
After friends told Nazari that Barakat and Abu-Salha's families were at the crime scene too, he knew his best friend was gone.
Before the vigil, Nazari stopped at the apartment complex, but police tape kept him from getting close so he "just shed a few tears."
But at the vigil — amid the thousands of mourners, the eloquent speeches, the tears — Nazari couldn't help but smile and even laugh a little, he said.
"It's crazy," he said. "The outpour that was out here. How many people he affected. How many people knew him."