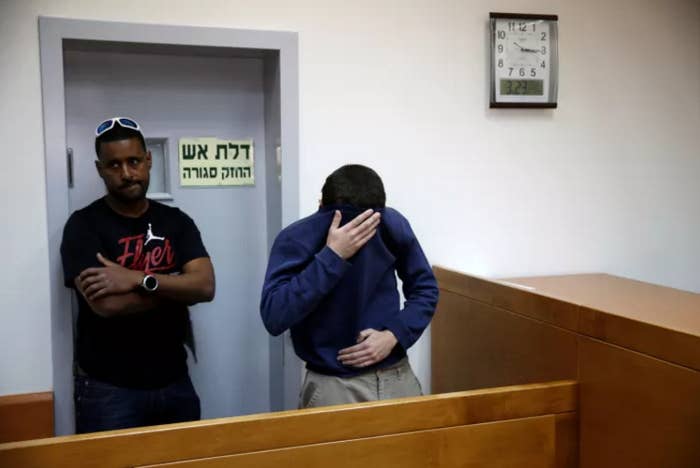 The Israeli-American teenager who was arrested and charged last month in Israel in connection with many of the recent bomb threats against Jewish organizations in the US and other countries is now facing charges in the US, the Justice Department announced Friday.
Michael Ron David Kadar, an 18-year-old dual-citizen of the United States and Israel, is facing charges in federal courts in both Florida and Georgia.
He is accused of making bomb threats and active shooter threats to numerous Jewish Community Centers throughout Florida from January to March this year. Nothing was detonated and no one was hurt in connection with any of the threats.
In Georgia, Kadar is accused of placing a Jan. 3 call to a police department alleging a violent emergency at a private residence in Athens, Georgia. Police responded to the scene, only to find that there was no danger.
BuzzFeed News reached out to the FBI and DOJ on Friday to ask if US officials plan to request extradition for Kadar to be brought to the US.
In Florida, Kadar is charged with 15 violations of transmitting communication "containing a threat to injure" another person, and 13 violations of making a threat containing false information "to be made to kill, injure, or intimidate" another person or "damage or destroy property."

While the complaints only charge offenses in Florida and Georgia. Investigators state in the charging documents that they have evidence that calls were made to people and organizations across the US.
According to the complaint, between Jan. 4 and Mar. 7 Kadar made 245 threatening calls to organizations around the US that targeted JCCs, other historical Jewish institutions, and Anti-Defamation League offices.
The FBI's investigation, according to the complaint, revealed that for all calls Kadar used "user accounts created at a company which provided online call "spoofing" services" to shield his true identity.
The DOJ claims that on Jan. 4 Kadar used the spoofing technology to place 31 calls to facilities throughout the US. On one call placed to the Jewish Academy of Orlando inside Roth JCC of Greater Orlando, Kadar allegedly stated that there was a "C-4 bomb" inside the academy and they did not "have any time left."
The next day, Kadar used the same spoofing technology to place 67 calls to organizations around the US. On one call placed to the Chabad South Orlando, which is a Jewish day school and preschool, Kadar said he was coming to the school in five minutes with an AR-15 rifle and two handguns to kill dozens of children.
Four days later on Jan. 9, Kadar placed 52 calls to facilities. In a call to the JCC of Orlando, Kadar claimed there was a bomb inside the center and said a detonator was in his hand and the explosive would be detonated if he saw police. He stated that shrapnel would blow people's heads off, and there was going to be a bloodbath.
On several other occasions Kadar placed dozens of similar calls to Jewish centers and other organizations, the complaint says.
Last month, Kadar was arrested in Israel after a joint investigation by Israeli police, the FBI, and Homeland Security.
He has been charged in Israel with threats targeting the US, Europe, Australia, and New Zealand over the past six months.
While being taken into custody, according to the complaint, Kadar "spontaneously" told police he "did not do it." When he was asked what he did not do, Kadar said, "the threats." Asked what threats, he stated, "JCC threats."
During the search authorities located a Bitcoin account in Kadar's files that showed payments made using cryptocurrency to the spoofing company.

Along with threats to Jewish centers, he is suspected over a 2015 threat to JFK airport where Delta Airlines flights were grounded after the suspect claimed there were explosives around and inside the airport.
The authorities who raided Kadar's house confiscated computers, antennas, and other sophisticated equipment used to make robocall threats around the world.
During the search, according to the DOJ, authorities found a flash drive that contained folders with titles like "Bomb Threats to Jewish Institutions" that contained recordings of many of the calls described in the US federal complaints. Agents also found folders with news clippings of media coverage of the waves of threats and a folder titled "The Archive Of Targets" with telephone numbers for different institutions that received threats.
BuzzFeed News tallied more than 100 threats that have been made to Jewish Community Centers and schools around the US since the start of 2017.
During the hunt for a suspect, US law enforcement sources confirmed that the persons responsible for the threats used intricate technology — such as voice-masking and caller-ID spoofing — to shield their identity.
In a separate related case, a disgraced American journalist, Juan Thompson, was arrested and charged in US federal court with cyberstalking related to eight of the more than 100 threats made to American organizations. Thompson pleaded not guilty and is being held in New York City where he awaits trial.