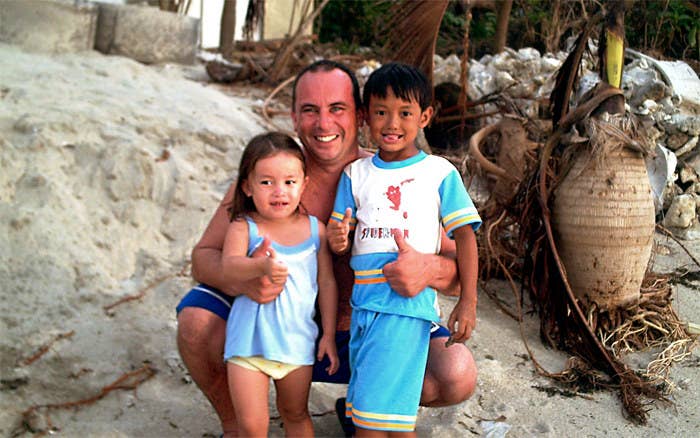 When Scott McMahon was arrested in August 2011 while dining inside a restaurant in Muntinlupa City, Philippines, the police who took him into custody showed up with his accuser and a local TV crew. A now deleted video posted online by a Philippines news outlet reported the incident: Amerikano, arestado sa kasong rape — which translates to American, arrested for rape.
McMahon, 45, a Seattle native, was accused of raping his neighbor, Dolores Vermeulen, a year-and-a-half prior to his arrest in February 2010. He was accused of doing so along with her estranged husband, Jan Marcel Aline Vermeulen.
At first, the accusations against McMahon did not seem impossible. McMahon and his family, his partner Marnelli and their two kids, had allowed Jan Marcel to stay with them after a number of domestic disputes between him and Dolores. But when McMahon's case went to trial five years later in April 2016, his attorneys presented a trove of evidence that made the charge against him seem totally implausible.
"It's just preposterous," McMahon told the Seattle Times last year while he awaited trial. "It's just a complete frame-up. I haven't done anything wrong."
(McMahon was unable to speak directly with BuzzFeed News for this article for fear of backlash from Filipino authorities. All statements of fact attributed to his case were taken from court records obtained by BuzzFeed News.)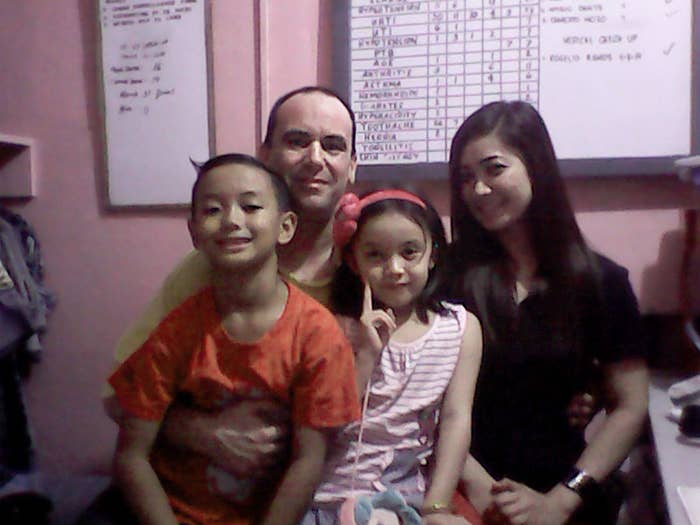 At trial, McMahon presented alibi evidence that he was on holiday with his family 10 hours away from the alleged scene of the crime on the day it allegedly happened. Two witnesses who had contact with McMahon on that day testified that he was nowhere near the apartment complex, and photos of family's vacation were shown in court.
One witness said he saw McMahon three times that day. Another witness, a neighbor at the house where McMahon and his family were staying, said he was positive that it was on that date that he saw McMahon because that was the same day his sister had a baby.
During the trial, McMahon's accuser's credibility repeatedly came into question. She presented no physical evidence that she had been raped (a sexual assault kit taken six months after the alleged assault came back negative). It was also revealed that she had lied about her age while testifying in an unrelated case.
Vermeulen's credibility was damaged even more when an administrator for the apartment complex testified that she had moved out and was living in a different housing complex a month before she said the assault happened inside the apartment.
Then, when evidence was presented of a mysterious visitor McMahon had while in prison, the case against him completely unraveled.
In August 2009, two years before McMahon's arrest for rape, the Bureau of Immigration raided his family's apartment, along with Vermeulen, in search of Jan Marcel after she made accusations that her husband had beaten her. The charges in that case were later dropped.
At the time, McMahon's son, Scott Jr., witnessed the whole episode and McMahon says he was traumatized, began having nightmares, and was afraid to go outside at the apartment complex. McMahon decided to file a child abuse lawsuit against Vermeulen for the incident.
While he was sitting in prison awaiting trial in the rape case, an associate of Vermeulen's, Rene Arnautz, came to visit McMahon with a message from her.
Arnautz told him that Vermeulen was prepared to drop the rape accusation against him if he would do the same with the child abuse lawsuit.
At trial, to prove that Vermeulen had been out to blackmail McMahon, his attorneys presented a copy of a desistance letter from Vermeulen stating that she would drop the case, which Arnautz showed McMahon during the prison meeting.
They also presented a prison visitor's log from the day with Arnautz signed in and indicating he was there to see McMahon.
In her ruling, the trial court judge acquitted McMahon, writing that the accusation made against him by Vermeulen "was merely leverage or an afterthought to a pending case that was filed against [Vermeulen]...concerning [McMahon's] minor child."

Five years after his arrest, McMahon was acquitted and released on Aug. 2, 2016. (His child abuse lawsuit against Vermeulen is still pending.)
However, after he was let out of jail two weeks ago, McMahon was dealt another blow that has made him unable to return to the United States.
While he was in jail fighting his case, McMahon's visa expired in 2013. After his release, McMahon learned that in order to leave the country he would have to pay at least $3,000 in fines to the Philippines' Bureau of Immigration — $1,000 for each year his visa had been expired.
Then this week, his attorneys learned that the Bureau of Immigration may seek an additional $7,500. Representatives for McMahon say he does not have the money and that if he tries to board a plane he will likely be re-arrested at the airport.
After his 2011 arrest, McMahon's mother, Shelley Campanella, hired the David House Agency, a Los Angeles-based crisis management firm that specializes in freeing American's wrongful imprisoned abroad, as McMahon's case manager. The firm worked to build a coalition of supporters, including the California Innocence Project to work on McMahon's case. Now that his supporters have helped McMahon get acquitted, they are focused on getting him home.
"Scott was exonerated by a court of law after spending more than five years in jail for a wrongful accusation. He should not be penalized by immigration fines and fees solely because the criminal justice system dragged its feet. Scott should be allowed to leave immediately," Michael Semanchik, one of McMahon's attorneys from the California Innocence Project, told BuzzFeed News.
"At the heart of this case is a mother's endurance, faith, and a tireless fight to save her son's life. She waited for more than five years to get him free, but now may have to get on a plane and return home without him. This is not over," said Eric Volz, managing director of the David House Agency.
On Aug. 5, three days after he was released from a Philippines prison, McMahon and his mother, Shelley Campanella, met with officials at the U.S. embassy to discuss his case. BuzzFeed News has learned that at that meeting, State Department officials discussed with McMahon the possibility that he could be re-arrested if he tried to leave the country without paying the fines. The officials also recommended that McMahon keep a low profile while he figures out the situation.

A state department official told BuzzFeed News that the agency has seen reports that McMahon incurred immigration fines during his detention, however, they are generally not able to provide direct legal assistance or intervene in foreign legal cases.

The state department referred BuzzFeed News to the Philippines authorities for additional information. Multiple attempt to reach the Philippines Bureau of Immigration were unsuccessful.
McMahon's representatives confirm that he is staying in an undisclosed location while they attempt to rectify the situation.