Potential Jurors Raise Issues Of Police Brutality At Akai Gurley Shooting Trial
Several prospective jurors were dismissed the selection process when they told the judge they could not be fair and impartial in a police shooting trial.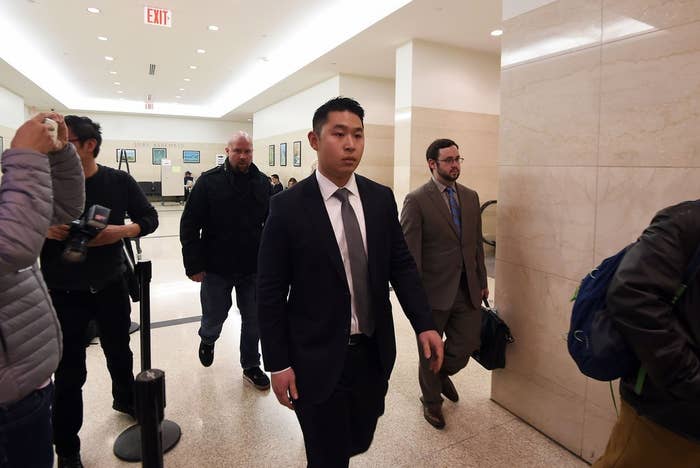 BROOKLYN, New York — The pool of potential jurors was cut from approximately by 150 to just 50 people Wednesday during the first day of jury selection in the highly anticipated manslaughter trial of Peter Liang, the New York police officer who fatally shot unarmed black man Akai Gurley in 2014.
Most were dismissed from the jury pool due to hardships such as anticipated loss of income during what is expected to be a four-week trial. However, several others who expressed a bias toward law enforcement were also told they would not be seated.
One woman said her cousin was shot and almost killed by an NYPD officer. Another woman was dismissed by Judge Danny Chun when she said she was "traumatized" by an incident in which a person was tackled in her neighborhood by a police officer and died.
Another man said that he worked as a teacher and his students come to him regularly with complaints of being treated unfairly by police officers.
"I have to console them," he said. "I would be biased in this case."
Another man was dismissed after telling the judge he was still upset from an incident last weekend in which he and his friends were riding in a cab that was pulled over by police "for no reason."
Another woman who was dismissed said she was employed by a civil rights organization that did a lot of work on police brutality, adding that she was "afraid" her work would cause her not to be fair and impartial.
Others were less nuanced in their response when asked if the nature of the case — a police officer charged with acting recklessly and with criminal negligence — would affect their service.
"I don't think that I will be fair in this case," one man told the judge.
When Chun asked why, he simply said "because it involves a police officer."
Ultimately, anyone who said their mind was made up regarding their bias was dismissed, but not without some pressing from the judge.

When one man said that the case "makes me uncomfortable," Chun shot back, saying that "being on a jury isn't comfortable."
The man replied, "I will not be fair."
Another man said that "based on his family history with cops" he didn't think that he would be able to be fair. Chun retorted that being a juror "is not rocket science" and asked if he could listen to the case and decide guilt or innocence in a fair and impartial manner.
Several others were dismissed because they felt that they had been overexposed to the case or stories involving police shootings in the media, including two employees at the New York Daily News, which covered the shooting and the ongoing criminal case extensively.
Chun said he was satisfied with the pool being cut by about two-thirds, and told the remaining prospective jurors to return to the Brooklyn courthouse on Thursday for the next round of selection.
"Don't tweet to the world that the judge is being very unreasonable, he's being mean, he won't let me go," Chun said before releasing a group of the pool for the day.
Opening statements in the trial are expected to start on Monday.