Over 100 Muslim Groups Call For Federal Hate Crime Investigation Into Chapel Hill Shootings
In a letter to Attorney General Eric Holder, community and advocacy organizations called for a the Department of Justice to investigate whether or not the killings were motivated by hate.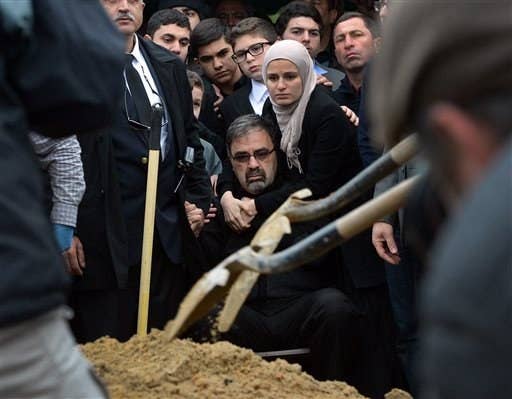 CHAPEL HILL, N.C. — Just days after the brutal killings of three Muslim-American students, over 100 advocacy and community organizations are calling for the Department of Justice "to open a full and rigorous federal hate crime investigation and to publicly condemn this heinous attack."
Over 100 American Muslim, Arab, Sikh, South Asian, and various other community and advocacy groups sent a letter Friday to Attorney General Eric Holder calling for the investigation:
Deah Shaddy Barakat (23 years old), his wife Yusor Mohammad Abu-Salha (21 years old), and her sister, Razan Mohammad Abu-Salha (19 years old), were brutally murdered in their home in Chapel Hill on the evening of Tuesday, February 10. Chapel Hill police have arrested Craig Stephen Hicks, a neighbor of the young students, and charged him with three counts of first-degree murder. Though details about this incident continue to unfold, many accounts suggest that these attacks were motivated by hate. Some have suggested that this incident was the culmination of an ongoing parking dispute between the neighbors. The family of the victims, however, has strongly refuted that a parking dispute was the motive for the crime. The father of the Abu-Salha sisters said that Mr. Hicks "picked on my daughter and her husband a couple of times before, and he talked with them with his gun in his belt. And they were uncomfortable with him, but they did not know he would go this far." The circumstances surrounding this incident—previous threats by Mr. Hicks, combined with the sentiment expressed in Mr. Hicks' social media posts—warrant a federal hate crime investigation.
The groups state in their letter that the killings "come in the wake of a disturbing rise in especially threatening and vitriolic anti-Muslim rhetoric and activities," some tied to release of the movie American Sniper:
In recent weeks, after the release of the movie American Sniper, many tweeted hateful and deplorable messages demeaning to Muslims and Arabs. For example, one user tweeted that the film "makes me wanna go shoot some f**kin Arabs," while another stated that "American sniper made me appreciate soldiers 100x more and hate Muslims 1000000x more."
The advocates hope that Attorney General Holder will break the Obama administration's silence on the Chapel Hill shooting killing and hold a press conference announcing a DOJ investigation.
Federal leadership is necessary in this case in order to send the strongest message to the public that acts of violence like these have no place in a civil society and will be prosecuted to the fullest extent of the law. This would be the first time, to our knowledge, that a U.S. Attorney General has held a press conference to announce a federal investigation or indictment of a potential hate crime against members of the American Muslim, Arab, Sikh or South Asian communities.