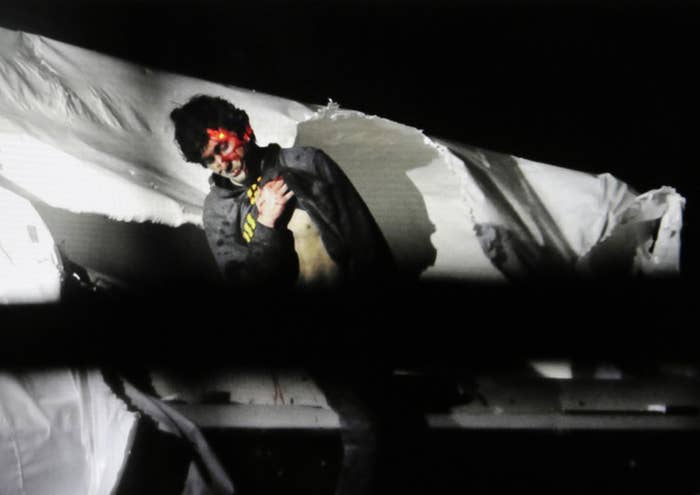 Nearly two years after the Boston Marathon bombing, the trial of Dzhokhar Tsarnaev has begun. Here's the background:
Tsarnaev is accused of killing three people and injuring 260 others during the April 2013 bombing — the worst domestic terrorism attack since 9/11. He is also accused of the murder of MIT police officer Sean Collier. He faces 30 federal charges in total.
A jury of 10 women and 8 men (12 jurors, 6 alternates) will decide Tsarnaev's fate. If convicted, he could face the death penalty. It took over two months to select the jury of a pool of 1,373 people.
Tsarnaev's defense attorneys filed four motions to change the venue, claiming the defendant could not get a fair trial in the city where the bombing occurred. U.S. District Court Judge George O'Toole denied all of Tsarnaev's change of venue requests, and an appeals court denied two additional attempts by the defense to relocate the trial.
Tsarnaev's lawyers are not expected to argue that he is innocent of all the accused crimes. Instead, the defense will make their case that Tsarnaev acted under the influence of his older brother, Tamerlan Tsarnaev, in carrying out the attacks.
U.S. vs Dzhokhar Tsarnaev is the most high-profile federal terrorism trial in the United States since Timothy McVeigh was tried for the Oklahoma City bombing in 1997.
William Richard, the father of 8-year-old Martin Richard, who was killed in the bombing, is the government's next witness.
Richard told jurors that when his 6-year-old daughter Jane tried to get up after the bombing she fell.
"It was then that I noticed her leg," he said. "She didn't have it. It was blown off at the site."
He was shielding Jane and Henry's eyes and had to go back to get his wife, Denise, and his son Martin.
"When I saw Martin's condition I knew that he wasn't going to make it," Richard said. "Given what I saw, it was at that time that I saw my son alive barely for the last time. I saw a little boy who had his body severely damaged by an explosion."
Richard said he looked at Martin for the last time before taking Henry to the ambulance.
Jane lost her left leg below the knee and has had at least 20 pieces of shrapnel removed from her body.
Denise lost sight in one of her eyes while Richard suffered burns and shrapnel wounds. His hearing was also affected.
"But I can still hear the beautiful voices of my family," he said.
He ended his testimony with Martin's age: "He was 8 years old."
The next government witness is Officer Tommy Barrett with the Boston Police Department for 10 years.
Barrett said that as he ran toward the second blast site, it felt like "opening up the oven and your face was right in front of it."
While watching a video of the bombing, Barrett said "there were so many people that were hurt seriously that it was hard to choose who to help first."
He grabbed Leo, a 3-year-old boy who was bleeding from the side of his head, and ran with him "like a football" towards the medical tent.
He said he accidentally stepped on someone's severed leg and saw one woman who was holding her insides after her abdomen had been ripped open.
The government calls Roseann Sdoia, a survivor who lost part of her leg in the bombing, as the next witness.
When the second bomb went off Sdoia said she saw two flashes of white light explode at her feet. "In my head it registered that I probably lost my leg," she said. "All I could see was blood was pouring out sort of where my knee should have been."
She described the scene saying it was like watching a "horror movie."
"I thought 'I didn't want to live as an amputee...' I knew that if I didn't stay conscious, I would die."
She said she fought to stay conscious all the way to the hospital. "The thought of my nieces, my grandmother, and my sister... I couldn't die."
Sdoia's leg was amputated above the knee. She also suffered from hearing loss, burns and phantom pains.
The next witness is Boston Police Officer Lauren Woods, who was with 23-year-old Lingzi Lu when she died in the bombing.
After the bomb went off, Woods said she found Lu, who was vomiting profusely and was severely injured. Woods tried to keep her alive by clearing her airway.
Her lower torso had extensive injuries and Woods said, "I could see blood, flesh, bone." Her whole body was "shaking, quivering" and her eyes kept rolling in and out, Woods testified.
The next witness is Alan Hern, a teacher and a varsity football coach in California, who traveled to Boston for the marathon with his three kids to watch his wife run.
His then 11-year-old son, Aaron, was injured in the bombing.
The next government witnesses are two FBI agents and an FBI computer scientist.
The agents testified about collecting several pieces of video evidence from the bombing which are critical to the government's case. They established a chain of custody for the videos of the crime scene.
The government's next witness is double amputee Jeffrey Bauman who went to the marathon to watch his girlfriend, who he is now married to, run.
Bauman described how a suspicious-looking man bumped into him at the marathon and left a bag behind.
He then described what happened after the bomb went off.
"My ears were ringing," Bauman said. "Everything was muffled...I looked down at my legs...it was pure carnage."
He said he could see bones and flesh when he looked at his legs. "I saw most of the blood coming out of my left leg, I still had my knee, but nothing beyond it. There was a stream of blood coming out," he said.
"I was thinking, 'This is it.' I thought, 'I had a great life,'" Bauman said.
He later told investigators about the suspicious man, describing him as an athletic guy, about 6'3, wearing a black hat, aviator shades, a hoodie with a 5 o'clock shadow, and a black bag.
Bauman said that he saw the suspect on the news in the hospital. "I was like, 'That's the kid I saw, that's him!'"
The first witness on the second day of testimony is a Boston police officer who responded to the bombing:
Chiola described how he tried to save the life of a young woman with blue eyeshadow, Krystle Campbell.
The government on Wednesday called six witnesses to the stand, including a survivor who lost her leg in the bombing.
One of the witnesses, Shane O'Hara, a manager at Marathon Sports was emotional as the jury was shown a surveillance video from inside the store after the bomb exploded. O'Hara compared it to scenes from war movies like Saving Private Ryan and Platoon.
"I remember trying to decide who needed help the most, who can I help, and why do I have to decide this?" he said.
The jury was also shown three videos taken by witness Colton Kilgore whose mother-in-law was running the marathon. Kilgore was at the finish line recording the marathon when the bomb exploded and kept the camera rolling.
"The smell, smoke, gunpowder, flesh, just acrid and disgusting," he said. The video showed the ruptured leg of his brother-in-law's girlfriend Rebekah Gregory, who was the next witness for the government. Gregory lost her lower left leg in the bombing and her 5-year-old son Noah was hit by shrapnel.
An emotional Gregory told the court that while she was looking for Noah, she realized that her bones were sticking out of her arms and legs.
"Even though my ear drums burst, I could hear Noah say, 'Mommy, Mommy, Mommy — over and over again,'" Gregory said.
She underwent 18 surgeries on her leg, the last of which was an amputation.
The next witness was 19-year-old Sydney Corcoran, who attended the 2013 marathon with her parents to support her aunt. Corcoran suffered severe injuries during the bombing and her mother, Celeste, lost both her legs.
Corcoran recalled lying on the ground outside Marathon Sports after the blast as two men struggled to apply pressure to her leg, which was bleeding from a ruptured femoral artery.
"I was dying, the blood was leaving my body. I was bleeding out," she said.
As Corcoran was dismissed from the stand, her mother rose on her two prosthetic legs and walked out of Courtroom 9 behind her daughter.
The final witness of the day was Karen McWaters. She attended the race with 29-year-old Krystle Campbell, who was killed in the blast outside Marathon Sports.
McWaters, who lost her left leg in the bombing, told the jury how after the bomb went off, she dragged herself across the hot asphalt toward Campbell. When she reached her, they lied there, cheek to cheek, waiting for help.
"We put our faces together. We tried to talk to each other," McWaters said. "She said her legs hurt. Then her hand went limp and she never spoke again after that."
Tsarnaev's lawyer Judy Clarke speaks for the defense.
Prosecutor William Weinreb gave the opening statement for the government.
This is a developing story. Check back here and follow BuzzFeed News reporter Mike Hayes on Twitter for updates.
Sydney Corcoran suffered leg injuries in the bombing. An earlier version misstated that she had lost her foot.