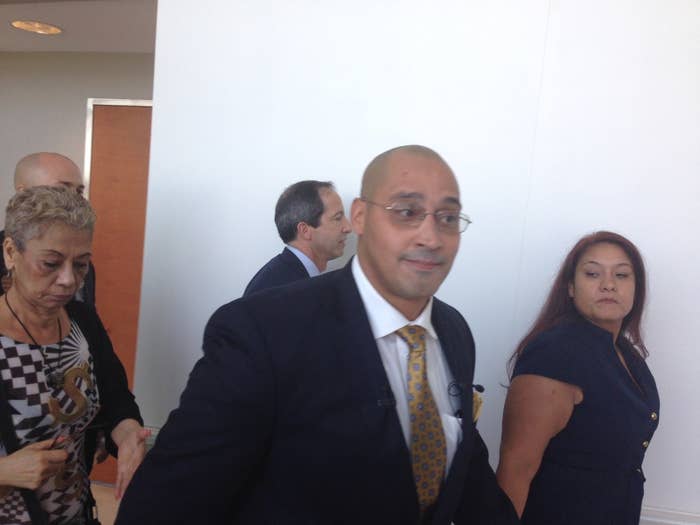 In a bizarre twist, a New York City man who spent 20 years behind bars for a murder he claims he didn't commit declined an offer Friday to drop the charges against him, telling the court its more important that the public know the truth.
After prosecutors moved to dismiss the murder case against Richard Rosario, he told the judge the offer was "not acceptable."
Rosario, 40, was sentenced to 25 years to life for the murder of George Collazo, who was 16-years-old when he was shot and killed in the Bronx. In March, a judge released Rosario from custody after Bronx District Attorney Darcel Clark concluded that Rosario did not receive a fair trial. However, Clark did not go so far as to drop the charges or rule out a new trial.

Rosario claimed that at the time of the shooting he was 1,000 miles away in Florida. Thirteen witnesses backed his story up, including a sheriff's deputy and federal corrections officer.
His conviction was largely based on the testimony of two men who picked him out of photo book of possible suspects. But they have since said publicly that they are unsure if they identified the right man.
After Rosario spoke in court Friday, his lawyer, Glenn Garber, asked Judge Robert Torres to stay his ruling of a dismissal so that the investigation could stay open.
"I know it's an unusual request," Garber said.
Over the years, Rosario and his attorneys have unsuccessfully lobbied for his conviction to be thrown out claiming that his original defense attorneys failed to properly represent him and present testimony from all of his alibi witnesses.

When Clark took office in the Bronx in January, she vowed to make conviction integrity a focus of her administration. Rosario's was one of the first cases her team took a look at.
Rosario's case was also helped by an NBC Dateline segment that featured interviews with several of the alibi witnesses who said they might have gotten it wrong.
The victim's sister, Guanica Collazo, also told the New York Times, "I think they have the right person. I just think the system failed all around."

On Friday, Torres told Rosario that he would allow the district attorney's office to file its motion for dismissal in writing by Aug. 30, after which he would reconsider whether to drop the case or leave it open as Rosario wishes.
"You understand that in essence…an open homicide case still hangs over your head," Torres cautioned Rosario.
"All I'm seeking is transparency for me and my family…I know the consequences that I face," Rosario responded.