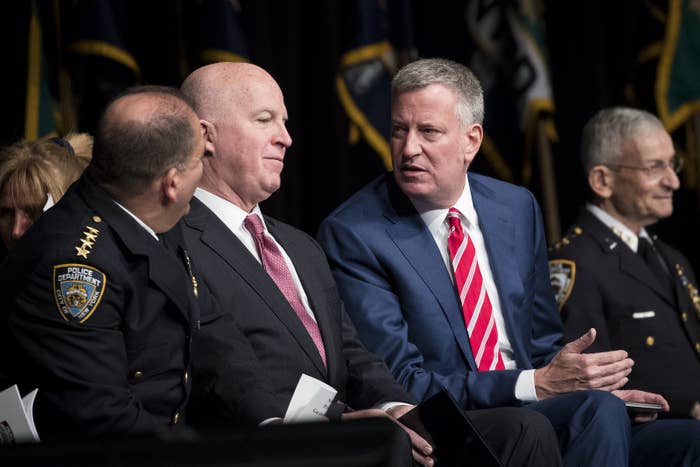 New York City Mayor Bill de Blasio and Police Commissioner James O'Neill spoke out today against the strict secrecy surrounding police misconduct, vowing to fight for changes to state law.
Their statements came two days after BuzzFeed News published an investigation that found hundreds of officers who committed the most serious offenses — from lying to grand juries to assaulting innocent people — had been allowed to stay on the force. The investigation was based on a cache of internal disciplinary records.
In the past, the NYPD has successfully fought to keep such records, and the outcomes of departmental misconduct hearings, out of public view. De Blasio said Civil Rights 50-a, the restrictive law the department says permits that practice, must be changed.
"We need to get real about this," the mayor announced at a press conference with the commissioner. "This disclosure is something the public is demanding and has a right to." He said he has been pressing state lawmakers to make changes to 50-a for years. "There's nobody in Albany that doesn't know this issue is on the front burner. And if they pretend to not know about it, they're not telling you the truth. It's time to decide."
Commissioner O'Neill also said he supports increased transparency.
"This is an issue of trust. Our disciplinary system has to become more transparent," he said. "There are many things we do well at the NYPD. We fight crime well, neighborhood policing is going well. Letting people know about our internal disciplinary process — that's not something that we do very well at all."
Patrick J. Lynch, president of the Patrolmen's Benevolent Association, the largest union representing NYPD officers, took issue with those statements, "The Mayor and the NYPD have made it a policy to arbitrarily and illegally release personnel records," he said. "Today's statement shows they continue to use 'transparency' as a cover for what is really a politicized, secret and unchecked process that puts police officers at risk."
He added, "Transparency with respect to personnel records has its limits, and the costs are incredibly dangerous."
Both the mayor and commissioner stressed that the situation had changed since 2015, the last year covered by the records in BuzzFeed News' investigation.
"The organization was under different management," said de Blasio, who appointed O'Neill in September 2016.
"We are open to criticism," O'Neill said. "That's part of who we are. I have no issue with that. But I think the full story needs to be told."
O'Neill was asked to provide data to support his claims that disciplinary standards had changed. He told reporters he was looking into whether that would violate the law.
Hakeem Jeffries, a member of Congress from Brooklyn, also responded to the BuzzFeed News investigation: "The police department's failure to appropriately discipline officers who have engaged in substantial misconduct is deeply troubling," he said. "Our city was promised change by this administration, not more of the same. Rogue police officers who brutally beat innocent civilians or lie under oath should be dismissed, not coddled and given a slap on the risk. This situation not acceptable."
New York City Council Speaker Corey Johnson said he found the BuzzFeed News investigation "deeply troubling." Johnson added, "Clearly, the response from the NYPD has been inadequate. It makes no sense that" officers who have committed misconduct "have been allowed to keep their jobs. Most people would be fired if they lied under oath. The findings in the Buzzfeed story underscore the need to amend the state law and allow for greater transparency regarding police misconduct. The good news is, most police officers are honorable men and women who serve this city with dedication."
Two state lawmakers also spoke out about the secrecy surrounding police misconduct. "The idea that that system works is a fiction," said state Assembly member Daniel O'Donnell, who has introduced one bill that would modify that state secrecy law around personnel records and another bill that would repeal it.
Dan Quart, a state lawmaker and criminal defense attorney, criticized dismissal probation, the yearlong disciplinary measure under which officers who commit serious offenses are allowed to keep doing their jobs. "I think dismissal probation is an insufficient process," he said. "The real solution," he said, is to repeal the state secrecy laws.
You can watch the full press conference here.