NRA Campaign Contributions Are Being Investigated In Connecticut
The state's election enforcement commission is moving forward with an investigation into alleged illegal campaign contributions in state elections.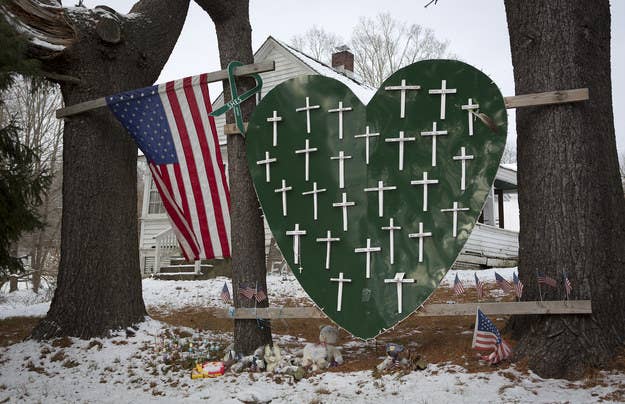 The Connecticut State Election Enforcement Commission will conduct an investigation into whether the National Rifle Association violated the state's campaign finance laws with illegal political contributions.
In a closed door meeting Tuesday, the SEEC determined that a complaint filed last month accusing the NRA of "laundering federal money through the NRA Connecticut [Political Action Committee] to contribute to candidates in Connecticut" merited a full investigation, an SEEC spokesman confirmed to BuzzFeed News.
The complaint alleges that, since 2003, the NRA's federal political committees funneled up to $20,000 through the Connecticut PAC in order to subvert campaign finance laws that prohibit the use of federal funds for state campaigns.
A similar complaint in Rhode Island led to a $63,000 fine against the NRA in 2014.
Among the individuals who filed the Connecticut complaint is Carlos Soto, whose sister, Victoria Soto, was one of six teachers killed on December 14th, 2012 during a mass shooting at Sandy Hook Elementary School in Newtown, Connecticut.
Soto is joined by Sarah Clements, whose mother, Abbey Clements, was a second grade teacher at Sandy Hook Elementary School and survived the 2012 shooting; Sandy Hook resident Po Murray, mother of four children who graduated from Sandy Hook Elementary School and a neighbor of gunman Adam Lanza; Brown University student Duncan Weinstein; and Sam Bell, who serves as the State Coordinator of the Rhode Island Progressive Democrats.
The group issued a joint statement Tuesday following the SEEC decision:
"We are grateful that the SEEC has decided to open up this investigation into the campaign finance shell game the NRA has been playing in Connecticut. There is so much at stake when it comes to ending gun violence, and the NRA has to be held accountable to state ethics and transparency laws when it tries to buy influence with state politicians and attack those who support common sense gun laws."
Catherine Mortensen, an NRA spokesperson, said the "baseless complaint is nothing more than politically motivated harassment of the NRA by gun control advocates. The frivolous allegations are without merit, and the NRA has provided documentation that shows the expenditures and contributions in question were made in compliance with the law."
Last month, after reports that the SEEC was considering an investigation, NRA spokeswoman Jennifer Baker called the filing "a baseless complaint [that] is nothing more than politically motivated harassment of the NRA by gun control advocates."