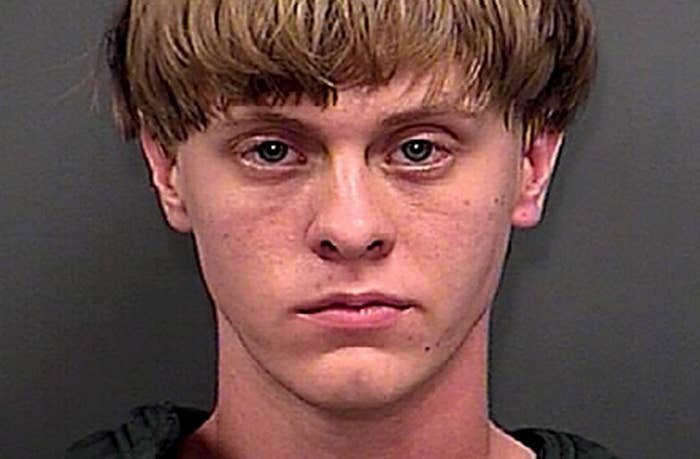 As news was breaking Monday that a judge granted avowed white supremacist Dylann Roof's request to represent himself in his federal death penalty trial over the fatal shooting of nine people inside the Charleston Emanuel AME church, concerned followers of the case spoke out on social media wondering if Roof was promoting himself to lead counsel in order to have a better chance at appealing the verdict.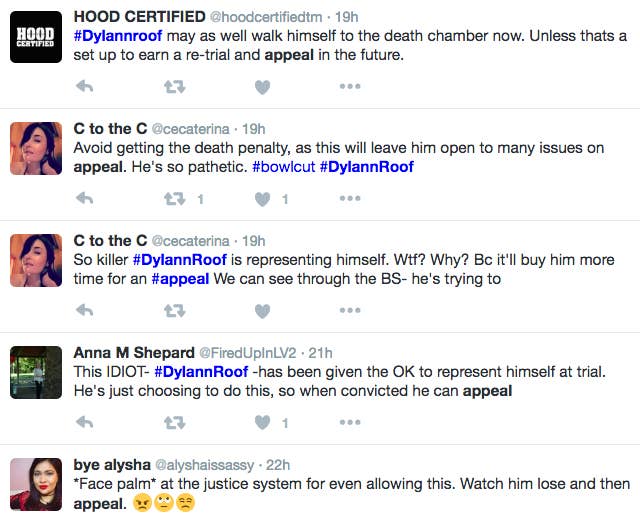 However, legal experts and experienced death penalty attorneys tell BuzzFeed News that Roof's decision to represent himself will actually hurt his ability to appeal.
"Depending on how it plays out. It's really going to harm his appeal," attorney Rick Kammen told BuzzFeed News. "It's a horrible thing. You couldn't imagine a less productive way of going ahead. The prospect of disaster looms really large."
Kammen, who has acted as lead counsel in approximately 35 federal capital cases, points out that Roof is "not likely to know how to preserve the record" during the trial by making objections and motions in order to have issues to raise at an appeal.
"I always say it's the objections you don't make, it's the motion you don't make, that leads to the client being executed," Kammen said.
Charleston-based attorney Chris Adams, who has defended 75 capital cases without a death verdict, agrees that Roof will be "held to the same standard as lawyers are."
"Assuming the judge's finding is on solid ground. He just shot his appeal in the foot," Adams said.
Roof's request to represent himself was granted by Judge Richard Gergel just before the start of the individual questioning phase of jury selection. Gergel told Roof he was granting his motion to act as his own counsel but thought it was "unwise."

Georgetown law professor and experienced death penalty attorney Abbe L. Smith said that Gergel's statements warning Roof will factor into his ability to appeal.
"It's difficult to appeal when there's a full colloquy on the record about how important counsel is," Smith said. "The judge admonished him about this."
That decision to allow Roof to represent himself relegated Roof's attorney David Bruck, one of the most respected and sought after death penalty defense lawyers in the country, to stand-by counsel.
Harlem, New York-based attorney Anthony Ricco, who represented the bombers of the U.S. Embassy in Nairobi, Kenya in 1998 in a death penalty trial where the four men charged all received life sentences, called the scenario of Roof representing himself a "nightmare" and the "epitome of mental illness."
"The idea that you have a 22-year-old who is represented by one of the most premiere death penalty lawyers in the world, and that individual says, 'well, I think I'll do better by myself.' Normal people don't do this." Ricco said.
Smith says that the judge could take a more nuanced approach that allows Bruck to guide Roof in order to do the necessary things at trial to give him a chance to later appeal.
"I've been stand by counsel. I struck a deal with the judge," Smith said, referring to a case involving Alfonso "Mo Africa" Robbins, a member of Philadelphia-based black liberation group MOVE, in a case where he was charged with multiple counts of felony assault against police.
"I did all the pre-trial motions, and I picked the jury along with my client. I made all the evidentiary objections. That satisfied my client who wanted to speak on his behalf. I thought that judge handled it in a more nuanced way than the Roof judge is handling it," Smith said.
Gergel indicated Monday during jury questioning that he may limit Bruck's role in the case and not allow him to speak on behalf of his client.
At one point, Bruck tried to register an objection to the judge striking a juror who hesitated when asked if she could impose the death penalty. Prosecutor Jay Richardson responded by "vigorously objecting" to Bruck's attempt to object on Roof's behalf.
"We can't function this way," Gergel responded.
"Mr. Bruck, sit down. Mr. Roof, stand up," Gergel added. The judge then reminded the defense that Roof had decided to represent himself and any objections to jurors being qualified or struck from the jury needed to come during their questioning from Roof and not "after the fact."
"He got shot down. The judge essentially said you're now the world's most talented paralegal. You can pass him notes all day long but you're not going to speak during the trial. He's been relegated to a role of note passer," Adams said.
"I'd be delighted to have David Bruck represent me. I'd be smart enough not to fire him," he added.
Individual questioning of prospective jurors continues this week in Roof's trial in Charleston. As of Tuesday, 27 jurors have been "qualified" to move onto the next round of jury selection. After the court has selected 70 people to move on, Roof and the prosecutors will select 12 jurors and six alternates to hear the case.