Newtown Families' Steep Uphill Battle For Gun Reform
Nine months have passed since the Sandy Hook Elementary shooting. Despite inaction on Capitol Hill, family members who lost loved ones to gun violence are not ready to give up their fight to change the nation's firearm laws.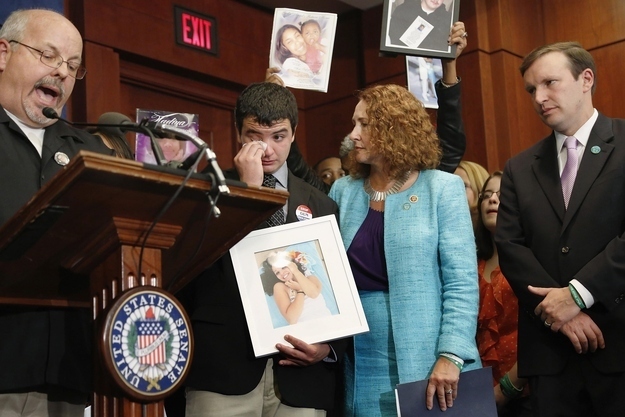 WASHINGTON — "I don't want another 15-year-old picking out his sister's casket!" Carlos Soto, 16, screamed into the microphones atop an official Senate room podium Wednesday.
Soto, flanked by Sen. Chris Murphy of Connecticut and House Minority Leader Nancy Pelosi of California, appeared on Wednesday with about 50 people from Newtown, Connecticut; Aurora, Colorado; Oak Creek, Wisconsin; Chicago; and other places touched by gun violence.
"I will never have a normal life," Soto concluded.
The teenager held a framed photo of his sister Vicki Soto, a teacher who was gunned down on Dec. 14, 2012, in the shooting at Sandy Hook Elementary School that took the lives of 26 people — 20 of them first-grade students.
Soto's trip to Capitol Hill — his sixth since his sister's death — was planned weeks ago to mark nine months since the Newtown massacre. But it took on new significance when on Monday a former Navy reservist killed 12 people in a rampage at the Washington Navy Yard.
There was suddenly increased media interest in Wednesday's event, organized by Connecticut Sen. Richard Blumenthal and the Newtown Action Alliance. Reporters and photographers crammed into the too-small room, some having to film from the doorway.
"Shootings in America are becoming the 'new normal,'" said Blumenthal, quoting Dr. Janis Orlowski, chief medical officer at Washington's MedStar Hospital, whose hospital treated victims from the Navy Yard shooting and pled for an end to gun violence during a news conference.
"There is a building bipartisan coalition that will say no to the new normal," Blumenthal said.
Back in April, despite a major push by the White House, the Senate defeated several measures to expand gun control. And while gun control activists may hope Monday's shooting will convince some Republicans to break ranks and help revive legislation to impose background checks or ban assault weapons, it appears unlikely that it will happen anytime soon. Senator Murphy said Wednesday that he agrees with Senate Majority Leader Harry Reid, who said Tuesday that "we don't have the votes" to bring back gun legislation right now.
So where does that leave the activists like the Newtown group, traveling down to D.C. to call for gun reform for their fourth, fifth, and sixth times?
For one, they're getting better organized. "We're just now getting to meet with the policy advisors for Republican representatives and some Democrats that wouldn't meet with us when we came down three months and six months after Newtown," says Lauren Green from the Newtown Action Alliance. The organization's lobbying coalition booked over 40 meetings for its two-day lobbying trip to D.C.
Green opened meetings this week by giving legislators a postcard with the faces of the 20 students murdered at Sandy Hook Elementary School last December, at which time Chaplain Khaliah Abdul-Karim, a first responder at Sandy Hook Elementary on the day of the shooting, reminded the lawmaker that "these kids had their heads blown off, limbs blown off. That is the description I had to deliver to the parents."
The lobbyists say they also know their numbers better. In one meeting Wednesday, after a legislative assistant for a congressman from Florida pointed out that after Newtown he heard in mass from constituents asking the congressman not to take their Second Amendment rights away, Green informed him that 75% of those polled in his district support universal background checks.
Lastly, they're going to keep going. "I'll come down here every three months for five years if that's what it takes," Green says.
While the activist's road seems well paved to stay vocal, the political road remains rough and rugged. Murphy calls the state of the Thompson bill in the "assessing stage." Murphy contends that while he plans to continue to "try like hell" to get something passed, he'd rather wait until after the 2014 midterm elections and concentrate on building a political movement that endangers those incumbents who sit by idly on gun reform.
For Murphy, this is taking a page out of the NRA playbook, in fact. He admits the NRA has shown tremendous strength in their ability to use the electoral process to get what they want. Still, Murphy says he believes building a political infrastructure around gun control will show voters targeted by pro-gun lobbying groups and represented by anti-gun reform legislators that "the emperors have no clothes" in their districts.