The FBI on Wednesday arrested the leader of one of New York City's most powerful unions on allegations that he received thousands of dollars in kickbacks for steering millions from his organization's retirement investments to a Manhattan hedge fund, according to an indictment unsealed this week.
Norman Seabrook, president of the New York City Corrections Officers' Benevolent Association (COBA), was taken into custody at his Bronx home early Wednesday morning as FBI agents raided his home.
Murray Huberfeld, the former head of Platinum investment and the hedge fund manager whom Seabrook is accused of conspiring with, was also arrested Wednesday.
At press conference announcing charges, U.S. Attorney Preet Bharara, said Seabrook, who has served as president of COBA for 20 years, "Wielded power and control over the thousands of lives of corrections officers that he represented."
According to the indictment against the defendants, the kickback scheme allegedly ran from November 2013 through 2015.
Bharara said that at one point Seabrook furnished $20 million of the union's money to Platinum, accounting for more than half of the hedge fund's investments that year.
Bharara added that this investment came at a time when Platinum was in need of capital because "redemptions [in the fund] were rapidly outstripping investments."
Investigators determined that the relationship that Seabrook fostered between COBA and Platinum represented the only time in the union's history that it had invested in a hedge fund. In addition, COBA's investment was the only time in the fund's history that Platinum had taken money from a public pension fund.
"We allege this was not a coincidence, it was corruption," Bharara said.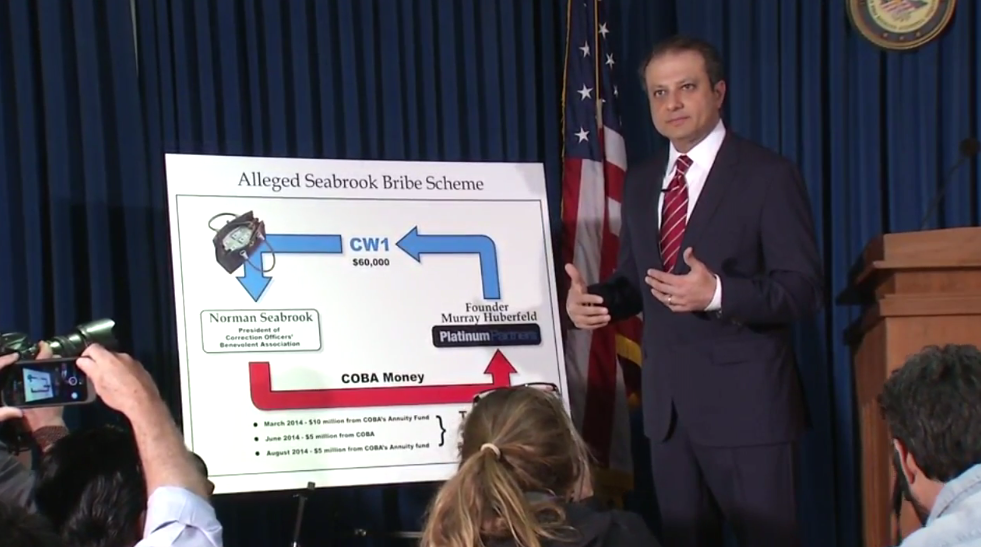 On one occasion on December 11, 2014, it is alleged that a mutual friend of Huberfeld and Seabrook, who is a confidential witness in the case, went to a Salvatore Ferragamo luxury goods store in Manhattan, purchased an expensive bag, placed $60,000 in it, and delivered the bag to Seabrook, who was waiting a few blocks from the store.
At the time, the confidential witness had season NBA tickets to the New York Knicks and had hoped to create a sham invoice stating that Platinum paid him the $60,000 for game tickets, according to the complaint.
"At the time of this supposed payment of $7,500 per game, the New York Knicks' record was 4-20," the complaint says.
According to the complaint, Seabrook, who has been a corrections officer since 1985, was angry when he received the $60,000 payment because it was not as much money as initially promised.
During a raid of Seabrook's Bronx home on Wednesday the feds found 10 pairs of high-priced Ferragamo shoes, prosecutors said.
Bharara said that the confidential witness in this case has pleaded guilty to related charges and is assisting investigators in other public corruption probes that are ongoing in New York City.
Seabrook's status as an NYC power broker and link to top officials is well known. In the past, Seabrook has been called a friend by New York City Mayor Bill de Blasio.
After the charges against Seabrook were announced, Monica Klein, deputy press secretary for de Blasio, sent BuzzFeed News the following statement:
"We do not know the details of Mr. Seabrook's arrest or the investigation leading up to it. The justice system will now run its course. Department policy dictates those who are charged with felonies are suspended, and the Department plans to suspend Mr. Seabrook. The arrest will not impact the dedicated work of our Correction Department and its officers. Commissioner [Joseph] Ponte's widespread reforms are underway at Rikers and will continue to move forward."
The Corrections Officers' Benevolent Association did not immediately respond to request for comment.