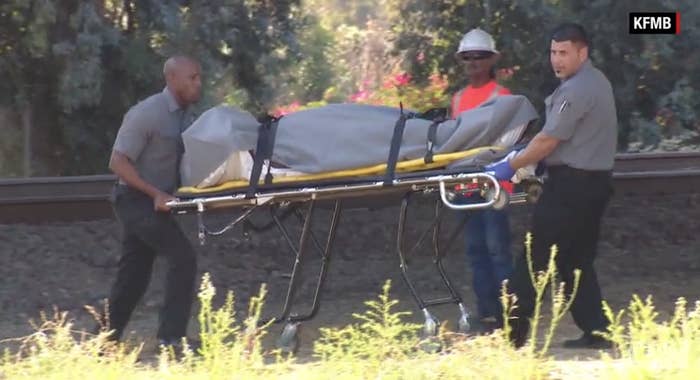 San Diego police on Monday released a man who had been arrested on suspicion of being involved in a series of deadly attacks on homeless people.
Police Capt. David Nisleit told reporters that Anthony Padgett was released from custody because they discovered "exculpatory evidence" that did not give the investigators confidence to move forward with the case against him.
On Sunday, 23-year-old Dionicio Derek Vahidy died at a hospital after being attacked and burned. He was homeless and the most recent of the four men attacked. Two of the other men died and the third was severely injured.
Nisleit said he still believes the initial decision to arrest Padgett was correct due to his physical similarity to the person in video surveillance footage and because of his 2010 conviction of lighting a homeless person on fire. But in California, authorities can only hold suspect for two court days before they must either file charges or release them.
"I could not risk not taking him into custody," Nisleit said. "I believe it was the right decision now and I believe it was the right decision then."
Nisleit did not rule out the possibility of re-examining Padgett as a suspect if new evidence came to light.
"At this point right now, we have exhausted all the evidence, but with that said in a hour or tomorrow we might get more evidence that might point the finger back to Padgett or to someone else," Nisleit said.
Capturing the person who did these acts "Priority 1" for the police department, Nisleit said, adding that investigators continue to believe the person depicted in video footage is the perpetrator.
The surviving victim is still in critical condition and is not currently able to provide information, Nisleit said.
The final attack occurred early Tuesday in downtown San Diego, where a blanket placed on Vahidy was set ablaze, the San Diego Union-Tribune reported.
The blanket appeared to have been soaked in some sort of flammable liquid, and then tossed on the homeless man behind an apartment building, Nisleit told the paper.
On Sunday, police received 911 calls from witnesses who said they saw a man on fire running down the train tracks in the Mission Bay area of the city. When police arrived at the scene, they found the badly burned man was dead.
Other witnesses reported seeing a middle-aged man in a tan jacket and baseball hat running away from the train tracks and across the freeway nearby with a gas can.
At around 5 a.m. on Monday, a second victim was found near San Diego's Modern Times Brewery with "significant trauma to his upper torso," police said. He suffered life-threatening injuries and was hospitalized.
An hour later, police received calls about a man bleeding in the street about three miles from the brewery. The victim was found dead with significant chest wounds.
Police said that they believe all the victims were attacked while they were sleeping.
— Claudia Rosenbaum contributed reporting.