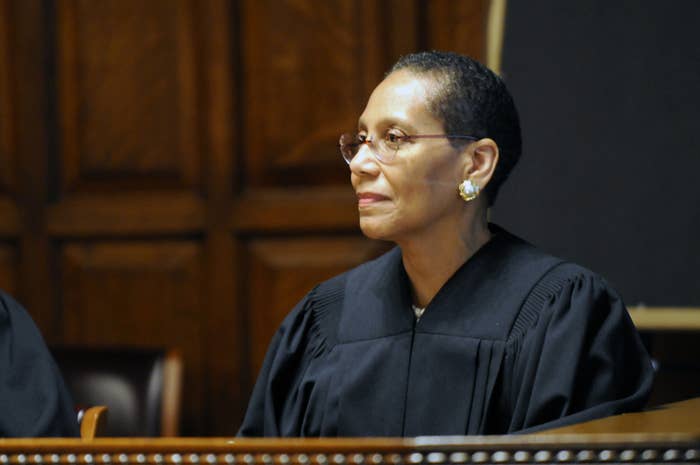 With questions and confusion lingering around the death last week of Judge Sheila Abdus-Salaam, her family has begun to push back on reports that the 65-year-old died of an apparent suicide.

"Despite the ongoing investigation, some media outlets and others have conjectured that Sheila was the victim of a 'probable suicide.' These reports have frequently included unsubstantiated comments concerning my wife's possible mental and emotional state of mind at the time of her death," her husband, Reverend Gregory A. Jacobs, said in a statement published online.
"Those of us who loved Sheila and knew her well do not believe that these unfounded conclusions have any basis in reality. And in the absence of any conclusive evidence, we believe such speculations to be unwarranted and irresponsible," the statement says.
Last Wednesday, Judge Abdus-Salaam's body was found floating in the Hudson River by the shore of Manhattan's West 132nd Street, just a few blocks from her Harlem home.
Reports of the death of Abdus-Salaam, the first female black judge to sit on the New York Court of Appeals — the state's highest court — sent shockwaves through a New York legal community that revered her. In the days following, many of her grief stricken former colleagues, classmates, and friends expressed a deep admiration and respect for her.
Initially, NYPD investigators said evidence showed no sign of foul play or harm to her body. But police officials said they were not ruling out any possible causes of death, including suicide.

Last Thursday, NYPD Chief of Detectives Robert Boyce outlined a timeline of events that police have put together so far: Abdus-Salaam spent the weekend in New Jersey with her husband and was last seen at around 7:00 p.m. ET on Monday. She spoke with her assistant Tuesday morning and said she wouldn't be coming into work that day. When she failed to show up for work on Wednesday, the New York Times reported that her assistant grew concerned and contacted her husband, who reported her missing. At around 1:45 pm on Wednesday, after someone called 911, her body was found in the river not far from her Harlem home, a police source told BuzzFeed News.
After canvassing the neighborhood over the weekend for additional clues, NYPD revealed that police recovered video showing Abdus-Salaam walking along the river the day before her body was discovered. Police have not released the footage and have requested additional video from local businesses and other property owners in the neighborhood.
Meanwhile, officials have not not made any conclusion about the judge's death. The New York City medical examiner's office has yet to make a final finding related to Judge Abdus-Salaam's death. A spokeswoman for the medical examiner's office told the NY Daily News this week that Abdus-Salaam's cause of death is pending upon further study. In a statement on Wednesday, the NYPD said "when a body is found floating in a river it is deemed suspicious in nature." The medical examiner's office told BuzzFeed News on Thursday that they have no additional information at this time.
Her cause of death has not been the only detail of the story shrouded in uncertainty. The first media reports on her death identified Abdus-Salaam as the first female Muslim judge in the US. However, additional reporting indicates it is more likely than not that Abdus-Salaam was not a devout or practicing Muslim at the time of her death.