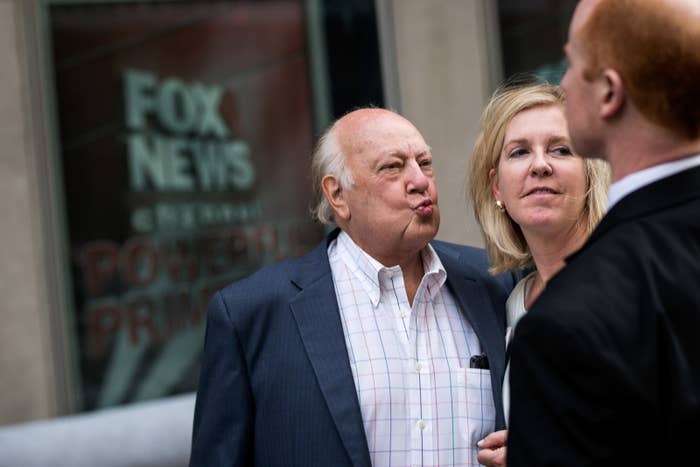 A new lawsuit against Fox News and its former chairman Roger Ailes has been filed by an on-air contributor claiming that she was discriminated against when she refused Ailes' sexual advances — and was recruited to defend him amidst sexual harassment claims by another female host.
Julie Roginsky said in the lawsuit, filed in Manhattan Supreme Court, that the network and Ailes discriminated against her "on the basis of her gender by making her deserved promotion to a regular spot hosting 'The Five' contingent upon having a sexual relationship with Ailes."
The new lawsuit comes after Ailes was ousted from the network after another Fox News personality, Gretchen Carlson, sued Ailes last summer claiming he repeatedly sexually harassed her. After Carlson filed her lawsuit, at least 20 women came forward with allegations against Ailes. In November 2016, four months after the suit was first reported, Fox News announced that it was settling with Carlson and that Ailes was out.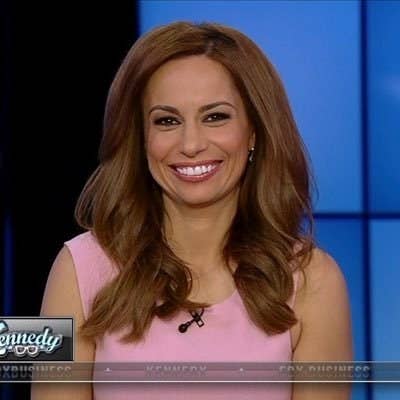 The new allegations by Roginsky come just days after the New York Times revealed that Fox News paid about $13 million to settle sexual harassment lawsuits brought against host Bill O'Reilly, who has claimed that the allegations against him have no merit.

In Roginsky's lawsuit, she claims that starting in early 2015 Ailes "repeatedly called [her] into his office for one-on-one meetings." During the meetings, the lawsuit claims, Ailes "usually sat in a low armchair" and "repeatedly insisted on a kiss "hello" requiring Roginsky to "bend down to kiss him." Roginsky claims that Ailes "would consistently position himself in such a way as to look down Roginsky's dress."
During these one-on-one encounters, the lawsuit claims, Ailes would give Roginsky advice on dating and suggest she "engage in sexual relationships with "older, married, conservative men" because "they may stray but they always come back because they're loyal."
Roginsky claims Ailes would also make comments to her about other on-air talent who she appeared alongside on "The Five."
"For example, Ailes stated that Kimberly Guilfoyle would "get on her knees for anyone,"' the complaint reads.
After Ailes was accused by Carlson, Guilfoyle was among a group of Fox News talent that defended him. In an interview with TV Newser about Ailes, Guilfoyle said, "This is a man who champions women."
BuzzFeed News reached out to Guilfoyle about Roginsky's lawsuit but didn't immediately hear back.
Roginsky claims in the lawsuit that she was led to believe that Ailes wanted to give her a permanent position at the network as host of the "The Five." However, she says Ailes and Fox's interest in promoting her waned after she rebuffed his sexual advances and failed to defend him after Carlson sued him.
Roginsky claims that after Carlson sued, Fox News executives sought to recruit her to defend Ailes, stating "It's all hands on deck." Roginsky declined to join what she refers to in the complaint as "Team Roger" because "she believed that Gretchen Carlson's allegations of sexual harassment were true because she, too, had been sexually harassed by Ailes" when he made sexual advances.
Among the Fox executives who sought to protect Ailes during the crisis was Bill Shine, current head of news and programming at Fox News and Fox Business Network, who is named in Roginsky's lawsuit.
In the complaint, Roginsky accuses Shine of knowing for years that the sexual harassment complaints against Ailes were true, but failed to do anything about them. She says that when she attempted to meet with Shine — who assumed most of the control of Fox after Ailes was pushed out — he would put her off, and at one point his secretary told Roginsky that Shine would not meet with her if she were going to "threaten a lawsuit" against Ailes.
When they eventually did meet, in November 2016, she says Shine "bizarrely asked [her] if she had seen the Showtime documentary on the band The Eagles." When she told him she had not, Shine responded "that she should see it because the story of The Eagles was very similar to the story of Fox News."
"In the same way that such brilliant musicians as Glenn Frey, Linda Ronstadt and Jackson Browne could only have come together at "one place and one time in history," Shine told Roginsky, according to the lawsuit. "[S]o it was with Bill O'Reilly, Sean Hannity, Suzanne Scott, Roger Ailes and Bill Shine coming together to form Fox News."
Fox News did not immediately respond to a request to comment.

"We look forward to a public trial in front of a jury in New York City," said Roginsky's attorney, Nancy Erika Smith, of Smith Mullin in Montclair NJ. Roginsky is also represented by Neil Mullin of Smith Mullin, and Martin Hyman and Matthew Daly of New York's Golenbock Eiseman Assor Bell & Peskoe LLP.